Tati Westbrook Is Releasing Hair, Skin & Nails Vitamins — And They'll Cost You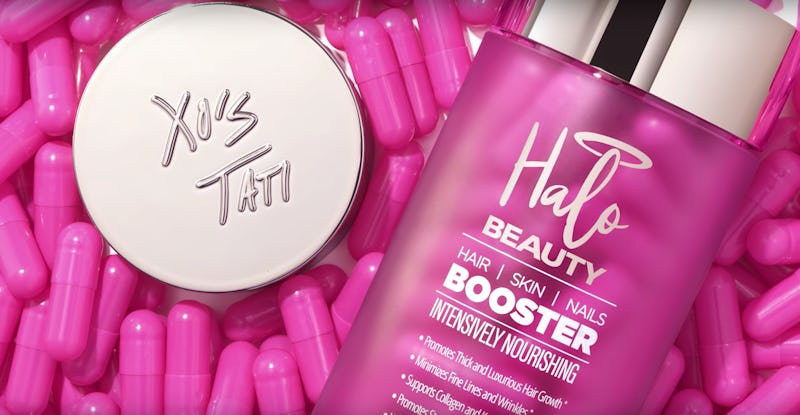 Tati on Youtube
Since Monday, news of YouTube beauty guru Tati Westbrook's brand has been swirling among beauty addicts online. From guesses about what products were coming to excitement about the launch, it's been a speedy time between announcement to launch. On Wednesday, Tati Westbrook's Halo Beauty made it's official debut on her channel — and it wasn't exactly what most fans expected.
In her announcement video, Westbrook revealed that the brand isn't skin care or makeup (talk about a shock, right?), but it is 100 percent beauty based. The name? Halo Beauty, and it is a hair, skin, and nails vitamin that actually makes total sense for Westbrook who is all about holistic beauty.
The bright pink vitamin was designed by Westbrook and a team to do exactly what you think: grow and strengthen your hair and nails, and make your skin glow. Those are basically all the things that Westbrook is known for.
What are the details about how much Halo Beauty costs and when you can purchase it? According to the video, Halo Beauty's HSN Booster will retail for $39.95 exclusively on Westbrook's Halo Beauty website. According to the video the nearly $40 price tag will get a full 30 day supply of the supplement.
For days, fans of the guru have been anticipating skin care or makeup, and while Westbrook does explain that she wants to grow Halo Beauty to include more items, there's hide nor hair of a cosmetic product. She's launching her brand with the supplement only.
Some are stoked for Westbrook and excited to try to the supplement. Others, however, have valid criticisms and asking for clinical research and ingredient lists. Those who were hoping for makeup and skincare are a bit disappointed. Overall, the predominant feeling seems to be surprise. Everything else is a mixed bag.
Twitter was shocked after the announcement, and that makes sense given that makeup and skin care just make sense for someone who reviews both on their channel. However, if Westbrook wanted to approach beauty holistically, the supplement also makes sense.
Her loyal fans were definitely excited about the news, even if it wasn't what everyone was initially thinking.
The guru is stunning, and while the jury will obviously be out for a while on if Halo Beauty's HSN Booster actually works, fans are stoked to try.
Some users had legitimate questions for Westbrook regarding the supplement including if she'll be releasing clinical research about the product. After all, this is something potential customers will be putting directly into their body, and more information before purchasing couldn't hurt.
A lot of really great, insightful questions are being asked about the safety of the supplement as well as how it interacts with other medicines is being asked. The questions also don't appear to be coming from a negative place. Instead, they're important pieces of information that Westbrook's fans don't have yet despite the launch being scheduled for March 2.
Some did take issue with the cost. Though Westbrook was upfront that she wouldn't be selling items at drugstore pricing, users will essentially be paying $39.99 per month plus tax and shipping each month. International shoppers will potentially end up paying much more.
Others were just let down by the product in general.
Some fans are just purely skeptical of beauty supplements, but they do intend to shop the brand if and when it expands.
Shock and disappointed seem to be common reactions, though.
Given that the science behind beauty supplements and vitamins is unclear at best, it seems some would have been happier with makeup.
While Westbrook's most loyal fans will still probably shop Halo Beauty, the reactions are mixed on her debut beauty supplement. Only time will tell if people fall in love with Westbrook's vitamins.