Urban Decay Just Announced A New Eyeshadow Set That Goes PERFECTLY With Its Naked Heat Palette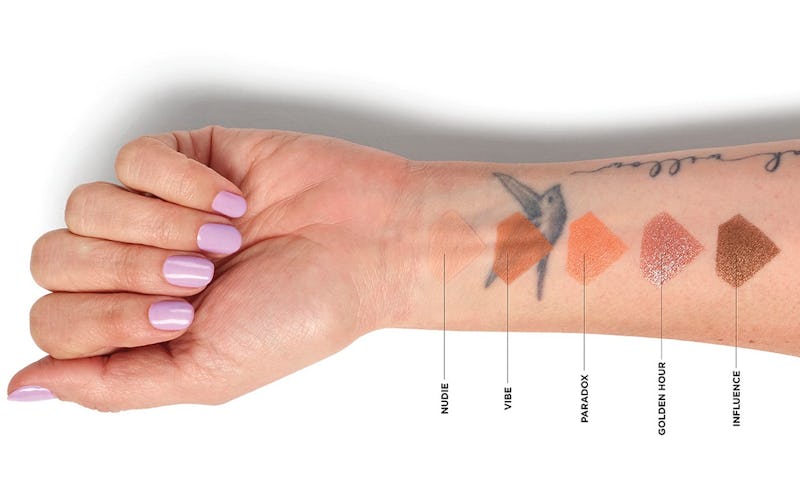 Urban Decay
Urban Decay is on a mission to completely change the way we see neutral eyeshadow palettes. Where browns, eggshells, and champagne colors have long been typecast as everyday, run-of-the-mill shadows, Urban Decays' Lightbeam Eyeshadow Palette will completely change that reputation. Soft peaches and light browns aren't exactly the shades you reach for when you're feeling creative, but the brand has proved that with a little bit of imagination, that doesn't need to be the case. And they have proved that time and time again with their other nude-based palettes.
With the mass success of their Naked Heat palette, browns, taupes, and peaches were all anyone could wear for the past season. Retailing for $54, the palette had 12 amber-hued neutrals that moved from red-brown mattes to shimmery coppers, and opened our eyes (pun intended) to what kind of experimental looks brown palettes can create.
Riding off of that massive success, the brand then launched the Beached Eyeshadow Palette that retailed for $34 and was exclusively sold at Ulta. Released just last month, the shadow collection was loaded with eight brand-new shades and was meant to evoke a hot summer's night, where it moved from eggshell whites, to dusty bronzes, to aquamarine blues.
But not ready to give up on their brown-shadow theme, their newest offering, the Lightbeam palette, is meant to turn your eyelids into sunsets, and it once again focuses on nudes.
The brand announced the newest product on their Instagram, writing, "Sunset vibes for your eyes. Capture the gilded glow of the setting sun with our all-new Lightbeam Eyeshadow Palette, featuring five brand-new eyeshadow shades from can't-live-without neutrals to super-sparkly shifty metallics." While it's definitely more compact than the other hit palettes, it still offers a sweeping range of hues that will help you make interesting eye looks. Especially considering that you get all three textures in one collection: matte, shimmer, and metallic.
"Awe-inspiring sunsets just got a whole lot easier to observe. A Macy's exclusive, Urban Decay's Lightbeam Eyeshadow Palette makes replicating the romantic gilded glow of the setting sun a cinch to pull off," the product description reads. Meant to be "your portable golden hour," it features never before seen shadows, making it a worthy buy. And it's really affordable — it's only $24!
To give you an idea what to expect, here is the breakdown of the new colors: You have "Nudie," which is a soft pink-nude matte; "Vibe," which is a warm brown with gold shimmer; "Paradox," which is a metallic orange with a gold sheen; "Golden Hour," which is burnt red with green shimmer; and "Influence," which is a metallic brown. You an make neutral, everyday eye looks with these colors, or recreate some of the smokier, red-based looks from fall thanks to the warm browns and metallic hues.
There's already a lot of hype over the palette on Instagram, where Urban Decay followers have been posting their thoughts underneath the announcement photo. "I actually shed a tear at how pretty this is! Good thing I had all nighter on!" wrote one follower. "All I'm gonna need this summer," another shared.
And you won't have to wait long until you can buy it, either. You will only be able to pick this palette up at Macy's, where it's already available online, and will hit stores on May 9. But since it's exclusive to the department store, some Canadian and UK followers were asking if it will eventually hit Urban Decay's website, since the customs charges would make the palettes too pricey. While the brand hasn't responded yet, there still might be a chance that it will be, especially considering that the Beached Collection was exclusive to Ulta but is available on Urban Decay's site.
So get your eyeshadow brushes ready, people, because it's time to channel the toasty colors of the sunset.