Here's How Much One Love Manchester Raised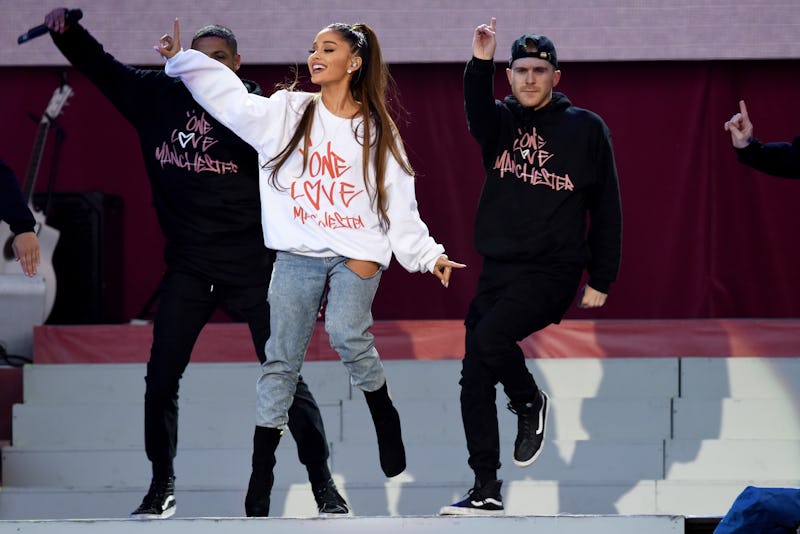 Getty Images/Getty Images Entertainment/Getty Images
Two weeks after the bombings that left 22 people dead and even more injured, Ariana Grande has returned to Manchester, and this time, the show ended on a high note. On Sunday night, One Love Manchester, which featured performances by Miley Cyrus, Katy Perry, and other artists, was able to help victims of the attack and their families in a major way — not just thanks to ticket sales, but also from donations people from all over the world made, too. So how much money did One Love Manchester raise?
According to a tweet from the British Red Cross, money raised via text and online donations during the concert climbed over £2.35 million — and that's not even taking ticket sales into account. Including proceeds from the 50,000 fans who showed up to the event, the Manchester Evening News adds that this puts the final number at more than £10 million, or almost $13 million in US dollars, which will all go towards the We Love Manchester fund.
What's even more incredible? This number still has potential to grow, since the British Red Cross continues to take donations online and Grande re-released "One Last Time" as a charity single, with proceeds from sales on iTunes going toward the fund as well.
It's hard to imagine what it's been like for those affected by such a horrific event over the last couple of weeks. Obviously, nothing will replace the innocent lives lost, but it's good to see something so beautiful come out of such an unthinkable tragedy. Hopefully, witnessing such an amazing show of support will help the survivors continue to heal.
The world can be a pretty scary place sometimes, but it's a little less scary when people from all over pull together in the wake of an event like this one. The impact Grande and her supporters have had so far has been huge, and it can only grow from here.