How To Donate To Families Of The Manchester Attack Victims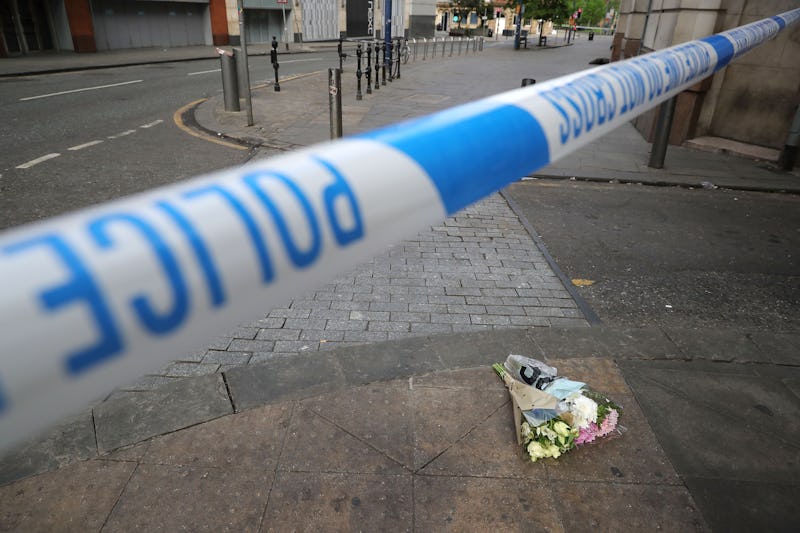 Christopher Furlong/Getty Images News/Getty Images
In the wake of the news of the Monday night attack on the Ariana Grande concert in Manchester, donations to the families of the explosion's victims are pouring in to the tune of hundreds of thousands of pounds. The bombing left at least 22 people dead and injured dozens more.
The staggering amount of funds raised is largely credited to two Manchester-based businesses that have started crowdfunding campaigns. One is a Manchester-based newspaper called Manchester Evening News, which created a fundraising campaign on the website Just Giving. The campaign, called "We Stand Together Manchester" had raised more than £300,000 at the time of this writing. It aims to raise at least £500,000.
The Manchester Evening News page allows both donors and Facebook supporters to comment on the page. Many expressed sadness and said they were praying for the victims. "Heartfelt sympathy to all those affected by this horrific and cowardly act. Absolutely devastating!" wrote one supporter. "A sad day for Manchester, a sad day for Britain, a sad day for the human race," wrote a donor who gave £50.
There are several GoFundMe campaigns for victims, as well as a general GoFundMe that will go to support all victims of the attack.
A Manchester-based marketing company called Social Chain has also organized a crowdfunding campaign for the victims of the Ariana Grande concert attack. It had raised more than £6,000 at the time of this writing. "Manchester is a city like no other, we are one and we have each others backs," reads the campaign website. "We cannot be divided and we will always put love before fear."
Like with the Manchester Evening News' campaign, the Social Chain campaign featured many comments from supporters and donors. "I pray I can be there in person to lend a helping hand. I'm praying that healing and peace come upon all the people affected directly and indirectly in the Manchester bombing," said one donor.
Social Chain CEO Steve Bartlett told The Telegraph that his company was speaking to the crowdfunding website Just Giving and the charity Forever Manchester to ensure that the money goes to the families of the victims.
"Our office is just five minutes away from Manchester Arena. After the attack we felt incredibly helpless, and started looking at what options we had to help," said Bartlett, according to The Telegraph. "We want to use this fund to support the families that have been affected, so there's no worries about how this will affect them financially."
He added, "If any city can band together and support those families, it's Manchester. It's a very special city and we're proud to call it our home."
Here are some more ways you can help.