The Bonus Check Super Bowl Winners Get Is Actually Less Than You Think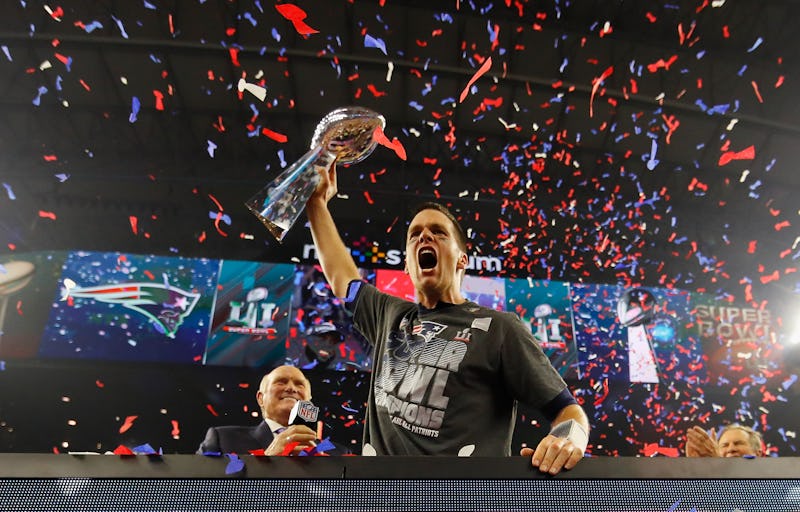 Kevin C. Cox/Getty Images Sport/Getty Images
Winning the Super Bowl confers status, glory, the all-important ring, and a winner's check to every member of the victorious team. But compared to their regular season contracts, how much Super Bowl players earn if they win is actually relatively little.
Everyone on the Super Bowl LII (52) winning team roster will get a bonus check of $112,000. That's a lot of money for roughly four hours of work, no question. But compared to the massive payouts regularly received by the NFL's top stars, th eSuper Bowl winnings look like small change. (And yes, the losing team members also get a monetary bonus. This year, that consolation prize is $56,000.)
How does that compare to Patriots quarterback Tom Brady's regular season cash haul? His annual average salary for the 2017 to 2018 season was $20.5 million. Including preseason games, that works out to an average of $1,025,000 per game for Brady. His Super Bowl bonus, should the Patriots win on Feb. 4, would amount to just over a tenth of what he usually earns for a game.
Eagles quarterback Nick Foles has an average annual salary of $5.5 million, which puts his regular and preseason game payday at $250,000. So if Foles leads the Eagles to victory, he'll get a bonus bump of a little less than half his usual compensation.
The absolute least an NFL player can make in any given year is $450,000, per the league's rules. So, the lowest-paid players on the winning team will get a roughly 20 percent bonus check on Super Bowl Sunday.
This year's Super Bowl champ bonus check is $5,000 more than the $107,000 paid out in 2017. And players on both teams already earned $79,000 per game in the playoffs leading up to Feb. 4's showdown.
Money flows are huge during the Super Bowl. NBC, the network airing football's biggest night, expects spending on advertising to hit $500 million during the pregame, actual game, postgame, and subsequent airing of its hit drama This Is Us. Commercial spots are enormously expensive, and for good reason: The Super Bowl is the sole televised event that regularly draws more than 100 million American viewers.
With all that freeflowing cash, it seems a little surprising that the Super Bowl winners make a simple "bonus" for their efforts. Of course, it's also worth noting that even Sunday night's "losers" will earn a single bonus check that is thousands more than the average annual salary of Americans.
Also, they'll all be making more than Justin Timberlake, this year's designated half-time show headliner. The NFL will be paying him exactly zero dollars, as they do with most Super Bowl performers.
But if past performers are any indication, Timberlake will see plenty of compensation in music downloads. Previous half-time stars have reported soaring purchases of their songs during the production. (Timberlake may also be happy just to be invited back, after the "wardrobe malfunction" in which he exposed Janet Jackson's nipple during his halftime show in 2004.) And it makes sense — even more Americans now tune in for the half-time show than the Super Bowl game itself.
At least one player has already pledged to donate his Super Bowl check — Chris Long, the Eagles' defensive end. Long gave his first six paychecks to scholarship opportunities in Charlottesville, Virginia.