How Nydia Velasquez Uses Her Office & Twitter Presence To Protect New Yorkers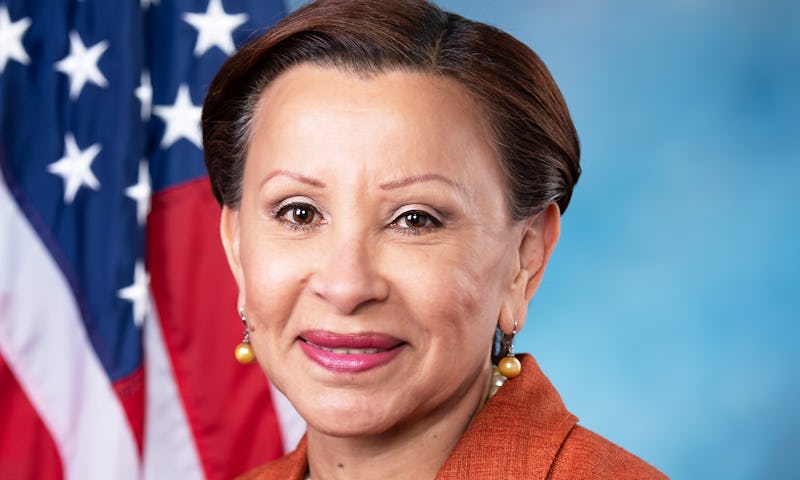 Congresswoman Nydia Velázquez has served in the U.S. House of Representatives since 1993. During her tenure spanning decades, she's made it her duty to empower New Yorkers who are often underrepresented, by giving them a voice as a member of Congress. That's why she's included in this special edition of Bustle's Must Follow, in which we highlight the incredible Latinx voices you need to follow on Instagram and Twitter.
Describe yourself in one line, including how you identify and what you do.
"I'm a New Yorker, Puerto Rican, and a member of Congress, where I do my best to fight every day for New York's working families and to empower those too often shut out of the process. As such, I've always been humbled when some people in my district call me 'la Luchadora,' or fighter."
What do you hope people take away from following you on social media?
"I'll confess that I love Twitter. It's given me a unique way to take the pulse of what my constituents care about and how they are approaching the issues. I like to tweet out updates on legislation that I'm introducing or maybe a picture to show people what a day is like on Capitol Hill. I'm also constantly posting updates on Facebook and Instagram."
When did you first feel that you were a voice for the Latinx community?
"I was born one of nine children to a father who worked in the sugarcane fields and later became an activist for workers' rights. When I came to New York City to pursue graduate school, I saw that Puerto Ricans on the mainland often felt shut out of the political process. After serving out a vacancy on the City Council, by 1986, I was working as Director of the Department of Puerto Rican Community Affairs in the United States. Under my leadership, we designed a voter registration drive known as Atrévete (Dare to) to register Puerto Ricans on the mainland. That experience taught me a great deal about political empowerment.
In 1992, I was the first Puerto Rican woman elected to the United States Congress. I never forget where I came from or who I'm fighting for. Throughout the years, I have tried to be a champion for young people, and especially young women who are thinking of a career in public service. While representation for women and minorities has certainly improved in Congress, we still have a long way to go.
I've always said that Puerto Rico and New York share a special bond. We are like family. This year, our brothers and sisters in Puerto Rico suffered from a catastrophic hurricane and were met with a botched federal response. Tragically, what happened after Hurricane Maria was one of many ways the Trump Administration has treated Latinos like second-class citizens. Now more than ever, our community must continue to mobilize and put pressure on this Administration and Republicans in Congress to join Democrats and pass protections for Dreamers, reunite families separated under the President's zero-tolerance policy, and rebuild Puerto Rico after Hurricane Maria took the lives of nearly 3,000 American citizens."
Who's another Latinx person you would recommend to follow on social media?
"Lin-Manuel Miranda is someone I admire deeply, as a creative force, an important cultural voice, and an advocate for Puerto Ricans and New Yorkers."
Follow Nydia Velázquez on Twitter, @NydiaVelazquez.