How Obama & Trump Celebrated Their Birthdays Shows A Sharp Divide Between The Two Men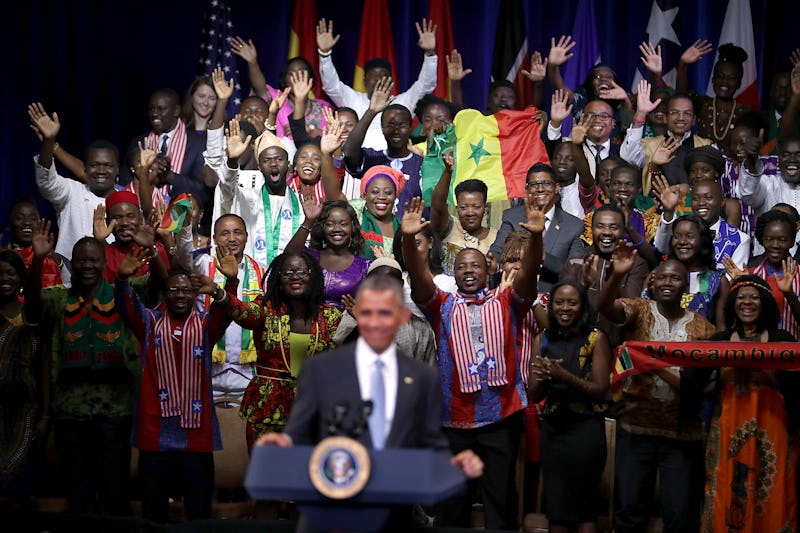 Chip Somodevilla/Getty Images News/Getty Images
With a combined 129 years of life, there have been a lot of birthdays between President Donald Trump and his predecessor Barack Obama. Usually the two men are compared in the political arena, but how Obama and Trump celebrate their birthdays also reveals a good deal about the two leaders.
Obama's Aug. 4 birthday celebrations became more elaborate as his celebrity grew as a young president, while Trump's June 14 festivities in office have become decidedly more low-key affairs.
This wasn't always the case — Trump has a longtime flair for public celebrations of himself. The Washington Post cheekily reported in June 1988 that Trump threw a "modest affair" for his 42nd birthday. The party was at a Trump casino and hotel in Atlantic City and included "a 15-foot spaceship zooming from the stage to hover amid smoke and flashing lasers," a remix of Michael Jackson's song "Bad" about Trump, and prerecorded birthday videos from celebrities like Liza Minnelli, according to the newspaper. The Post also reported that he received a telegram from former President Ronald Reagan.
As Trump aged, his birthdays only seemed to get more over-the-top. At Trump's 44th birthday party in 1990, Saturday Night Live comedian Joe Piscopo performed as Frank Sinatra, according to BuzzFeed News. This party was also at a Trump casino and hotel in Atlantic City, and there were video messages from celebrities like Elton John, according to the news outlet.