'Victoria' Was So Young When She Took The Throne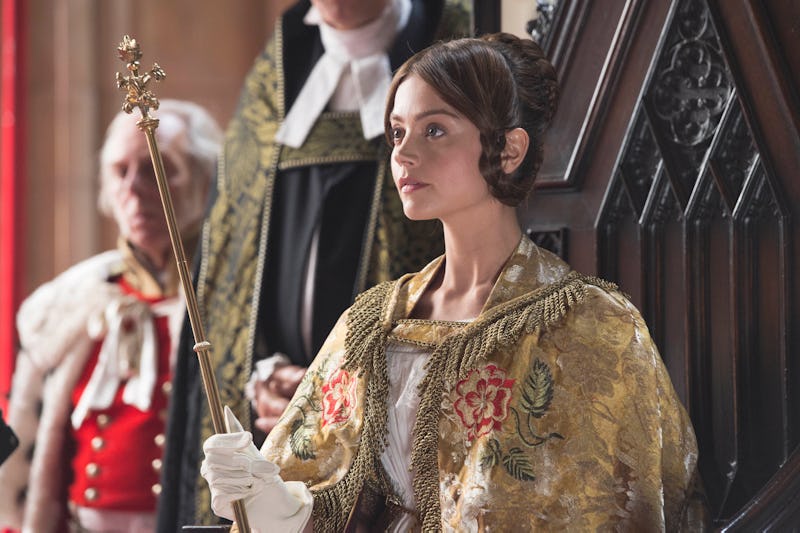 ITV
Did The Crown give you an appetite for more drama about the British monarchy? Then set your DVRs for PBS' airing of the ITV series Victoria, premiering Jan. 15. Recently departed Doctor Who companion Jenna Coleman stars as the queen, whose reign is known in history as the Victorian era. Like that other lavishly detailed show about Britain's royals, Victoria explores the transition from a sheltered life to a position of power. This particular ruler was handed the keys to her country when she was barely more than a child. Exactly how old was Victoria when she became queen?
According to Britannica, Victoria was 18 when William IV died and she succeeded him. She's far from the youngest English monarch, however. Mary Queen Of Scots was just a newborn when she was crowned, per BBC History. Because Victoria's ascension was all but guaranteed, her childhood was poisoned by adults who sought to ensure their own influence over their future queen, Britannica also states. A family friend named Sir John Conroy convinced the Duchess Of Kent to raise her daughter Victoria in near isolation. When she became queen, she proved that her will had not been quashed by separating herself physically from her mother and Sir Conroy. Her coronation ceremony took place in 1938, when Victoria was 19, and the second-longest reign of a British monarch began.
Victoria's youth is an important element of the series. It's a coming-of-age story set in very unusual circumstances. In an interview with Collider, Jenna Coleman said she couldn't "begin to imagine" the adjustment involved in becoming a leader of the mightiest country in the world as a teen. "She'd never really spent any time by herself or spent a night in a room by herself or had been in a room alone with a man before, and she was becoming the most powerful woman in the world and had to navigate Parliament," Coleman said. "When you put it into context, it is an extraordinary story."
Victoria wasn't only young when she took power, she was also quite small. The queen was just 5 feet tall, according to History.com. Coleman isn't quite as petite, but she told the The Telegraph that she understands the impetus to make up for physical stature with strength of character. "Maybe being small — and her feet didn't even reach the floor when she sat on the throne — was part of what made her so obstinate, impatient, forthright and formidable," the actor said. "It's difficult to dominate and have your opinions listened to when you are so much shorter than everyone else in the room." Victoria would not settle for less than to be taken seriously. She's basically the 19th century version of the "nasty woman."
Modern "adulting" isn't easy. Most struggle through that transition into being completely responsible for themselves. But imagine what it was like for an 18-year-old Victoria. Instead of booking her own dental appointments and paying her gas bill, she was in charge of ensuring the happiness and prosperity of an entire kingdom. Consider that the next time you complain about grocery shopping.