'OITNB' Season 5 Has An Ambiguous Ending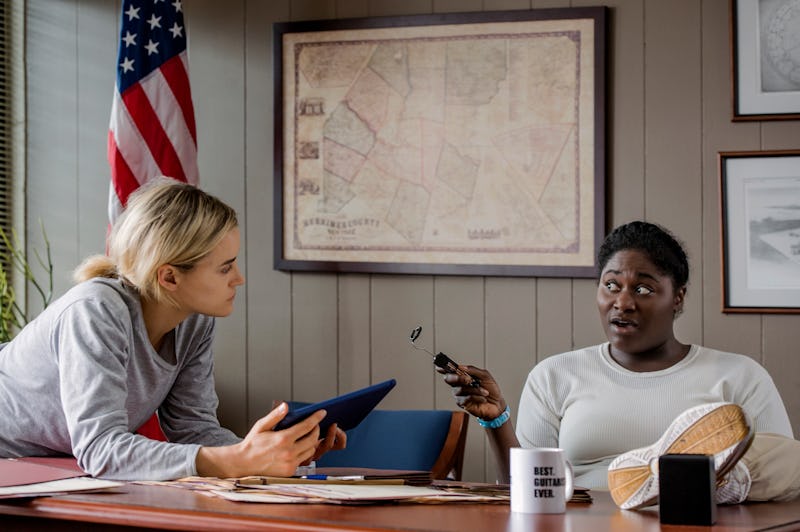 JoJo Whilden / Netflix
It's cliché to say that a show like Orange is the New Black had an explosive finale, except this time I mean it literally. Spoilers for Season 5 ahead. As a SWAT team descended upon our heroes, they linked hands and set off a stick of dynamite in an abandoned part of the correctional facility. Where does Orange is the New Black go in Season 6, now that there might not even be a Litchfield? At a red carpet event celebrating Season 5, I asked the cast for their thoughts.
"I don't know where that bus is going," says Rosal Colon, referring to the buses that 80 percent of the inmates were packed into at the end of Season 5. "We were all talking about it when we were shooting it," adds Beth Dover. Nobody will know anything until they get the scripts.
"I feel like I've only just gotten to scratch the surface with Sankey," says Kelly Karbacz, "and I hope that there's a chance to dive deeper into her. To discover why she's been incarcerated. Where she goes from here. What makes her tick and also how she got to be the way she is." Honestly, if there was ever a time to delve into how white supremacy lingers in America, it's now.
Not everyone is psyched about their character's future, however. "I'm frankly having panic attacks about it," says Jessica Pimentel, because at the end of the season "Maria definitely does something very interesting."
"I think it's time to see a little more of Flaca's vulnerable side," says Jackie Cruz. Her character has been mostly comic relief, but after having been separated from her bestie Maritza, things could change.
"[Jenji Kohen] has this epically sweeping mind that can hold so many threads," says Natasha Lyonne. "She's a really fun puppet master. I always think of this show as something in between Rashomon and The Wire. There's so many different points of views. You just swing the lens and your focus to a different side of the prison there's a whole Pandora's box of new story that kind of emerges."
"We still have so much to talk about," says Diana Guerrero. "I'd like to tackle immigration, I'd like to tackle more feminist issues. Intersectionality. I'd like to tackle more, just more."
My personal theory is that, for 80 percent of the inmates, all of Season 6 will be set on those buses. "The whole season will take place over three hours," jokes Kimiko Glenn. After Season 5 was only three days, why not? "Smaller and smaller," says Yael Stone. "Ten minutes," suggests Emma Myles. We're gonna make this happen.
"This ending has been my all time favorite," says Danielle Brooks, "because it is ... about women uniting." The final shot, with everyone holding hands as they wait to face what's next, is powerful, emotional, and beautiful. Wherever Orange is the New Black goes from here, both in terms of story and logistics, is going to be amazing.