'Queen Of The South's Matriarchs Subvert The Drug Lord Stereotype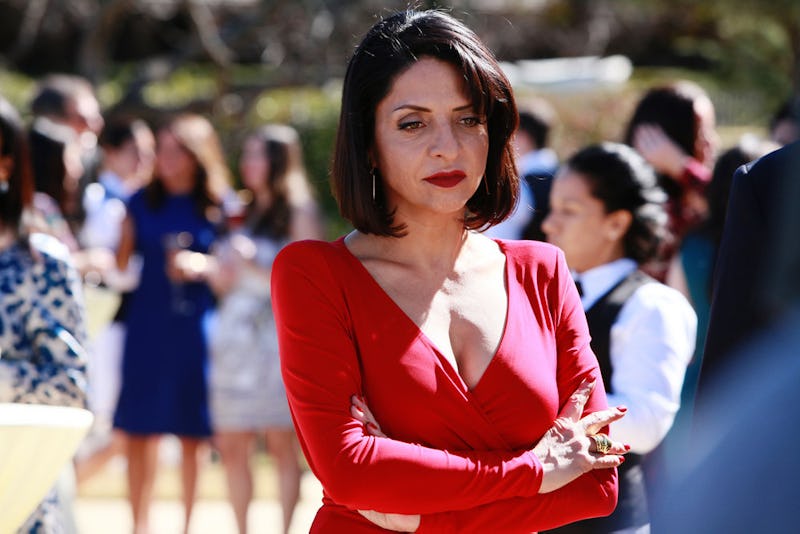 Bill Matlock/USA Network
Viewers beware the TV-endorsed stereotype. Usually a product of lazy storytelling, it is an obstacle to proper representation. However, the USA series Queen Of The South challenges many stereotypes that frequently follow Hispanic characters, especially when portrayed within the narco world. At the center of the show's take on that world is drug lord Camila Vargas, played by Veronica Falcón. The actor tells Bustle that Queen Of The South avoids many of the one-dimensional stock characters she's seen in other shows.
"It's important to show the world kind of the way it is. Not all Hispanics are criminals or drug lords or maids," Falcón says in a phone interview.
Queen Of The South, which airs Thursdays at 10 p.m. ET on USA, does dramatize the drug trade. However, playing matriarch Camila allows Falcón to explore both the villainy and the humanity of the people who work within that industry. She's the head of the Vargas Cartel in America, and Camila's ruthlessness fits her work. But her relationship with protagonist Teresa Mendoza (Alice Braga) shows her nurturing side.
"She goes for what she believes in. She fights, she's a fighter, she's a warrior, those are interesting qualities," Falcón says of Camila. "She's hardworking, she's loyal, and those are good qualities even though the character is a villain."
Falcón doesn't believe in judging Camila's actions, but in using her own experiences to portray an honest, authentic character. "I think for me as an actor to be able to do that," she says, "I cannot judge the character I just have to try to understand it and try to portray it."
Queen Of The South's characters aren't caricatures; they are people with real-life choices that address ethics, loyalty, family, and ambition. "Stereotypes, they always happen," the actor says. "It's been done not only with Hispanics but with every race. My problem with stereotypes is that they don't go beyond that. If you just portray a stereotypical character without anything else, and then it becomes almost a cartoon or a cliché."
As its title might suggest, Queen Of The South is also breaking with traditional ideas about how female characters behave. Camila grooms Teresa so she can reach her full potential, breaking the gendered assumption that women need to compete for power. "I think as women, and not only as women, we all know what it is to try to assert yourself and to empower yourself and to fight for what you think you have to fight for," Falcón says. "I think those are things that the audience relate to." Fans of the show are aware that the title of "queen" is often transferred between the two women, indicating a partnership rather than rivalry.
Falcón hopes that fans of the show can be empowered by watching Camila be who she is and still be on top. "You don't have to stop being a girl or woman to be powerful and to be intelligent. You can be both," she says. "Camila has this line that I love: 'I've always been underestimated by men.' I think a lot of us have been, one way or another."
It's clear that the actor considers this part to be a highlight of her career, but when Falcón made the decision to move from Mexico to Los Angeles, she was already an accomplished actress in Mexico. She's also married and a mother to a teenage son.
"I thought, 'maybe you're crazy, Veronica, you're almost 50.'" Falcón remembers about coming to the US. "Most people who do that are usually 20, they don't come with a kid. They don't uproot with a family."
According to IMDB, Falcón's career as an actor and choreographer spans three decades, and an artist doesn't get a career like that without taking some risks. "The worst that can happen is that I tried and I have a new experience," she says. "I've been doing this since I was 19, I've taken a leap of faith many times. Don't listen to people who are afraid. A lot of people are afraid. If you start listening to everyone who is toxic and negative that's going to be very hard to do something."
Veronica Falcón's steely and authentic portrayal is just another way in which Queen Of The South offers necessary and overdue representation. And if the actor hadn't trusted herself to take another career risk, that character wouldn't be the same.