Netflix's New Magic Series Will Make Even The Biggest Skeptic Geek Out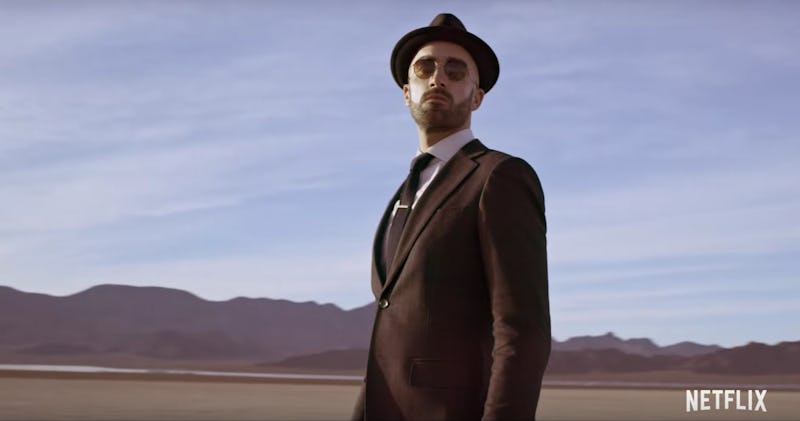 Netflix
Imagine the first time you witnessed a sparkly-dressed lady get "sawed in half" from inside an elevated magician's box, her head and feet wiggling from each end. Although you had no clue how the magician pulled it off, you still knew it wasn't real, right? After all, that's why they call them magic tricks, right? Well, Netflix's new reality show, Death By Magic, released November 30, is a lot like that as it follows a traveling magician tackling tricks that reportedly killed their creators. Which makes it hard not to wonder how real Death By Magic really is.
In the show's trailer, host and British magician Drummond Money-Coutts, aka DMC, says he attempts his "own version of the stunts that cost magicians their lives." Emphasis on "own version." For the show, DMC risks his own life by making the stunts "bigger, faster, and even more dangerous." The trailer boasts fire, flooding, terrifyingly small spaces, and basically any situation that falls under most people's worst nightmares. And a title card on the show insists that everything is done without camera tricks. Choose to make of that what you will. In any case, he's got loads of dedicated followers.
"DMC is a truly gifted magician whose mind-bending illusions mesmerize and confound people of all ages, cultures, and backgrounds," A. Smith & Co.'s CEO Arthur Smith told The Wrap. "So we sent him out to shock the world in eight different cities across four continents with the most daring, unbelievable magic ever seen." Smith's organization is the Los Angeles-based production company with which Netflix partnered to create the show. "Netflix is the perfect partner to showcase this high stakes, death-defying series that will captivate a global audience," Smith said.
By the looks of his currently active Instagram page, DMC didn't lose his life to his renditions of the world's most dangerous stunts. In an October 2018 post, he shared how much this show, a project that he created, means to him.
"After more than two decades of planning and 12 months of intense production - the worldwide release of Death By Magic is now a little over one month away," he wrote, adding:
"It is of course a magic show — but beyond that it's also a tribute to those magicians who gave their lives in the pursuit of greatness. It is a eulogy and a celebration of the dream-chasers who pushed themselves to the absolute limits of what is possible within our craft. It has been the greatest privilege of my life to create this body of work alongside my heroes within the industry, to capture beautiful magic across four continents — and even to have the experience of staring death in the face on multiple occasions."
He further said that the show is, "A reminder that life is short, that we are each but fleeting streaks of light across the night sky of this life, and that each new dawn is a renewed chance to create something extraordinary."
In the show's trailer, you can spot DMC dropping his head into bloody hands. As it turns out, he experienced a severe cut to his hand during a stunt in the second episode. Of course, fans immediately speculated whether or not it was real, and DMC took to Instagram to provide an answer.
"To those that have been asking - yes, this was very real blood from a very genuine accident on the Miami episode finale. DEATH BY MAGIC is of course a magic show - but the physical dangers involved in each of the eight finale stunts were very real, and ever-present." He continued by explaining the safety precautions required to film:
"We had a team of paramedics on set throughout each stunt, and in truth - they were required more than once in the making of the show. DEATH BY MAGIC has sought to take the existing magic genre and blend it with both historical storytelling and a profound sense of genuine danger for the very first time. Emotionally, physically and creatively it has pushed everybody involved to new limits..."
So for DMC, the show isn't just about magic, it's about how short life is. It's about living every moment to the fullest and embracing his biggest fears. And on that note, Death By Magic is definitely pretty real.
This post was originally published on Nov. 30, 2018. It was updated on June 3, 2019.
This article was originally published on