C4's 'The First' Explores Humans Going To Mars & It's Not As Farfetched As It Sounds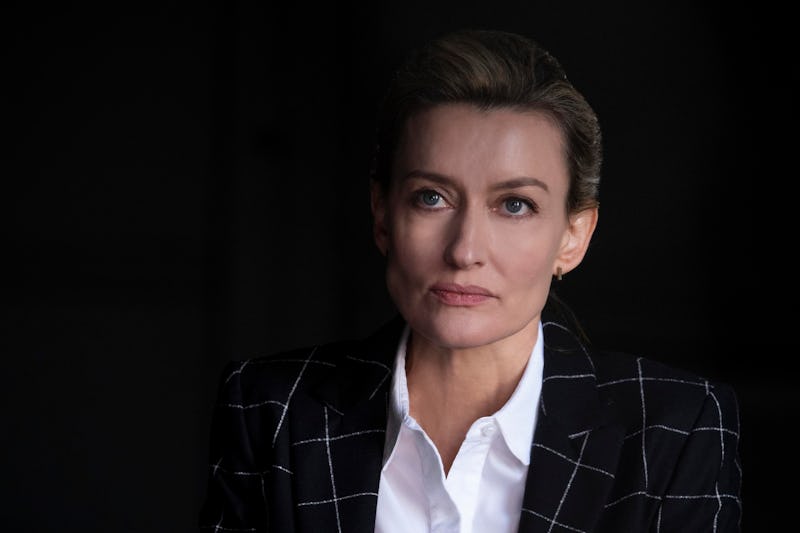 Channel 4/Alan Markfield
If you were as mesmerised watching Ryan Gosling portray Neil Armstrong in the biopic First Man as I was, you'll want to catch the premiere of the latest autumn drama, The First. The titles may be oddly similar, but the narratives are completely different. While First Man follows the build up to the Apollo 11 mission, the Channel 4 series — starring Natasha McElhone and Sean Penn — takes place in the near future, following the first manned mission to Mars. But how realistic is The First, and how can you make a show feel believable when it's based on something that hasn't happened yet?
It's actually pretty simple. You take a possible idea like space travel, pair that up with human emotion and relationships, and you've got yourself the bare bones of a narrative that can be made into a show like The First. For writer Beau Willimon, who is also responsible for Netflix's House of Cards, this was of the utmost importance. "On a deeper level it's about journeys, not just to other planets but inward journeys," he explained in a press release sent to Bustle UK. "We're really telling the human story of this mission and humans are messy, complicated, flawed people [and] how these ordinary people are able to confront all the various things in their lives that pose as obstacles to getting to the fourth planet from the Sun."
It also helps to have a pretty large team of astrophysicists, astronauts, and experts from NASA to aid in the research process before the scripts are even written. "What you have to do is have enough of a working knowledge that goes a bit beyond pure layman's knowledge in order to be able to envision the world," Willimon said. Basically, you need the basic compounds that make up the actual science behind the likes of space travel, astrophysics, etc., develop the stories and write the scripts and "run them through gauntlets of consultants to help correct what you've done wrong or make suggestions of things that could be improved."
Rooting a monumental idea with reliability is all well and good, but is a manned mission to Mars actually possible in just a couple of decades? Don't start having an existential crisis, because it's a pretty decent possibility.
Ever heard of a quantitative futurist? Well, it's pretty much as close as you can get into being able to see into the future. Amy Webb, founder of the Future Today Institute, worked as a futurist consultant on The First, advising "the writers, designers, and producers on the near-future world in which the series takes place."
The future may not have been written yet, but Webb can utilise "data to identify emerging trends and model plausible future scenarios," as she explained in the press release. "Futurists don't make predictions — we make connections."
So, will humans actually make it to Mars as is depicted on the show? According to Webb, it's definitely achievable. "Given what we know to be true today, yes — it's plausible that humans will travel to Mars sometime around 2031." Obviously, it's not all sunshine and rainbows, though.
"There are a number of dependencies that could accelerate or decelerate that time horizon. Regulation, geopolitical strife, the availability of certain components, and climate change all have the potential to derail our journey to Mars. "On the other hand, they could also help us get there sooner," she explains. Whatever the outcome, The First will be the closest we get to Mars for a while yet.
The First premieres tonight (Nov. 1) on Channel 4 at 9 p.m.