Peggy Sulahian Is Living Large On 'RHOC'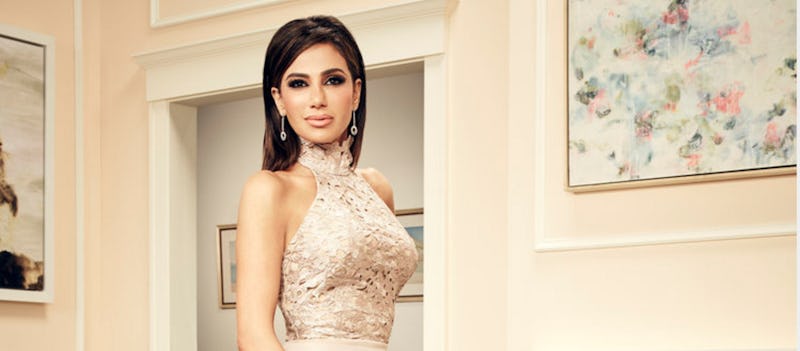 Tommy Garcia/Bravo
The Real Housewives Of Orange County is a show centered around luxury — lavish mansions, extravagant getaways, posh nights out — and if you're going to run with the women of RHOC, you better be able to keep up. So, with a new housewife boarding the cast for Season 12, it's natural to wonder: How rich is Peggy Sulahian?
As a TV newcomer, Sulahian is still building up her celebrity profile, so the full scope of her wealth isn't immediately clear, but it's a fair bet that she's living comfortably amid the upper crust of society. For context, Sulahian's husband runs a high-end designer wheel and rim company called WTW Corporation, which is likely why you'll find Peggy's Instagram stocked with photos of fast, expensive cars. And it seems she lives large off the road, too. "My lifestyle is extravagant. Sure doesn't suck to be me, now does it?" she says in the Season 12 trailer, during which her husband also gifts her some quite decadent-looking jewelry.
But Sulahian's storyline on RHOC will dig far deeper than her flashy lifestyle. According to her official profile on Bravo's website, she was born in Kuwait to Armenian parents before moving to the U.S. when she was one year old. She lost her mother to breast cancer at the age of 51, and when doctors recently discovered a lump in her breast, Sulahian made the difficult decision to undergo a double mastectomy.
Season 12 will pick up as she prepares for reconstructive surgery, and while Bravo promises she'll bring plenty of drama in the meantime, it seems she'll also use her newfound platform to spread awareness for breast cancer.
Nonetheless, viewers won't have to wait long to learn more about Sulahian's background (or what she does with her staggering wealth). RHOC returns July 10 at 9 p.m. E.T., and if the trailer is any indication, Sulahian will be shaking up Orange County all season.
Editor's note: This article has been updated from its original version.