How Bravo's Tabatha Coffey Built A Business Reality Empire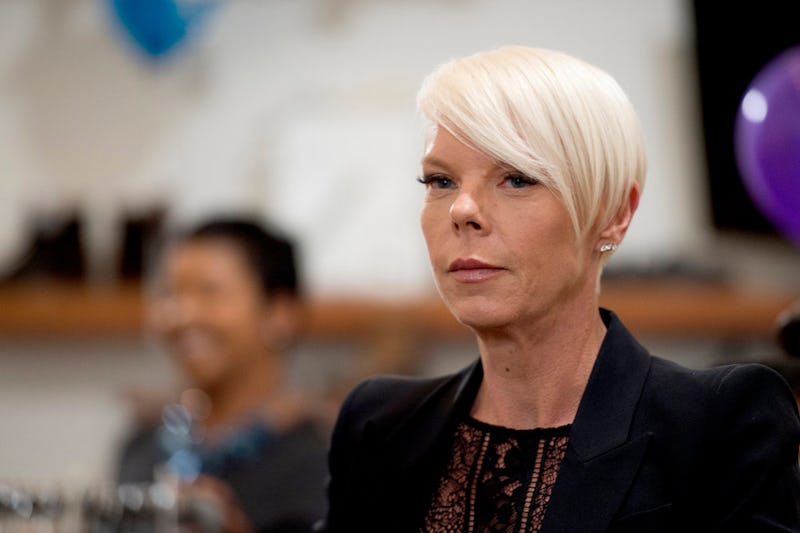 Nicole Weingart/Bravo
Tabatha Coffey came onto the public scene when she appeared as a competitor on the Bravo competition reality show, Shear Genius (executive producer: Jenn Levy). While she didn't win the season, she gained something much more valuable: the foundations of an empire. She was a standout contestant because of her quick tongue, skills and confidence. Bravo went on to give the breakout star Tabatha's Salon Takeover, which let to even more TV appearances. Her new show, Relative Success With Tabatha premieres Jan. 17 and has Tabatha helping struggling family businesses get back on their feet. So, how rich is Tabatha Coffey after all this success? Her brand is still going strong, and not just because of her reality hosting gigs.
The key to Tabatha's success appears to be a combination of both television shows and other ventures. According to her personal website, Tabatha has headlined multiple shows, written two books, been a featured editorial stylist and contributing writer for a variety of magazines including People Style Watch, Elle.com, and PopSugar and has appeared as a guest on numerous programs. Her business rise is a reflection of her hard work and her willingness to take on a diverse slate of projects. And her new show will not only help struggling family businesses but also increase her personal platform.
Tabatha spoke to the Huffington Post about her journey up until the point of the debut of Relative Success With Tabatha. She also went into how the show relates to her upbringing and family's history with hairdressing. This has led to what she calls a "rewarding" experience, especially since she has more time with the businesses than she did on Tabatha's Salon Takeover. She said:
"I'm with these businesses much longer than I used to be and that's exciting! - well, for me it's exciting, maybe not for them. The thing that's really interesting about it is that it's family businesses so it's not the typical business challenges that you hear about. The challenges here involve personal conflict, the drama of working with your family and all that brings to the table for your business and your family life... It's the most challenging show I've ever done and it's very challenging to film, but it's very rewarding."
With this series Tabatha is shining her increasing brighter spotlight onto businesses she believes in, helping others make their dreams a working, everyday reality. And it's no longer just about hair salons. In a preview for the show, Tabatha is shown working with a famous pizza chain.
Tabatha is a business woman who owns her power. In fact, her power is a very much a part of her brand. In an interview with AOL's Build Series, Tabatha credits her success to a genuine care for what she involves herself in. She said:
"God, I'm tough... I think part of the reason it works is because I really love what I do. Because I do get so vested in it. If it was just a TV show for me or if it were just a project, it wouldn't work as well... I really think about these people and think about their business and think about their family and care."
While Tabatha seems to be doing quite well financially, you won't find her touting it on her Instagram. Her feed is mostly filled with motivational quotes and backstage photos from appearances, rather than shots of cars or vacation homes.
Tabatha has made a career out of giving sound business advice and taking no prisoners in the process. It seems that she also lives that advice, and her new series is a testament to her ability to keep her brand going strong.