How Sagittarius Season Will Affect You, Based On Your Zodiac Sign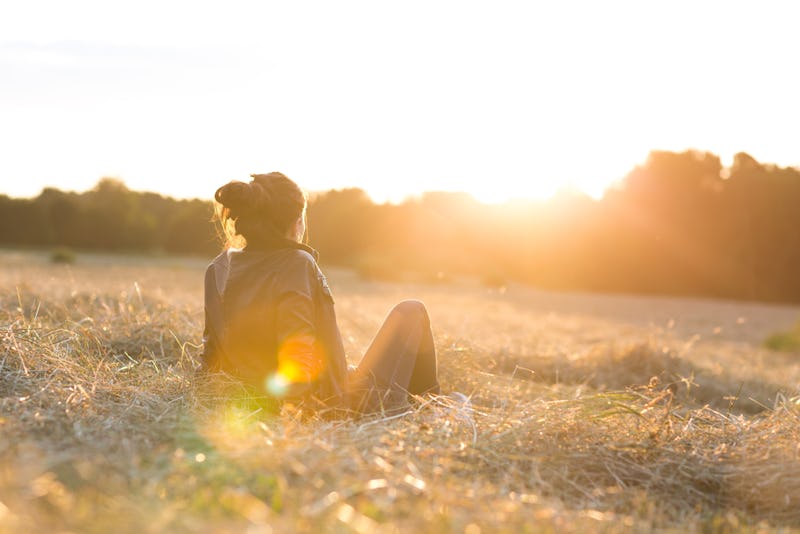 Jan Faukner/Shutterstock
If you've had it up to here with Scorpio's transformative, deep, evolve-at-all-costs intensity, I've got great news: Sagittarius season 2018 is arriving, and it's bringing a whole fresh, new batch of energy for all zodiac signs. I think most of us can let out a collective "THANK YOU, GODDESS" right about now. As a Scorpio rising who is deeply leaning into my Scorpio-ruled shadows, I'm personally sad to leave the season of darkness behind (anyone else? *crickets*). But even a hardcore Scorpio stan like myself can't deny that it's due time we usher in some new energy that doesn't make us feel like we're drowning in emotions 24/7. Thankfully, we couldn't have a more enthusiastic, fun, and optimistic season ahead of us with Sag in the driver's seat, because this sign is happy-go-lucky and full of good vibes. We love you, Sag!
Sagittarius season 2018 begins on Nov. 22 and ends Dec. 21, during which time the sun will run its annual course through the archer's territory. Sagittarius is a mutable fire sign, and it's known for being worldly, inspired, philosophical, and a total seeker truth and knowledge. The sign's unbridled optimism and open-mindedness is a most welcome vibe as we descend into the final weeks of 2018. I mean, like, optimism and open-mindedness aren't exactly the words that come to mind when thinking of world events over the past year, right? I think we will all benefit from channeling a bit of the enthusiastic joie de vivre that Sag has to offer. Bring it.
Also important to note on the good-vibes-astrology front: Jupiter (Sagittarius' planetary ruler) actually entered its home sign of Sag and will be traveling through it until Dec. 2019. This placement is ramping up the Sagittarian vibes in the best way possible, and bringer-of-good-luck Jupiter is feeling more himself than ever now that he's in his astrological hometown. This has potential to bode well for every sign, but all you Sagittarius suns and risings are going to be extra blessed. All in all, Sag season is going to be a dope time to begin new projects, travel, learn a new language, jump into some new hobbies — you name it! The coming year will be supporting that same energy as well, so plan now. Just save yourself the drama and wait until after Mercury retrograde ends to start anything major, k?
Bustle spoke with astrologer Lisa Stardust, who shares, "Sagittarius Season brings high hopes, ideals, and lots of positive vibes to everyone! As the Sun enters Sagittarius, we can all expect to feel more buoyant, lighthearted, and open to taking risks." Woo! Let the holiday games begin. Here's how Sagittarius season 2018 will affect each zodiac sign so you can be prepared and harness this fresh batch of energy as best you can.
Aries (March 21 - April 19)
Follow in the footsteps of fellow fire sign Sag this season and turn to some worldly spiritual practices to find your chill over the coming month. "Yoga and meditation will help you get through the astrological shift, as you are in the mood to sport higher-minded activities," shares Stardust with Bustle. It's been a busy time for you and it's not unlikely you're feeling fried — so even if meditation isn't typically your thing, you might find that the vibes are right.
Taurus (April 20 - May 20)
With your ruling planet Venus finally out of its retrograde, you're probably ready to turn some feelings into actions when it comes to relationships of all sorts. "You are trying to to implement boundaries with others this month, which may prove to be challenging at times," explains Stardust. "Try changing the structure of relationships one step at a time, to avoid conflicts." It's not necessarily going to be easy to restructure your relationships, but by channeling Sag's fiery, action-oriented energy, you'll be able to slowly but surely set things straight for the best.
Gemini (May 21 - June 20)
With a heavy full moon taking place in your sign right at the start of Sag season, you're bound to feel some major energy shifts as the sun runs its course through this new sign — and you may be focused on some particular relationships. "A partnership may consume your mind this month, as you put all your energy into making relationships work," says Stardust. "Don't do all the work, Gem! Make sure your partner puts in 50% of the work to strengthen your relationship." Channel Sagittarius' mind for fairness and be sure you're not doing the brunt of the emotional work for someone else.
Cancer (June 21 - July 22)
We know you can be a little bit of a Suzy Homemaker, and that's great, because this month is giving you a very perf opportunity to get your ~winter wonderland~ vibes on at home — but, in true Sag-influenced form, prepare to socialize a lot, too! "This month will serve as high time to organize your seasonal activities," explains Stardust. "Planning your social calendar will help you navigate through the holiday invites and parties." Get out your holiday decor and get ready to have some fun.
Leo (July 23 - Aug. 22)
With the sun traveling through a fellow fire sign and love-planet Venus having finally stationed direct after its pesky and vibe-killing retrograde, you're definitely going to be feeling some extra energy — and, ooh la la, expect a major boost in the love and romance department this season. "Sag Season brings a hot new romance your way, making you roar with delight," shares Stardust with Bustle. Mercury retrograde may still be destroying our lives communication-wise, but at least our gal Venus is direct, so follow your heart into some fun new situations.
Virgo (Aug. 23 - Sept. 22)
The holiday season can be stressful for everyone, Virgo, but in a fun surprise twist, Sag season is actually bringing you an opportunity to stay very chill. "This month, you will be taking more time for yourself, spending much needed time relaxing in the comforts of your own home," Stardust explains to Bustle. You can be a detail-oriented perfectionist, which can make holiday planning (and dealing with allllll sorts of messy personalities) a low-key nightmare, but this season you can surrender to the flow and pamper yourself. Things will fall into place, and you deserve to relax.
Libra (Sept. 23 - Oct. 22)
Nothing feels worse to you than conflict, Libra, so be extra careful with your words this season, as there's heated potential for miscommunication and drama. "Speaking your mind will cause arguments, if you're not careful," warns Stardust. "Think before you speak, to avoid putting your foot in your mouth!" This isn't to say you shouldn't speak your truth (truth-seeking Sag is at the helm this month, after all!). It's just to say that the urge to impulsively say what's on your mind should be tempered with your natural diplomatic balancing abilities, that's all. This is actually a good opportunity to make some progress when it comes to issues in relationships if you use the energy right!
Scorpio (Oct. 23 - Nov. 21)
Post Venus retrograde vibes have got you majorly re-energized when it comes to fattening up your pocketbook — cause we all know the past month or so has taken at least a minor toll. I mean, hello, Scorpio season was intense, especially for you! "Money is your main priority right now, as you are trying to find incentive ways to increase your cash flow," explains Stardust to Bustle. With Venus moving into Scorpio territory mid Sag season, you'll feel the luxurious, beneficial energy bringing the prosperous vibes your way.
Sagittarius (Nov. 22 - Dec. 21)
The sun is shining its sparkly, golden light on you, birthday babe. And with good-vibes planet Jupiter sharing your home sign until Dec. 2019, this season is going to be full of fun and excitement — and is sure to kick off an auspicious and big year for you, Sag! "During your solar return you can expect a ton of merriment amongst friends and family. Have fun!" shares Stardust. Eat, drink, and be merry — cause it's your season now, and you have lots to celebrate!
Capricorn (Dec. 22 - Jan. 19)
Hey, Cap, are you stressin' yourself into a holiday tizzy? Why am I not surprised!!!! Self-care is on the docket for you during Sag season, so if you can spare a couple extra days off from work and actually devote them to some you time, do it. "You may want to take a step back this month and focus on self care," advises Stardust. "After all, the stress of the upcoming holidays requires some R & R." There's potential to get burnt out here if you don't pump the brakes a lil' bit, so be extra gentle on yourself and take a teeny weeny hibernation to temporarily spare yourself from the day-to-day grind.
Aquarius (Jan. 20 - Feb. 18)
You're definitely going to be feeling the expansive, inspired, and optimistic vibes of Sagittarius during this solar season, so use the energy to your advantage, Aqua! You've got some big ideas and goals, and now's going to be an amazing time to explore them. "Sag Season reconnects you with old friends and dreams, which will inspire you to go after your hearts desires," shares Stardust. Be social, stay open to inspo, and move forward using whatever energy you're given.
Pisces (Feb. 19 - March 20)
Looking to establish yourself in some way through a new endeavor? Trying to figure out how to market yourself career-wise and step into the spotlight a bit more? Expect an energy boost when it comes to making your fabulous self seen. "Your public image is on the forefront of your mind during Sag season, as you are working towards revamping your social media branding," shares Stardust. Whether it's a shiny new Instagram handle or just a fully-updated LinkedIn page, you're preparing to put yourself out there into the world — so stay motivated, sweet Pisces!