Here's What It Was Like To See 'Crazy Rich Asians' With An All-Asian Audience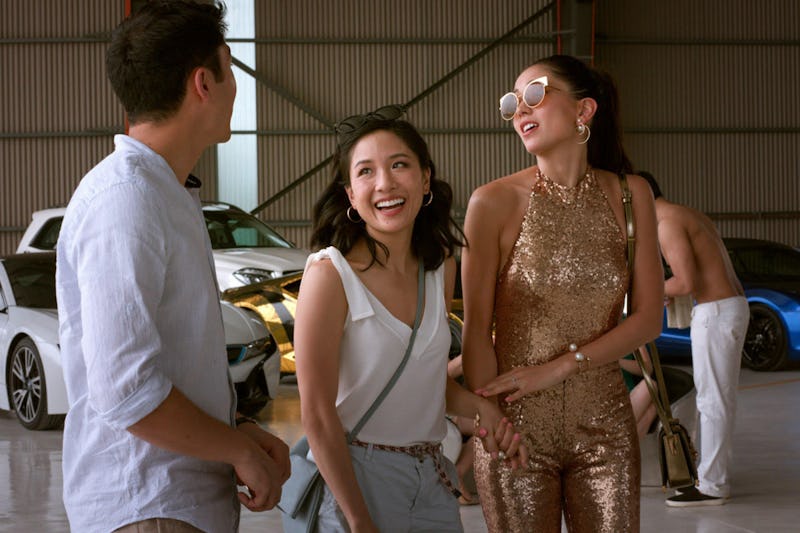 Warner Bros.
As we all know, Crazy Rich Asians is a huge deal. The first major contemporary-set release in Hollywood with an all-Asian cast in 25 years, its existence is a watershed moment for Asian and Asian-American representation on-screen. As a movie buff of Asian-American descent, I'm excited for the film's debut; after all, representation and inclusion are virtues I care about and aim to prioritize in my own coverage as a journalist. Yet when I first see Crazy Rich Asians, alongside a mostly-white audience at the Warner Bros. lot, I find myself questioning my enjoyment of it. Do I like the movie because it's truly good, or because I'm thinking of its milestone potential? Am I obligated to like it because of my background? Should I say I do anyway, in case it takes another 25 years to even do this again? There's no question I think Crazy Rich Asians is a good movie, but it's not until I see it again, this time with a theater full of Asian Americans, that I really love the film.
The first time around, I laugh loudly at the hilarious jokes, I grow wide-eyed at the montages of gorgeous designer gowns, and I tear up at the most emotional moments. Though it's not without its faults, I know I will wholeheartedly recommend Crazy Rich Asians to anyone who asks, regardless of their ethnicity. But my doubts hold me back from truly loving it, and it's only at my second screening, during an annual conference for Asian-American journalists, that everything changes. On the bus ride over to the theater, my fellow reporters proudly share their palpable excitement for the film. Some people have just voraciously reread Kevin Kwan's 2013 novel on which the movie is based, while others have been busy liking every Instagram photo that the actors have posted. It seems like everyone else is already in love with the movie before seeing it, while I'm still skeptical from my first viewing.
Maybe it's because I'm suddenly aware that I resemble not only everyone on the big screen, but also in the audience, that the movie leaves a much more acute impression on me this time. I pay attention to the reactions of the other moviegoers; a sequence of onscreen texts debating the spelling of protagonist Rachel Chu's last name (Choo? Chiu? Chew?) leaves the room cracking up (because wow, we really have all been there), while a message that adds the word "lah" — a Singlish (colloquial Singaporean-English) expression that I grew up hearing around the extended family of my mother, who spent her childhood in Singapore — to the end of a sentence also has an impact.
We collectively cackle at a pithy remark about the prevalence of plastic surgery in Asia, as well as Ken Jeong's joke about red being a lucky color "if you're an envelope" (the ones we receive from our elders every Lunar New Year). I listen as the wedding scene evokes more howls than sobs, as some people in this audience have in fact attended similarly over-the-top ceremonies.
It's a foreign feeling to laugh at jokes that are actually written with me in mind, and mid-movie, it finally hits me how rare all of this actually is. A recent USC Annenberg study of the most popular films of the past decade discovered that only 6.3 percent of speaking characters are of Asian descent. That's no surprise to me; I spent my childhood watching American movies with white casts, occasionally rotating in Jackie Chan action comedies and other martial arts epics. My selections for heroines of Asian descent were strictly limited to Michelle Yeoh in Tomorrow Never Dies and Lucy Liu in Charlie's Angels; my options for heartthrobs were capped by Shang from Mulan (a cartoon!) and Paolo Montalbán from that groundbreaking adaptation of Cinderella in 1997.
As I've learned, it's hard to crave what you've never tasted, to miss what you'd never had the chance to love. Yet in Crazy Rich Asians, Constance Wu glows as an Asian-American heroine of the romantic comedy. Henry Golding, meanwhile, is a charismatic leading man of Asian descent who resembles the actors of Hollywood's golden age. Nico Santos, Ken Jeong, Jimmy O. Yang, Ronny Chieng — actors whom audiences might recognize from being supporting characters in other projects — stand front and center, alongside dozens of other Asian faces. None of these characters practice martial arts or are fetishized into submissive sexual stereotypes, and their accents aren't patronized by others. They're multidimensional and amiable; they're funny and gorgeous; they're educated, cultured and powerful. And the men even show off their abs — multiple times!
The penultimate scene of the movie, featuring Michelle Yeoh's fierce, demanding Eleanor Young telling off Wu's Rachel Chu, hits me the hardest. Defending herself against Eleanor, Rachel pays tribute to her own mother, who came to America to give her daughter a better life. In these two characters, I see a composite of my own mother and so many parents of the people seated around me in my screening: women who left everything they knew and immigrated to a new country to reinvent their lives, all with the hopes of providing more for their next generation. They're often disregarded by strangers, government officials, and sometimes even their own kids, but they're the true heroes of our stories.
Upon realizing this truth, I sob quietly, frustrated that I needed the reminder that this kind of representation matters so much, but thankful that this film exists. After the closing credits roll (complete with a gasp-worthy mid-credits scene), the other reporters and I board the buses back. We spend the ride expressing our excitement to see the movie again (maybe even with our parents) on opening weekend, and our hopes that this movie is received by non-Asian audiences and becomes a bonafide hit. I sit back, dreaming of the countless moviegoers who will soon look up to Wu, drool over Golding, and feel so simultaneously entertained and understood in the way I just did.
Crazy Rich Asians is a modern-day Hollywood studio release in which every single one of its actors, more than any other cast of any major movie I've seen in my lifetime, actually looks a great deal like me. And now that I've finally gotten a taste of on-screen representation, I hope I never go without it again.