3 Ways More Self-Promotion Could Improve Your Life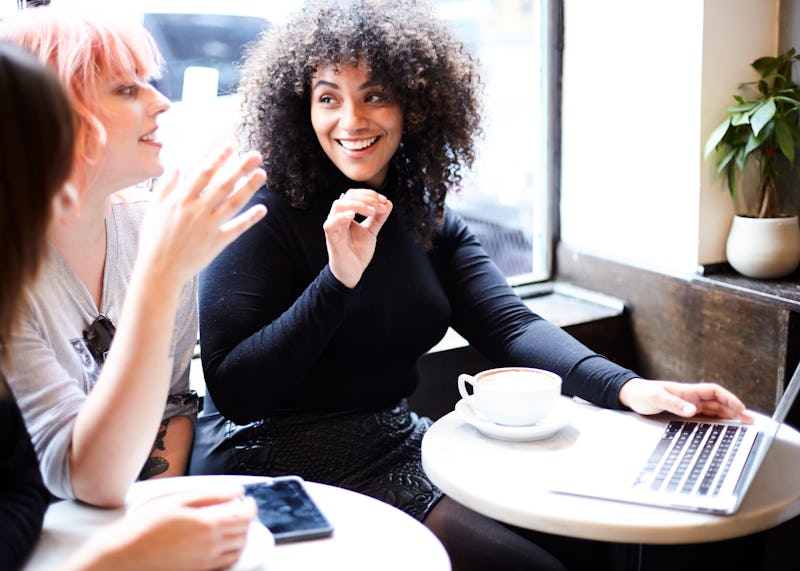 Hannah Burton/Bustle
Are you pretty bad at self-promotion? Raise your hand if you've ever deferred a compliment by talking yourself down. (You know, someone says "She's so smart! She just finished up her graduate degree!" and you respond by saying something like, "No way, I'm a total idiot. It was half luck!") Or maybe you turned it back on the person complimenting you. This reluctance to self-promote is particularly common in women and non-binary people. While we're quick to boost up our friends, it can be a lot harder to publicly boost up ourselves.
A recent survey called The Self-Promotion Gap by examined this reluctance so many of us have to tooting our own horns. The survey examined a nationally representative group of 1,016 American adults (517 women and 499 men) and the majority of women don't like talking about their strengths and accomplishments. In fact, 47% would rather run errands in the rain and 42% would rather clean the bathroom than talk themselves up.
Relationship therapist Dr. Gary Brown, PhD, LMFT, FAPA, believes that at least some of this reluctance to self-promote is due to people thinking that "self promotion" is the same as "bragging."
"The idea of healthy self-promotion is sometimes confused with bragging," Dr. Brown tells Bustle. "We need to distinguish between the two. Healthy self-promotion comes from an inner confidence we have about one or a series of important achievements. This genuine confidence has a wonderful tone of genuine pride mixed with a healthy sense of humility. That combination of character traits can be truly inspiring. This is different from bragging, which tends to be tainted with out-and-out arrogance and pomposity. Bragging is often associated with an over-inflated sense of self-importance."
So why should you get on the self-promotion train? Here are some ways "bragging" more could improve your life — and the world.