Why 'The Bachelorette' Should Have Gone Harder On Lee's Alleged Tweets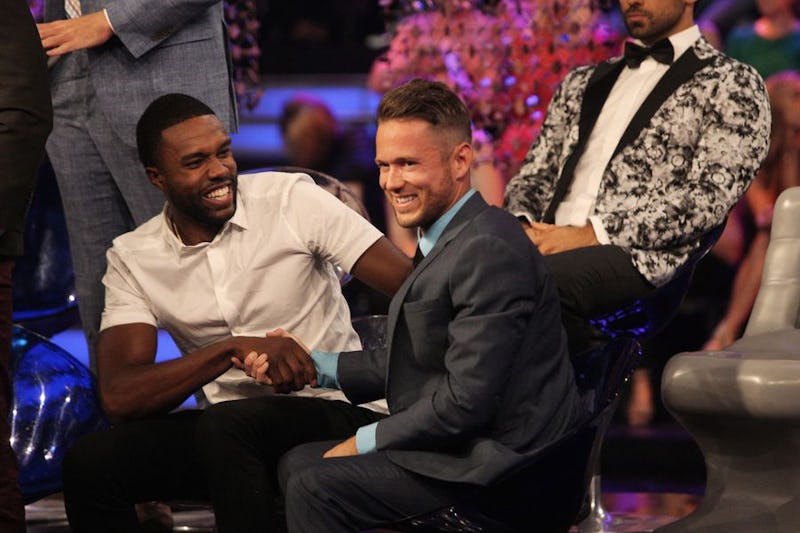 Paul Hebert/ABC
The Bachelorette: Men Tell All special is usually a chance for the cast to react to how they've been portrayed on the show, dispel rumors, and jokingly flirt with the Bachelorette, but this season, it was a chance for the show to address the allegations that contestant Lee Garrett wrote racist tweets. And, after frustrated fans waited almost the whole season to see Lee be held accountable for his words, I think that The Bachelorette treated Lee's tweets the right way on The Men Tell All. At first, Lee denied almost everything, but when faced with his actual words on the jumbo screen, he was forced to admit that he was wrong, that he made comments that were, indeed, racist, and he even apologized for them. Thankfully, there was no attempt to paint Lee as just a "kid" or use his "ignorance" as an excuse, rather than the sad, pathetic reason he thought those comments were acceptable. Instead, he was forced to have a real conversation with his former Bachelorette costars about the tweets.
Josiah's irrepressible personality was put to good use by interrogating Lee on his tweet about the NAACP, asking "why did you come on a show where the Bachelorette was an African American woman" if he believes the NAACP is comparable to the KKK. Josiah further pressed him, saying, "Why are you trying to date a woman who looks like me?" Lee's response? "I don't like racism at all. ... I don't like it." It's to The Bachelorette's credit that Lee's half-apology didn't stand, Chris Harrison allowed basically every single man of color to comment on the situation, and even encouraged Lee to make a more sincere, totally separate apology to Rachel for disrespecting the rest of the cast. After The Men Tell All sitdown, Harrison told E!'s Zuri Hall, "If nothing else, I hope he heard some things and I hope he learns a little something."
If there's one flaw to the segment, though, it's that the series focused so heavily on Lee's anti-black and misogynist comments, when he also was allegedly openly homophobic and Islamophobic on his account. (His account has since been made private, so only screenshots are left of these alleged comments. Lee was not asked about them on the show and ABC and Warner Bros. declined to comment on why. A rep for Lee could not be reached.)
Just because those alleged tweets don't exactly line up with the identity of the Bachelorette or the self-identification of any of the men on the show doesn't mean that these types of comments aren't also upsetting. If Lee hadn't written comments about women, Black Lives Matter, and the NAACP, but made similar "jokes" about other groups, would his Twitter presence have gone unquestioned and unexamined on the show?
I am glad that The Bachelorette decided it was worth addressing Lee's racist and misogynistic tweets. If the show hadn't, it would have felt like a huge insult to the woman they cast as the star, and a sign that people with marginalized identities should steer clear of any future Bachelorette seasons. But, the show did take Lee to task for his words, and I respect that. But if there's one thing it could have improved upon, it would have been to note that people like Lee — ignorant or hateful people who make thoughtless comments — often have many, intersecting prejudices.
Addressing, referencing, or even simply showing more of what Lee allegedly wrote could have made the confrontation between him and the rest of the Bachelorette cast even more powerful — and would have given The Bachelorette a chance to denounce all of Lee's alleged ideals, not just the ones that fit the show's narrative the best.