Lee's Alleged Tweets Need To Be Addressed On 'The Men Tell All'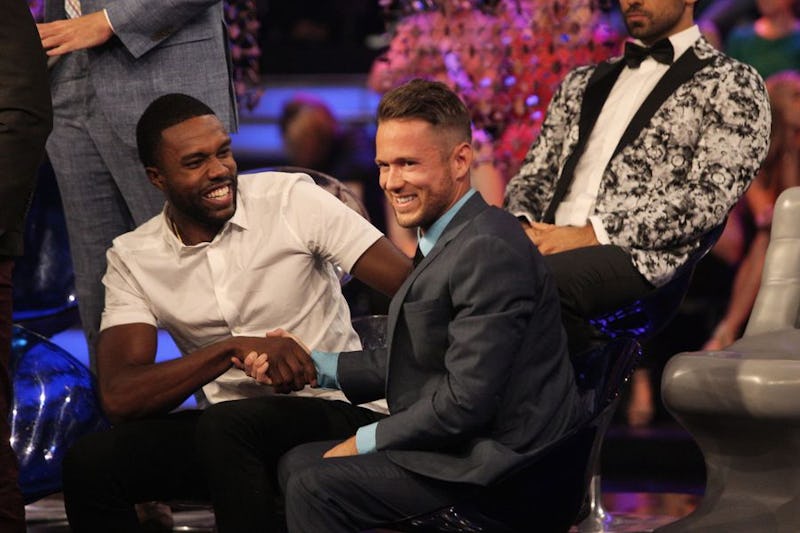 Paul Hebert/ABC
Bachelorette Season 13 contestant Lee Garrett was mostly notable on the show because of his antagonistic relationship with Kenny and his insistence that he wanted to "take down" people that he didn't like. But offscreen, Lee quickly became the target of intense disgust from the show's fans for comments he allegedly made on his Twitter account. But what were Lee's alleged tweets. A fellow Twitter user, Erika (@emesola), claimed that Garrett allegedly tweeted things against Black Lives Matter, gay people, and women, among others. (When Bustle reached out about the alleged tweets, ABC and Warner Bros. declined to comment. A rep for Lee could not be reached.)
Now, Lee's Twitter is private, so it's unknown whether or not the alleged tweets are still active on his account or if he's written anything else since. Garrett has never denied that the tweets belonged to his account, and Chris Harrison seemed to acknowledge them, tweeting, "For those asking, no, of course we didn't know about the offensive tweets from Lee's account. None of us were aware of them Very unfortunate." It's likely Garrett's alleged comments will be addressed during the Men Tell All and we can get to the bottom of what he allegedly said.
As you can see from Erika's screenshots, some of Lee's alleged tweets include the following:
"Hillary is the millennial version of O.J."
"I wholeheartedly support the inhumane treatment and torture of terrorists,"
"Well guys... America is becoming an urban Vietnam. Practice your second amendment. It's there for a reason."
All of the above comments are shockingly ignorant, offensive, and tasteless. However, there's a few more alleged comments that are so inappropriate that Harrison should feel obligated to address them at the Men Tell All special, especially because Lee is going to appear. A tweet from July 2016, that reads "thousands sign a petition to recognize [Black Lives Matter] a hate group after Dallas" and one that allegedly reads, "What's the difference between the NAACP and the KKK? One has the sense to cover their racist-ass faces."
Additionally, there's allegedly, "guys... When is the last time YOU have actually seen a pretty feminist? There's a reason for this." While Rachel hasn't directly commented on Black Lives Matter before, she has voiced her support for feminist causes, and, regardless of her political beliefs, these comments are a direct attack on two aspects of her identity.
In short, if Lee did write these tweets, he needs to be held accountable. Of course, that behavior would be unacceptable on any season, but it particularly stings because this was the season featuring the very first woman of color (and specifically a black woman) as the Bachelorette. In Lee Garrett's case, if he did write the tweets, he's revealed that not only was he totally wrong for The Bachelorette, but he needs to deeply reexamine his views. And unless he's armed with one hell of an apology, fans like me are going to be livid on Monday night.