This Powerful Music Video About #MeToo Was Inspired By Christine Blasey Ford's Testimony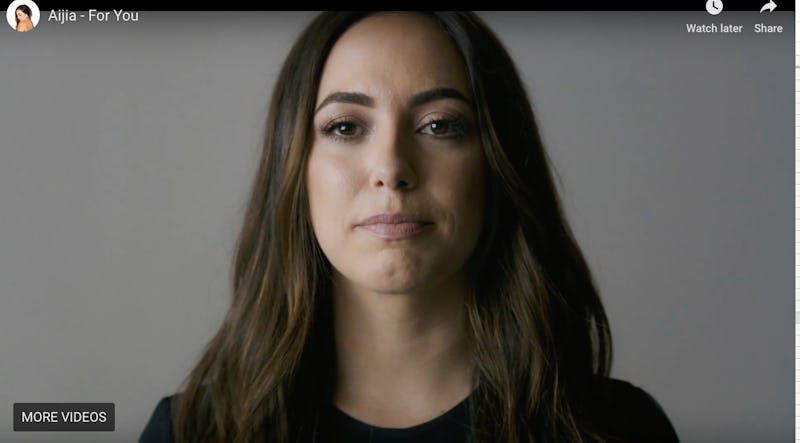 The night of Sept. 27, 2018 was a restless one for many Americans. Earlier in the day, the nation tuned in as Christine Blasey Ford testified before the Senate Judiciary Committee during Brett Kavanaugh's Supreme Court confirmation hearing. Those who watched probably still remember both the quiver in Ford's voice and her insurmountable bravery. For singer/songwriter Aijia, Ford's testimony even inspired a new song, a track called "For You" all about sharing one's #MeToo story. The song came out on Nov. 2, and now, Aijia is premiering its moving music video.
Speaking to Bustle over the phone, the artist shares how Ford's testimony inspired her new track. "I was so in awe of her because she didn't want to be up there doing what she was doing and she said she felt a responsibility," Aijia says. She recalls how, the night of the hearing, she saw many women in her life using social media to share their own stories about harassment or assault. "I was so taken aback at how big this is, how many women this has touched, and not just women but men too," she says now. "And I tried to go to sleep [but] I was having all these feelings and I couldn't sleep. So I got up in the middle of the night and wrote this song."
The music video for "For You" is simple yet intense. It starts off with a title card that reads, "The women joining me are sexual assault survivors and their supporters. Some of them are speaking out for the first time." After that, you see Aijia singing the song in a studio before the video cuts to a sequence of women lip-synching to the words. Between the heartbreaking lyrics and the affecting imagery of women addressing sexual assault, it's hard to get through the video without shedding a few tears.
Aside from Aijia, who is married to singer Andy Grammer and was a former contestant on The Voice, the "For You" video doesn't include any famous faces — which was intentional, according to the artist. "There are faces that are kind of tied to this movement right now but I think for me, I feel like those people have an outlet and we wanted to show the people that don't maybe have that outlet," she explains. "We wanted to show real people who are existing and dealing with this."
Aijia found the video's director, Vanessa Beletic, shortly after recording the song, and the two found participants by sending out casting calls for people who had experienced sexual assault. They made sure to cast a diverse group of women. As Aijia explains, "I really didn't want this to be just a white woman's response because there are other voices that need to be heard."
The musician credits Beletic with making this possible, but also emphasizes the bravery exhibited by the women featured in the video. "I am one percent of this — this was a group effort and a group sentiment and if anything, most of the credit should go to the women that appeared in it, because they had a lot to lose and they put it all on the line to show up that day," Aijia says.
As you can imagine, Aijia says the filming experience was emotional, recalling, "Immediately when I got there, I started crying, and from that point forward the whole crew was just a big ball of tears the whole day because it was so powerful. It was really it was transformative and it was people supporting each other and showing up for each other and holding space for each other."
In addition to Aijia, Beletic, and the women starring in the video, the crew also included all women as key department heads. And for the singer, that felt right due to the song's communal spirit. "I was putting my voice in with [Ford's] voice in with the voices of my friends that I had read that night who were coming forward," she explains.
Aijia has worked to empower women for many years, but writing "For You" and filming this music video had a particular impact on her. "I do think that there is healing that can happen when you share your story because you find others around you and then you can share about it and work through it," the musician says. When asked if she will write more feminist songs after this, she immediately responds, "100 percent yes," adding that being a mother (she had a daughter, Louie, in 2017) has made her think more about the content she puts out and the "messages" she wants to send.
Aijia tells Bustle that her husband was the first person to hear "For You," and that Grammer encouraged her to record the song herself. Yet as personal the lyrics of "For You" sound, it literally isn't for Aijia. According to the singer and her representatives, 100 percent of the download proceeds from "For You" will go to the Time's Up Legal Defense Fund, an organization that connects victims of sexual assault with proper legal assistance.
More than anything, Aijia wants the song to help victims of sexual assault feel less alone. "I think it's our duty as artists to reflect what we're feeling and what other people are feeling and to make those ideas bigger and more concise," she explains. Seeing as "For You" directly resulted from a momentous national event, it seems like Aijia is achieving all of her goals.