How The CW's 'Dynasty' Reboot Puts Much-Needed Feminism Front & Center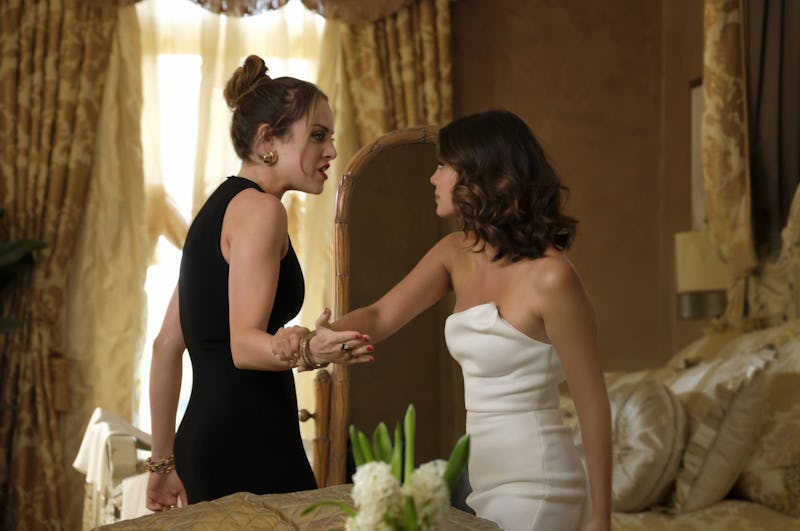 The CW
On the surface, it's easy to see that The CW's reboot of the classic soap Dynasty has been updated for 2017 — there's not a shoulder pad in sight on any of the fabulously dressed women. But it's not just the fashion that has been modernized. The new version of Dynasty has also upped its feminism from the 1981 original, and while the one percent of the one percent on the show throw parties for literally any occasion you can think of, this is truly something to celebrate.
Bustle visited the Georgia-based set of The CW's newest drama (premiering Wednesday, Oct. 11 at 9 p.m.) to see how the reboot compared to the original series, and every single cast member couldn't stop gushing over how executive producers Josh Schwartz, Stephanie Savage and Sallie Patrick are bringing women's equality and rights into the spotlight in every episode.
High up in a gorgeous office building overlooking downtown Atlanta on a grey, blustery day last month, the stars — dressed in the most enviable wardrobe ensembles from the likes of Gucci, Paul Smith and more — opened up about how important it is for their 2017 remake to make its feminism as clear as possible, since the biggest issue with the original series is how the women were portrayed. Elizabeth Gillies, who plays Fallon Carrington, the highly motivated businesswoman and daughter of the rich, ruthless Blake Carrington (Grant Show), was impressed with how the showrunners of the reboot decided to make the women more career-oriented.
"While the women were fabulous in the original Dynasty, we kicked up the ambition and the drive and the motivation," Gillies says, rocking a Gucci outfit glam enough to make any fashionista drool with envy. "They're not comfortable being housewives anymore. They want to run companies. In today's day and age and climate, that's a really good message to send to girls everywhere, that they can run for companies and that is worth fighting over – sometimes physically."
The rebooted soap opera starts off just as the original did: with Fallon Carrington learning that her father, powerful, wealthy oil magnate Blake is about to marry his former secretary Krystle (now named Cristal, played by The Vampire Diaries' Nathalie Kelley). The two women are at odds from the start, fighting over Blake's attention, but the reboot immediately introduces this feminist twist to the Fallon vs. Cristal dynamic.
"The original Krystle Carrington stayed at home, when she married Blake she quit her secretary job, she wasn't asked of much except to pick the china," Kelley says with a laugh, crossing her legs as she shows off her very un-Cristal black slip-on tennis shoes she wears in between shooting scenes. "There's a scene where Blake literally closes the door in her face to his study when he's having a meeting."
So now, Cristal and Fallon are fighting over Blake's attention and a highly-coveted position at the head of his company. Talk about a much-needed plot makeover! "That is the biggest reflection of how far we've come from the '80s," Kelley says passionately. "In classic terms, these two women fighting to take over a company, that's inherently feminist. That wouldn't have happened 20 years ago."
And Dynasty is taking things one step further to become the feminist show you didn't know you needed. In addition to making Fallon and Cristal's conflict much deeper than the original, the new version of the series is also going to attempt to expand the idea of what makes a woman feminine. Kelley describes both Cristal and Fallon — two extremely different women — as being just as feminine as the other, despite how they act or dress.
"Dynasty is an interesting reflection of how many versions of the feminine there are," Kelley says. "Cristal is this almost traditional embodiment of the feminine because she's Latin and warm and sensual, she's nurturing of her man. Fallon is no less feminine but she doesn't want a relationship, she rules board rooms and makes cunning and amazing decisions."
Kelley believes that women will find the Dynasty characters more realistic now because of that. "The way we write women in television has changed and it's more authentic and reflective of how ambiguous and nuanced we all are," she says.
Of course, this is still a soap opera (and a deliciously campy one at that). There is more to Cristal than meets the eye when she first arrives on the scene in the series premiere. Fleeing a country in chaos for America, the newly Venezuelan Cristal is armed with secrets by the time she meets the Carringtons.
"The original Krystle Carrington was an all-American dream," Kelley says. "There's an almost civil war that's about to break out [in Venezuela] so a lot of her secrets [now] stem from poverty and fleeing a country that is breaking down. Some of the things she's covering up, she had to do to survive."
Kelley believes that makes Cristal easier to empathize with, and the same goes for Fallon now that she's not just a selfish daughter seeking her father's attention. The way she carries herself in business and her personal life is much more aggressive and calculated than Cristal, but she's no less feminine for it.
"I don't like comparing her to a man and saying she's like a man because she's just like herself; she's strong," Gillies says. "She's very concise and determined in everything, in every arena be it business, be it sexuality. It's hard to be a woman in this world, so she has to act tougher and stronger and have a bit more of an edge to be taken seriously."
As the "heart and moral compass" of the show, Cristal shows off her female empowerment in a different, but just as important, way.
"In this scene today, it's my first day as COO [of the company] and I'm on purpose wearing a two-piece Stella McCartney pink suit," Kelley says as she shows off her version of a power suit. "For a woman to be that empowered and emboldened starting her first day as COO in head-to-toe pink, that just says a lot. It's pushing boundaries of how women can be powerful. This Cristal is definitely not a pushover."
And yes, just as the original series, the reboot will have its fair share of catfights between Cristal and Fallon. While Kelley initially didn't feel comfortable with the girls getting physically violent with each other, she's come around to the idea by rationalizing it in her head as "feminist, empowering" catfights.
"If we want to rule boardrooms like men, shouldn't we be able to wrestle and tussle and still be feminine?" she says with a laugh. "If they were just fighting over some guy's attention, that would be tacky. But the fact is the stakes are so high for them. They just don't use their words sometimes; it gets very heated."
"We're not afraid of a good catfight," Gillies adds with a smirk. Bring it on, ladies.