How The Editor-In-Chief Of Apartment Therapy Decorates Her Apartment (No Pressure At All)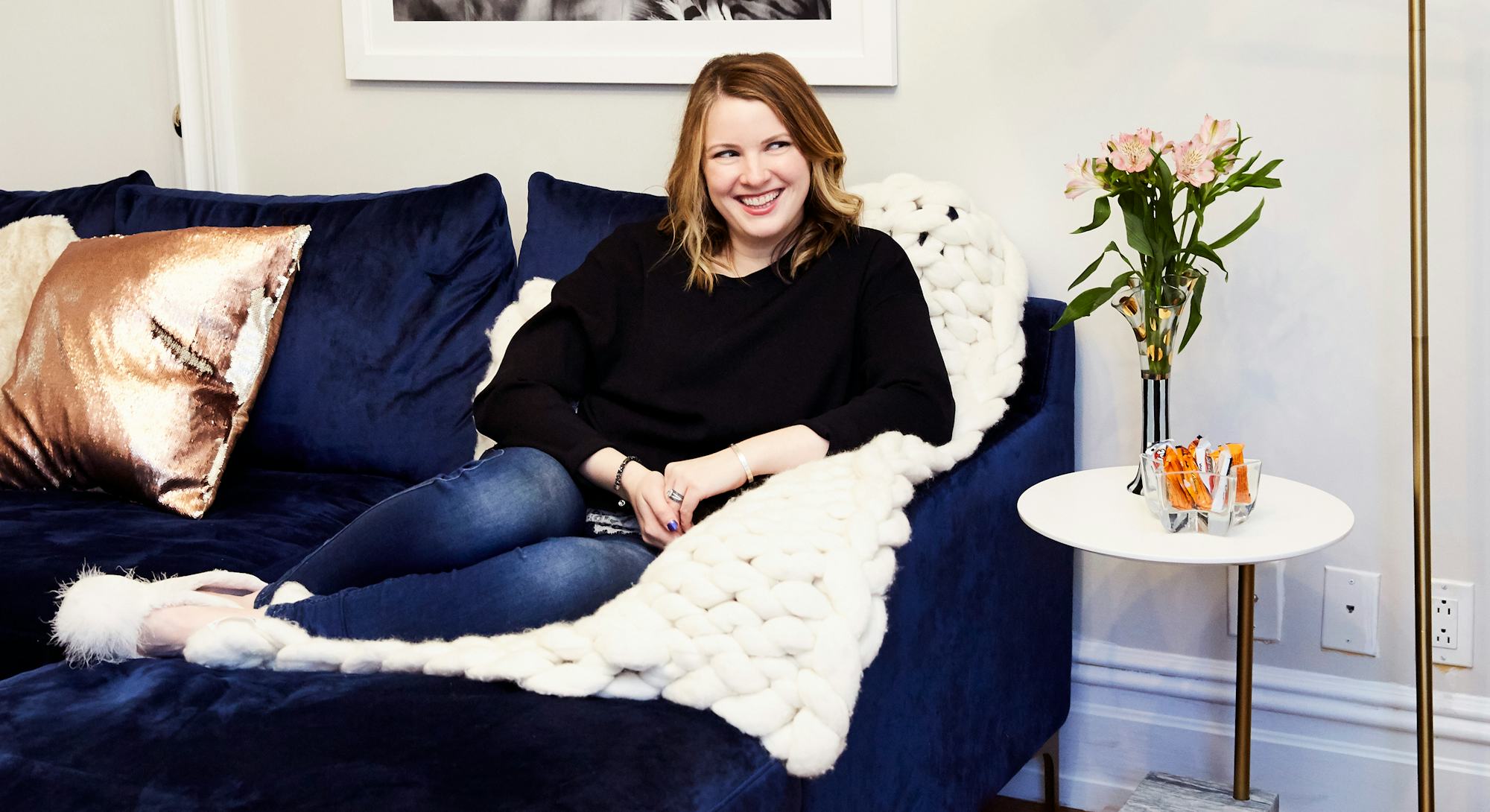 Lauren Perlstein
In Be My Guest, Bustle takes you inside cool homes so you can gather design and decor inspo for yourself. In this inaugural article born out of our Instagram Stories series, we give you a glimpse of the living room of Apartment Therapy editor-in-chief Laura Schocker.
For some people, the place where they live is just that — the place where they live, and that's about it. (And to each their own!) But then there are those people whose place literally feels like an extension of them — like you're experiencing their personality brought to life through their home. To me, Laura Schocker's apartment has always been one of these kinds of homes.
For as long as I've known Laura — which is coming up close to a decade now — one thing was always clear to me every time she invited me over: Her place always felt so inherently, quintessentially her. It's cozy, but at the same time vibrant. Colorful and fun, but still chic. Her aesthetic would be evident in something as simple as the wine glass she'd offer to me as I settled in to watch The Bachelor in her living room. Yep, of course Laura wouldn't opt for the typical clear, stemmed wine glasses; she would have not-boring, jewel-toned ones.
Laura has lived in her one-bedroom on the Upper West Side of Manhattan for nearly nine years, and as one might expect over that kind of time span, a lot has happened in her life both personally and professionally. She started as a junior-level editor and has risen the editorial ranks to now be the editor-in-chief of Apartment Therapy. And in her personal life, she's gone from living alone and dating her then-boyfriend John Templon long-distance, to eventually sharing the apartment with him and marrying him. The two of them now call the apartment home.
And just as Laura's life has evolved over the years, so has the style of the place. "It was pretty plain when I first moved in, all white walls," Laura says. "I had an entry-level job in New York, so [my place] was full of hand-me-downs from my family, plus some stuff that had been left in the apartment."
"I was super grateful for these things," she's quick to note, "but one easy way to really make a big impact and make the place feel like my own was to paint it a really dramatic color." So when she moved in, one of the first things she did was paint her living room a deep gold color and her bedroom a dark eggplant color. "Looking back on it now, I kind of hated both colors, but I was so happy with it [at the time] because it felt like it made a really big impact really quickly, in all this other stuff that wasn't really my own." And at that time in her life, she says, "I was starting all of these new things — I was living in the city, living by myself — and I do think that the fact that I chose these bold colors was to reflect this new chapter."
John would go on to move in to the apartment three years after Laura first started living there. While the process of combining their belongings was pretty painless — John is the very definition of a minimalist, while Laura jokes that she's a "maximalist" — she said she did want to be intentional about making sure he felt that the apartment was his home also. One way they did that? Through a gallery wall that they built together in their first year living together.
"It was this nice symbolic moment of us coming together," Laura says. "And I didn't love every single thing that was on that wall, but it was important for both of us to think about his space and my space coming together."
In 2015, John and Laura would experience a series of major life events together. First, a happy one: They got married that fall. But within their first year of marriage, John's father passed away. "There was a lot of sadness," Laura recalls. Given that the place you live is also your home — the place where you should feel safe, and at ease, and comforted — the two decided that the moment was right for change: "[We decided that] it would feel good to come back to a space that looked a little bit different," she explains.
Design isn't just superficial, and it's not bad to want to come home to a space that … reflects who you are as a person.
It was also around this time that Laura started her new role at Apartment Therapy, which only amplified her and John's desire to be intentional with how they wanted to alter the feel of their living room. "Design isn't just superficial, and it's not bad to want to come home to a space that … reflects who you are as a person. And I wanted to do that with John and think more deeply about it," she says.
So began a series of large changes to the living room, the place where they ate their meals, played board games, watched TV, and shared memories with friends. First, they repainted: No more gold, and in its place, a fresh, bright neutral color, to serve as a blank slate. They got a new couch — before, they had been using a hand-me-down left in the apartment from the previous tenant — and also flipped its placement from one side of the room to the other.
And within the last year, they made some furniture and decor changes to better fit with their lifestyle and interests. For starters, they replaced their round dining table with a rectangular one because John loved board game nights with friends, and a rectangular table is easier to play around.
They also swapped out and changed the placement of some of the artwork in the room. One of Laura's favorites is a photo of a zebra, taken by John on their honeymoon, that now has a prominent spot on the wall. "Having something really personal that reminds me of a good memory is one of my favorite things [in the room]," she says. "I think the little personal details we've been able to add have been the biggest change for me."
Just as Laura and John have grown and evolved over the years as individuals and as a couple, so has their place – and it's clear that it will only continue to do so in the years to come as they live there. Ahead, check out the decor and personal touches that truly make their apartment their home.
1. COUCH: Sloan Sectional Sofa with Right Chaise, $2,100 at Interior Define
More ways to get the look:
2. WOOL RUG: Charm Wool Rug (5'x8'), $399 at West Elm
More ways to get the look:
3. RED OTTOMANS: Exact model purchased at Overstock.com, but is now out of stock
More ways to get the look:
4. COFFEE TABLE: Peekaboo Acrylic Coffee Table, $279 at CB2
More ways to get the look:
5. CEILING LAMP: Mobile Chandelier, $299 at West Elm
More ways to get the look:
6. CANDY ARTWORK: Custom piece by Robyn Blair (Other "In Case Of Emergency Break Glass" Candy Prints from Robyn Blair available for $145 at Dormify)
7. FLOOR LAMP: Project 62 Cantilever Floor Lamp, $37.99 at Target
More ways to get the look:
8. ZEBRA PHOTOGRAPH: Original photograph by John Templon, framed locally
More ways to get the look:
9. CHUNKY KNIT BLANKET: Exact model was a gift, unavailable online
More ways to get the look:
10. PILLOW: Exact model purchased at Home Goods, unavailable online
More ways to get the look:
11. DINING TABLE: Paradigm Dining Table (54"), $1,099 at CB2
More ways to get the look:
12. WHITE DINING CHAIR: Poly & Bark Vortex Side Chair, $58.58 at Amazon
More ways to get the look:
13. RATTAN DINING CHAIR: Pari Rattan Chair, $98 at Anthropologie
Other ways to get the look:
14. PINK DINING CHAIR: Mackinder Chair, $99.95 at Anthropologie
More ways to get the look:
15. COWHIDE RUG: Gold Printed Faux Cowhide Area Rug (6'x8'), $249.99 at Cost Plus World Market
More ways to get the look:
16. PICTURE LEDGE: Trace Picture Ledge (72"), $129 at Room&Board
More ways to get the look:
17. PLANT PRINT: Aquatic Plant No. 12 Print, $100 at Lulie Wallace
18. NEW YORK TIMES FRONT PAGES: Front Page Reprint, $60 at The New York Times Store
19. WHITE BOOKCASE: "JUDD" Bookcase, $380 at Tee Books
More ways to get the look:
20. BAR CART: Exact model purchased at Home Goods, unavailable online
More ways to get the look:
21. NEON SIGN: Let's Stay Home Glass Neon Sign, $184.99 at AOOS
More ways to get the look: