This 'Fresh Prince' Star Is Back On TV In A Totally '90s Role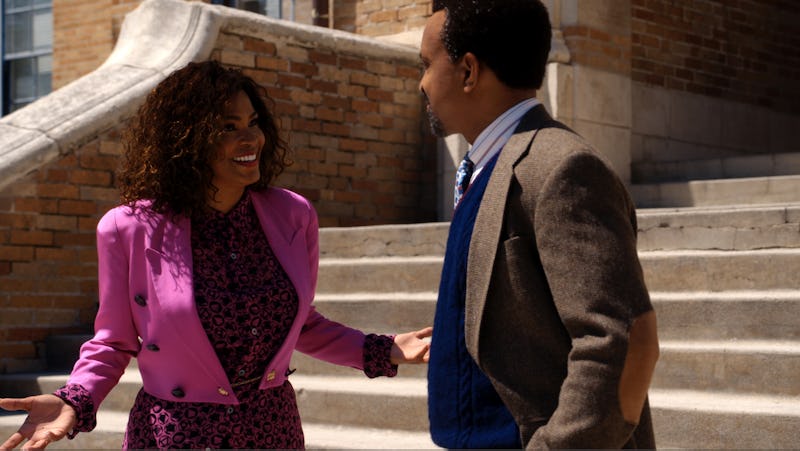 Sony Pictures Television
Since her breakout TV role as Lisa Wilkes in the '90s comedy The Fresh Prince of Bel-Air, Nia Long has continued to add to her now-lengthy resume in both television and film. Her body of work spans 25 years, and many of her roles have become pop culture touchstones. Now, Long is headed back to the '90s starring as the "tough as nails" Lucy in The Goldbergs 1990-Something special event, airing Jan. 24 on ABC. Looking back on her career to this point and forward to opportunities yet to come, the actor places her focus on recreation, reinvention, and taking charge of your own trajectory. For women, the actor says, that's especially important.
"We are living in a time where women are speaking up, speaking out, supporting one another and creating their own opportunities," Long says, speaking over the phone in late January. "We have to continue to do that. Invest in the things you believe in. It's super important to be aware of not just the moment, but also what you've completed and what you wish to obtain."
Playing characters ranging from the woman Will almost married on Fresh Prince to the young and sassy Bird in Soul Food to the smart and ambitious Jordan in The Best Man, Long hasn't rested on one particular type of role. Her secret to having such a long-standing career is avoiding hitting a creative plateau.
That's exactly the kind of spirit Long carried with her into her role on The Goldbergs 1990-Something. The spinoff, created by Adam F. Goldberg, was originally passed on for the 2017-2018 season, but in a rare chain of events ABC decided to air the pilot as a special episode of the flagship series, according to The Hollywood Reporter.
The spinoff follows Lucy, a "legit cool" and "unfiltered" single mom, according to Deadline, who asks her older, conservative brother Andrew Glascott (Tim Meadows, reprising his role from The Goldbergs) for a job at William Penn Academy, where he's the Headmaster. While the new gig gets her out of her dead-end job, she realizes her kids still end up facing many of the same problems they did in their old high school.
"It's so important to diversify your portfolio in this business, because the opportunities can be, not always, but can be far and few between," Long says. "For me, it's wonderful [to be on this show] because my audience gets to see another side of what I can do and a different character that I can play."
While her IMDB page boasts a plethora of projects in different genres, Long admits that doing comedy on the The Goldbergs 1990-Something was far more than challenging for her than acting in dramas, "because you either get the joke and get the laugh, or you don't." Nonetheless, Long happily welcomed the challenge, even drawing from her own personal experiences as a formerly-single mom raising a teen to flesh out her character.
"Filming this was truly the most fun I've ever had at work," Long says. "There's nothing better than coming to work and laughing every day. The producers, Doug Robinson, Adam Goldberg, they are geniuses when it comes to knowing what's funny, and I felt like I was in great hands."
Per the same THR article, The Goldbergs 1990-Something special performance could entice ABC to revisit the idea of a full series spinoff. And in that event, TV audiences would presumably have Long back on their screens every week, reliving the decade that launched her vibrant career.
Editor's note: After publication, we discovered this article did not meet our editorial standards: There were portions that did not correctly attribute another source. It has been updated to meet our standards.