How Trump's Border Wall Debate Leaves 700,000 DACA Recipients In Limbo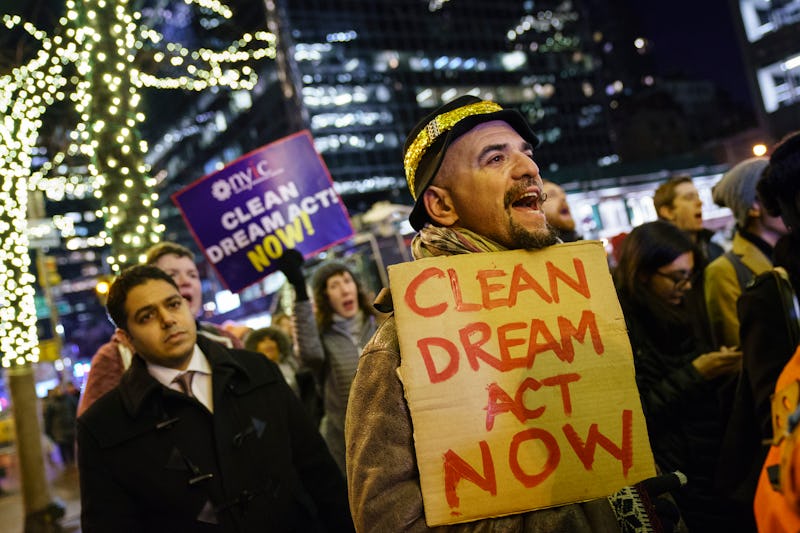 Drew Angerer/Getty Images News/Getty Images
The White House announced on Friday night that the longest government shutdown in American history had temporarily come to a close, following a deal between Democrats and President Donald Trump. But although the shutdown has ended, roughly 700,000 DACA recipients are still in limbo as their protections remain up in the air.
During the shutdown, one of Trump's proposals to reopen the government included extended protections for Deferred Action for Childhood Arrivals recipients and Temporary Protected Status holders — in exchange for funding for his border wall. However, this proposed plan would have actually placed a greater burden on DACA recipients to prove their eligibility for the program, NBC News reported, and levy higher fees on both DACA and TPS applicants.
Ultimately, Trump announced a deal to temporarily reopen the government until Feb. 15 that did not include funding for his proposed border wall. However, it also did not include guaranteed protections for DACA recipients, and Trump expects lawmakers to continue negotiations on border security and immigration while the government is open.
At the same time, The Washington Post reported that the Supreme Court is not likely to take up a lawsuit over Trump's effort to end DACA during its current term. Earlier this month, a judge in California ordered the Trump administration to allow past and present DACA recipients to apply for renewals — a ruling that was upheld by the Ninth Circuit Court of Appeals. The Supreme Court's delay in taking up the case, however, means that DACA recipients will retain their existing protections for the foreseeable future, per Vox.
While the partial government shutdown was still ongoing, Democrats did not have much incentive to accept Trump's proposal, because they knew that DACA recipients would remain protected as long as the Supreme Court put off taking up the case. According to CNN, Democrats would rather create a permanent pathway to citizenship for DACA recipients, instead of just temporarily extending their protections and subsequently leaving them vulnerable.
But for the roughly 700,000 DACA recipients across the country, the ongoing debate over Trump's border wall and the numerous court decisions pertaining to DACA make it seem as though the protections they currently receive are indefinitely up in the air. Maria Praeli, a DACA recipient who works with advocacy group FWD.us, told CNN that she has been "living with this anxiety and this uncertainty for the past year and a half."
"Every single day I'm waking up with my expiration date in my mind, thinking 'What am I going to do if we don't find a permanent solution for DACA recipients like myself?'" Praeli told CNN.
According to The Washington Post, Trump has said in the past that he would find a way to protect DACA recipients, but it was the Trump administration that moved to end the Obama-era program back in 2017. Democrats consequently argued during the shutdown that Trump's proposal to exchange DACA protections for border wall funding was hypocritical.
"It was the President who singled-handedly took away DACA and TPS protections in the first place," Senate Minority Leader Chuck Schumer said in a statement, per CNN. "Offering some protections back in exchange for the wall is not a compromise but more hostage taking."
Despite his shutdown deal with Democrats, Trump has threatened to once again shut down the government or to declare a national emergency to obtain funding for his border wall, and insisted in a Saturday tweet that the wall would still be built.