Trump Just Agreed To A Deal Ending The Government Shutdown — Temporarily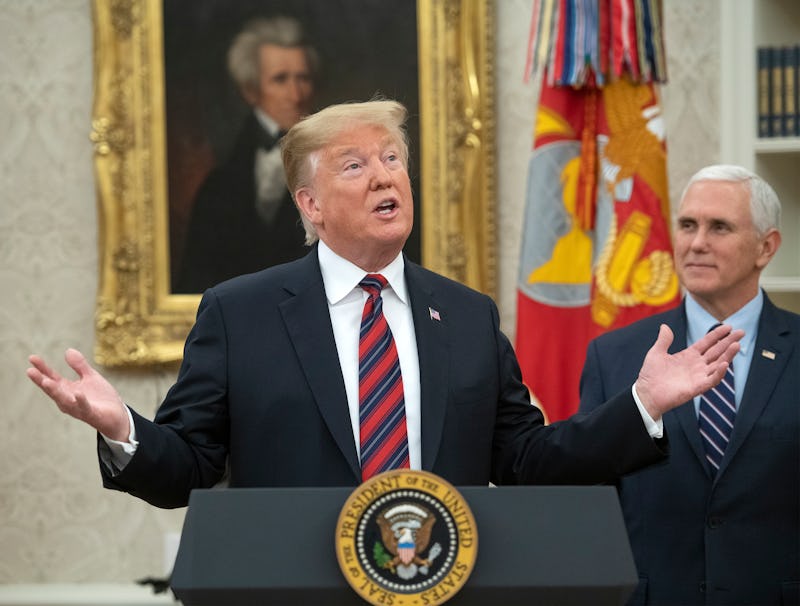 Pool/Getty Images News/Getty Images
On Friday, over a month into the ongoing partial government shutdown, President Donald Trump endorsed a bill to temporarily reopen the government during a live address from the White House. The president has backed a continuing resolution — a temporary funding measure — that does not include funding for a border wall, to end the shutdown for three weeks by funding the government at current levels. Trump told reporters that the government would reopen until Feb. 15, and pledged that federal employees would receive backpay as quickly as possible.
Trump and his fellow Republicans have faced increasing pressure in recent weeks to end the shutdown, per The Hill. According to NPR, thousands of federal workers have just missed their second paychecks, as many of them have had to work without pay during the shutdown. Democrats have proposed numerous funding bills to reopen the government, but Trump previously indicated that he would not sign off on any legislation that did not allocate funding to his proposed border wall.
When he addressed reporters in the Rose Garden on Friday, Trump indicated that Democrats and Republicans had "reached a deal to end the shutdown and reopen the federal government," and that he had urged Senate Majority Leader Mitch McConnell to bring up the deal on the Senate floor as soon as possible.
"A bipartisan conference committee of House and Senate lawmakers and leaders will immediately begin reviewing the requests of our Homeland Security experts," Trump told reporters. "Based on operational guidance from the experts in the field, they will put together a Homeland Security package for me to shortly sign into law."
Although this temporary funding bill does not include money for his border wall, Trump concluded his remarks by making it clear that he expects lawmakers to reach a more permanent agreement that does include a wall.
"We really have no choice but to build a powerful wall or steel barrier," Trump said. "If we don't get a fair deal from Congress, the government will either shut down on Feb. 15 again, or I will use the powers afforded to me under the laws and the Constitution of the United States to address this emergency."
This is not the first time that Trump has aired the possibility of employing "a very powerful alternative" by declaring a national emergency. According to Vox, Trump argued earlier this month that he could declare a national emergency to address the "crisis at the border" and subsequently obtain emergency funding for his wall.
The temporary funding bill that Trump endorsed on Friday marked a shift from the president's previous proposals to end the shutdown. In the past week, Trump has proposed temporarily reopening the government in exchange for a "prorated down payment" on his border wall — an idea that Senate Democrats were quick to reject. Trump also suggested that Democrats agree to provide funding for his border wall in exchange for protections for Deferred Action for Childhood Arrival recipients and Temporary Protected Status holders, but House Speaker Nancy Pelosi described the proposal as a non-starter, per NBC News.
Trump's remarks came one day after the Senate voted down two competing bills to reopen the government. On Thursday, Democrats rejected the White House-backed proposal to pair border wall funding with protections for immigrants, while Republicans voted against a Democratic funding bill that did not include any money for Trump's border wall.
According to his Friday remarks, Trump will sign off on temporarily reopening the government with the expectation that lawmakers will continue negotiations on border security. If not, he has threatened to pursue alternative means — such as another government shutdown or a national emergency — in order to obtain funding for his border wall.