Instagram Is Letting You Add Friends With Tags Like Snapchat — Here's How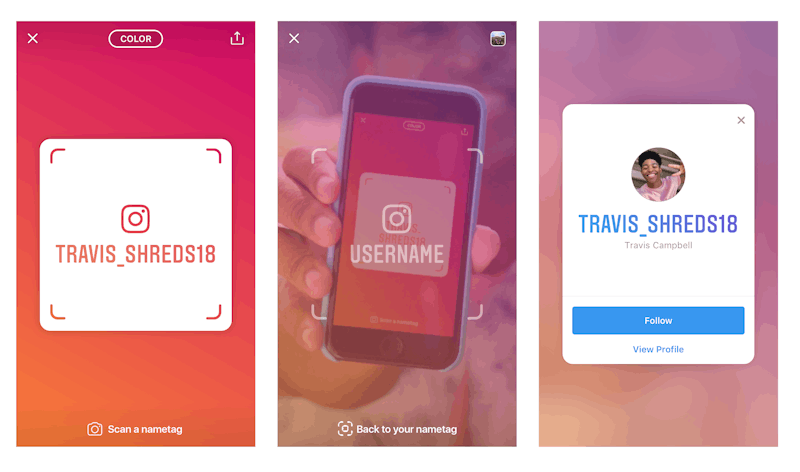 Instagram
Adding new friends, acquaintances, real life thirst traps, etc. on Instagram just got easier. Launching today, Instagram's new Nametag feature is available on the social media platform. Nametag works as a kind of Instagram QR code, allowing people to use their phone camera to scan your profile and easily follow you. If you know how to click buttons, which you definitely do because you got here, learning how to add friends on Instagram using your phone camera with use Instagram's Nametag feature is super easy.
Let's say you're at a party. (Listen, this is a hypothetical situation. We can hypothetically party if we want to.) You hit it off with someone in a friend way or a more than friend way, wink wink nudge nudge. It's 2018 and we don't use our phones as phones anymore so getting their number is perhaps out of the question. Plus, you probably want to do something slightly more non-committal than add a new contact, like add this new friend on Instagram. You could go through the process of trying to search their name, giving them your Instagram handle, explaining why you have so many numbers or periods in weird places in your username, scrolling through the thousands of different John Smiths there are on Instagram. Or you could use Instagram Nametag.
First, go to your profile and tap the button with the three lines at the top. From that menu, select "Nametag." Then, have your new friend open Instagram on their phone and swipe right over to their camera. Next, they'll hover their camera over your Nametag, hold down their screen, and voila! New friend added. You can also scan someone else's Nametag tapping "scan a Nametag" when viewing your own Nametag. If only everything in life were so simple.
You can also share your Instagram Nametag through text message or apps like Facebook or WhatsApp. When viewing your Nametag, click on the arrow in the top right corner. There, you'll see options for other ways you can share your Nametag. Tweet it out to get that cross-platform audience. Email it to your entire office so they can admire your food pics. You can even AirDrop your Nametag. But, please, AirDrop with consent. Nobody likes an uninvited AirDrop.
You can also customize your Nametag easily, once you're in the Nametag interface, by tapping anywhere on the screen and checking out the different designs. Change the background, add emojis, or even include a selfie with different stickers in your Nametag. Or just leave the Nametag in its default settings to make yourself seem more ~*mysterious*~. Any changes you make will only affect your Nametag, nothing else in your profile.
In addition to Nametag, Instagram is testing a school communities feature. Similar to Facebook, students and recent graduates of certain universities will be able to add their alma mater or current school to their Instagram profile. Users will also be able to search through users who have also added their school, allowing people to specifically see Instagram users in their graduating class or people who have also graduated from their school. You'll be able to follow and message people from that list. That's particularly handy for college freshmen looking to add classmates.
However, your inbox won't get inundated with messages from people trying to slide into your DMs. As per usual, messages from people you don't follow will be sent to your pending inbox, and you'll be able to either accept or decline those messages. Again, particularly handy for college freshmen who don't want an onslaught of unwanted messages.
These new Instagram features may be rather subtle but certainly make the app more seamlessly fit into your everyday life. 'Gram away, my friends.