Instagram's New Update FINALLY Lets You Link To Profile & Hashtags In Your Bio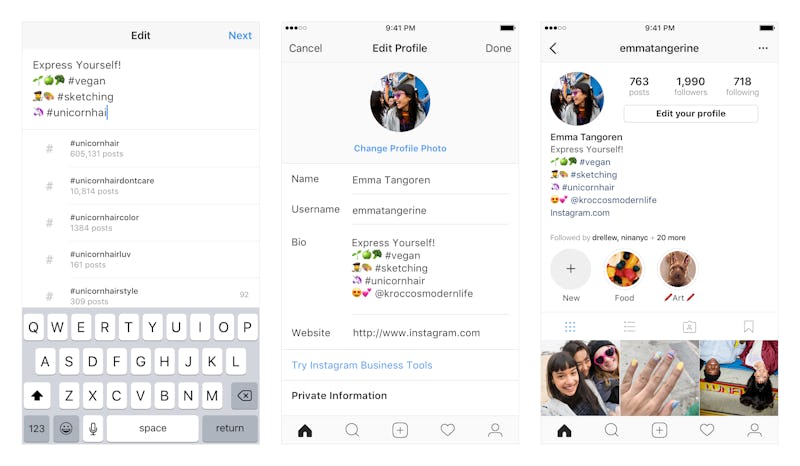 Instagram
When the word "hashtag" first worked its way into regular conversation amongst my peers a few years ago, I distinctly remember being extremely confused by it. It looked like the pound sign on a phone keypad, after all. However, a more social media savvy pal explained it to me in terms of categories, which helped" "Picture everyone you know typing out their favorite color and then adding the hashtag #favoritecolor." I started to catch on. Less than a decade later, the use of hashtags has become second nature to so many of us (myself included!), and our favorite social media platforms continue to create opportunities for us to use them in our social sharing. Instagram, of course, is no exception, and once you hear about their new update, I'm sure you'll want to know how to add profile and hashtag links to your Instagram bio.
According to a rep from the 'Gram, the app will introduce the ability to include live hashtag and profile links on Insta bios beginning Mar. 21. How will this enhance your Instagram experience? Basically, it will give you the chance to be even more descriptive in your bio, as well as let users easily navigate to profiles and hashtags you link to. If, for example, you're a blogger who manages a second Instagram profile specific to images from your blog, you'll now be able to link directly to that other profile from your primary bio, making it that much more seamless for fellow 'Grammers to engage with you across multiple feeds. Cool, right?
Here's how you can make it happen:
1. Tap "Edit Profile"
Open your own feed. (Who's that cutie in all your selfies?) Below your post, follower, and following counts, you'll see a button labeled "Edit Profile." Tap it!
2. Start Editing
If you've ever tweaked your profile, this part should be familiar to you. Tap the "Bio" section and start typing like you would normally.
3. Tag A Profile
If you want to link to another Instagram feed or account through your bio, simply type the @ symbol. A list of recommended accounts will populate in the typeahead. Keep typing until you find the one you want, then select it. It's important to note that when you mention someone else's profile in your bio, they'll get a notification. At that point, they can opt to remove that link from your bio. Their profile name will still appear in your bio, but it won't actually be linked. Make sense?
4. Add A Hashtag
Just like tagging a profile, adding a hashtag to your bio is as simple as, well, typing it. Add in the all-important # symbol, then start keying in your hashtag of choice. A list of recommendations will populate if you need a little help!
5. Save
Once you're happy with the profile and hashtag additions you've made to your bio, click "Done" in the upper-righthand corner of the screen.
6. Test It Out!
Your updated bio should now pop up on-screen. The biggest change you'll notice? The hashtags and profiles you added in the editing step will appear in blue type — a telltale sign that when you tap them, the Instagram engine will take you to a collection of other similarly tagged profiles and photos or to a different profile entirely (but one of your choosing, of course). And that's exactly what's going to happen! Tap the hashtags and profile links to see the new feature in action.
The Instagram team says they've decided to add this feature as a result of the excitement that came over the 'gramming community when the platform launched the hashtag following feature in December — and I think they're really on to something here! If social media is supposed to be about creating your distinct personality to share with others (and not having FOMO and comparing yourself to others), why shouldn't we have maximum opportunities to build out our bios?