Instagram Is Finally Letting You Follow Something Other Than Accounts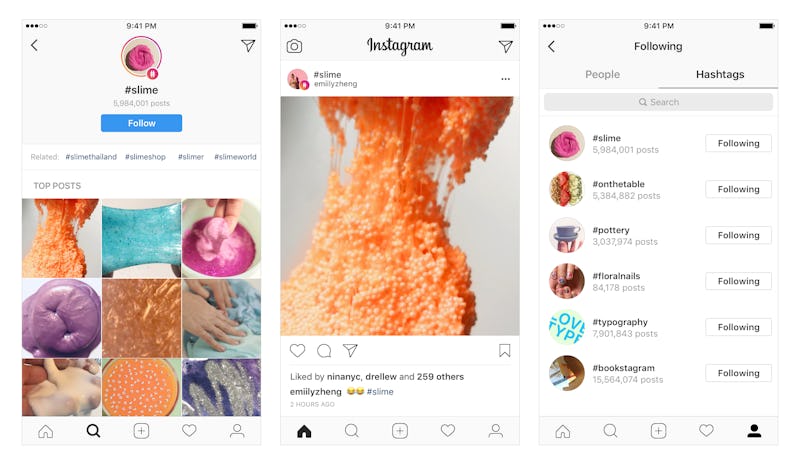 Instagram
Since its inception, social media has been created for following people. On Tuesday, a certain photo-based app turned that on its head, announcing the option to automatically keep up with hashtags as well as your fellow users. Naturally, all my fellow Insta-fiends will be dying to know how to follow hashtags on Instagram. Luckily for the technologically challenged, I have answers aplenty. Before we begin, though, a word of warning: Once you go down this rabbit hole of personally-tailored interests, you may never resurface.
Instagram first began testing the waters earlier this fall. In mid-November, Twitter user @Social_Pip shared a screenshot showing the ability to follow hashtags, and The Next Web reported that the same feature showed up for a short time on an employee's phone that week before disappearing as quickly as it arrived. However, Instagram decline to comment, remaining mum on the subject until Tuesday.
Before now, it was possible to search hashtags on Instagram — in fact, that was kind of the point of hashtags — but you could only sign up to follow other users. If you were particularly interested in, say, pimple popping videos or tutorials for the latest, greatest eyebrow design trends, you would have to manually look for them using the search bar, then scroll through the results page. It wasn't exactly difficult to figure out, but Instagram's newest feature cuts out the middleman. Now, you can follow hashtags like people, so they show up in your feed and Instagram Stories tray. I hope you weren't planning on doing anything productive ever again, because it's going to be easier than ever to keep up with your obsessions — the current ones as well as those you haven't discovered yet.
But enough talk. This is how to follow hashtags on Instagram, broken down step by user-friendly step.