5 Tips & Tricks To Help You Boss Notting Hill Carnival Like A Total Pro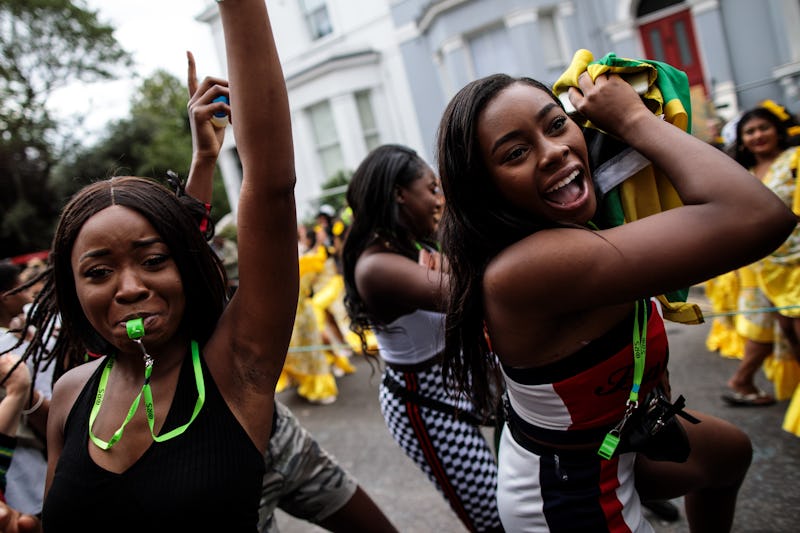 Jack Taylor/Getty Images News/Getty Images
I love Notting Hill Carnival, in fact I've only missed it once in the last eight years, and I even played mas as child. As a British Jamaican, Notting Hill Carnival is one of my most cherished days, where I've made some wonderful memories, and get to be fully submerged in my family's culture.
Without a doubt, Notting Hill Carnival in West London, is one of the biggest events in the British cultural calendar. With over a whopping 1 million visitors spread over the course of 2 days in August bank holiday, Carnival is a true celebration of Caribbean culture in Britain. And it holds some historical importance. The Carnival started after race riots broke out in 1958, as a way to ease tensions.
From the sizzling music to colourful costumes, and drool-worthy food, Notting Hill Carnival isn't an event to be missed. With all that said, if you don't know the tips and tricks to make your Carnival experience the best, you might be left feeling overwhelmed or a little confused. Maybe you're a newbie to Carnival and you have no idea where to start. Or perhaps every year without fail you still don't understand how you end up losing all your mates, your bag, and missing all the good bits.
So, here are some tips and tricks to help you boss Notting Hill Carnival and make the most of the bank holiday weekend: