How To Call Congress & Demand A Special Prosecutor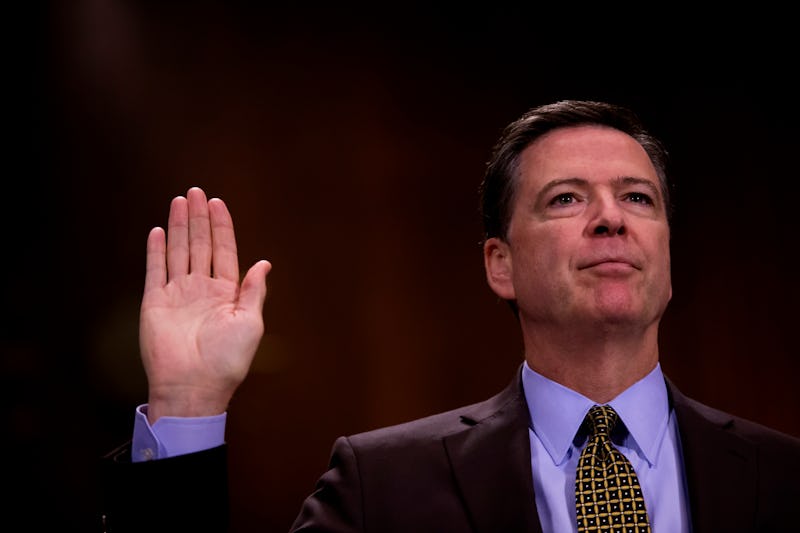 Eric Thayer/Getty Images News/Getty Images
Donald Trump's dismissal of FBI director James Comey shocked millions on Tuesday, including Comey himself, as he was reportedly made aware of his terminated status by viewing TV headlines about the news. Comey was responsible for spearheading the investigation into whether Trump's campaign colluded with Russia in the 2016 election, so naturally, the stunning development sent shockwaves throughout the country. At this moment, if you're upset by the move, it's crucial to voice your disagreement and call your congress member about Comey's dismissal and ask what's happening to the investigation.
High-ranking political figures in the Congress need to be made aware of the public's sentiment about what took place on Tuesday evening, especially if you feel, like CNN's legal analyst Jeffrey Toobin put it, that Comey's firing was "a grotesque abuse of power."
It doesn't take herculean effort to reach these representatives. To contact your representative, simply dial the Congressional switchboard number: 202-224-3121. Ask to speak with your representative by providing your address.
If you feel unsure about what exactly to say, keep a script nearby and simply read it. Many people online are providing these nifty, sharp, and concise statements for people to use en masse. The demand should be simply stated: The public seeks a special prosecutor to be appointed in order to conduct the investigation into possible collusion between Russia and Trump, which Trump adamantly denies.
Vice News is offering a list of congress members who have demanded an independent investigation so far. At this moment, according to the list, two Republicans, two Independents, and over 50 Democrats have demanded an independent investigation into possible collusion between Trump's campaign and Russia during 2016.
You can check if your congress member is on the list before you make the call. If they're already on the list, you can call to thank them for taking a moral stand. This also shows the members of Congress how vigilant everyday Americans are in paying attention to what they are doing.
It's encouraging to see politicians speak up against what some have called the "Tuesday Night Massacre" but there are still some figures — like Mitch McConnell — who are pushing against an independent probe. If your representative opposes an independent investigation, remind them that a true democracy requires that its citizens are given the absolute truth without any nefarious tampering or manipulation.
If your representative still pushes against the demand for an independent investigation, remind them that any effort to deprive the case of transparency is an attack on American democracy. By establishing a bipartisan committee to conduct the investigation, Americans will be able to trust the administration, bureau, and — ultimately — the outcome of the probe.