Here's What You Can Do To Make Sure Trump Doesn't Start A War With North Korea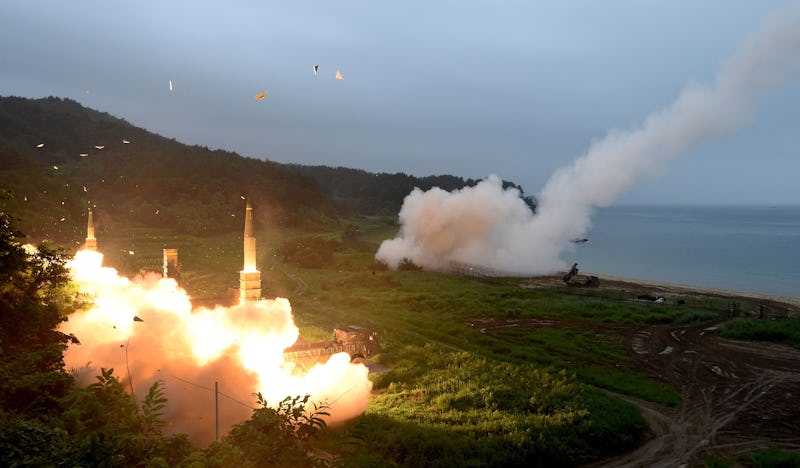 Handout/Getty Images News/Getty Images
In light of North Korea's intercontinental ballistic missile (ICBM) testing and President Donald Trump's "fire and fury" threat against the isolated country, you might be wondering how to make your voice heard. It's quite simple: If you want to discuss Washington's response to North Korea, call your representative.
At the end of July, North Korea tested an ICBM that, if launched along a flatter trajectory, it could potentially target major U.S. cities. Earlier this week, Trump improvised a response to North Korea's apparent escalation of its missile and nuclear program by giving the country an ultimatum. He warned Pyongyang to stop making threats against the U.S. or risk being "met with fire and fury like the world has never seen." This remark, reportedly made on-the-fly without his aides' prior knowledge, prompted North Korea to threaten a nuclear strike against American military targets in Guam — a more specific threat than those North Korea has made in the past.
If you want to encourage the Trump administration to pursue a path of deescalation, you can weigh in on Capitol Hill's response to North Korea by contacting your representative — and there are a number of ways to do so. You can contact them by phone, email, or snail mail, though this last option is the slowest and letters and packages have to go through screening upon arrival at the Capitol.
You can use the House's Find Your Representative tool to determine who your representative is and obtain relevant phone numbers and email addresses, or — if you already know who your representative is — you can dial 202-224-3121 to speak to an operator at the Capitol switchboard. Remember to be as specific and concise as possible about the issue you are calling about. You should also specify your name and state and, in this case, make it clear that you are contacting your representative about the their response to North Korea.
You can also be even more specific, and talk to your representative about H.R. 669. This bill, the Restricting First Use of Nuclear Weapons Act of 2017, would ensure that Trump cannot order a first-use nuclear strike without authorization from Congress. Given Trump's penchant for executive orders, this act would play an important role in preventing Trump from continuing to act alone.
The rapid escalation of tensions between North Korea and the United States is concerning, and it is important for Americans to speak out, rather than underestimating or ignoring either country's nuclear capacity.