11 Ways To Spend The Holidays Solo That Won't End With You Bored On Your Couch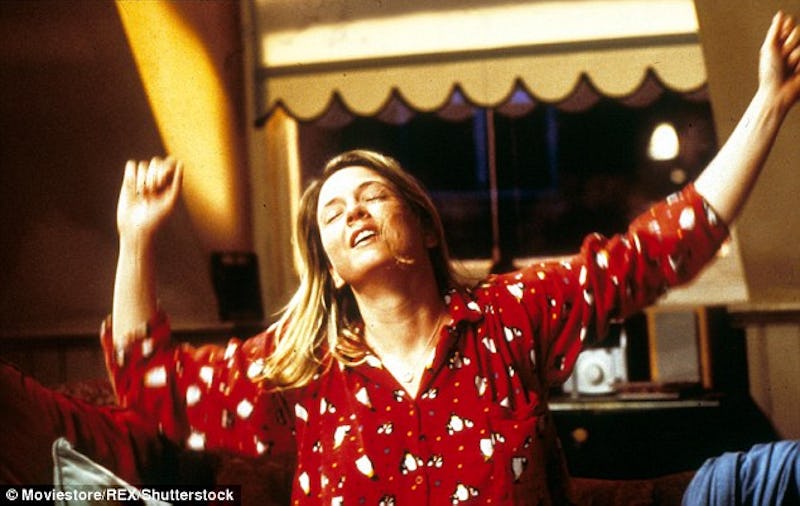 Universal Pictures
Whether you're choosing to spend the holidays alone, or have no other option but to spend them alone, there's no reason to make them a lonely pity party for one. In fact, depending on how you adjust your attitude, a holiday season spent alone can be delightful. As someone whose been a lonely Jew on Christmas for 30 years, I feel pretty qualified to tell you that some alone time during the holidays can literally be transformative and something to look forward to, rather than something to feel bad about. In fact, focusing on yourself during the holidays can be the greatest gift you give yourself all year.
While I understand that the feeling of being left out is unavoidable for some, creating your own solo tradition will surely help you battle those FOMO feelings. And just because your social media feeds are filled with pictures of your friends and followers having a holly jolly time, doesn't mean that they actually are. I mean, according to the American Psychological Association, about 38 percent of people celebrating the holidays feel an increase in stress, irritability, and sadness, so really, no one is having a perfect holiday. And by no means are the holidays to be considered synonymous with togetherness family time.
There are plenty of ways to show gratitude, express a festival spirit, and give back, by yourself. And plus, you get to avoid all the gift wrapping-induced paper cuts, seasonal debt, and holiday traffic, so that's definitely something good you've got going for you. Here are a few other ways to celebrate the holidays alone this year, without being grim about it:
Volunteer
Check your local volunteer guide and sign yourself up for some handy work on the holidays. There's no shortage of organizations that could use your help. Whether it's making food for the homeless, or helping out at an animal shelter, there are so many ways that you can make yourself useful if you feel like you need to get out of the house.
Work On Your Side Hustle
Have you been trying to find time to work on a book or finish a painting? You're allowed to work on the holidays if you want to. You might even get more accomplished without the barrage over emails that distract you during the rest of the year.
Go On A Hike
A winter hike is a great way to clear the mind, get the heart pumping and have an experience with yourself. Look up your local parks and recs hiking guide and find something safe and local. Just make sure you let someone know where you're going.
Cook A Feast
Find a recipe, get the ingredients and cook yourself a feast. Who says you can't have an epic holiday dinner for one? Treat yourself to a delicious peaceful meal, and enjoy the zen bliss of cooking in an empty kitchen.
Unplug
Sitting on your phone and watching everyone post pictures of their holiday is surely going to make you feel like crap. You don't need that. Unplug for the day and enjoy a screen-less day where your every thought is not tethered to something someone else is doing.
Shake It Up
Paint your walls mellow yellow, or sell your dining room table in exchange for a ping pong table. Do that one thing that you've been dying to do.
GTFO
Get in the car, or get a train or bus ticket and head out of town. Go somewhere that you've always wanted to see that has an attraction that's open during the holiday. Whether it's a beach, a book store, or a sculpture, you're bound to be present AF when you're there all alone.
Binge Watch
No judgments, no rules. Stay in your pajamas all weekend if you want. Watch as many shows as you want, without having to answer to anyone: yes, you just watched TV for nine hours and no, you're not sorry!
Trying Something New
Always wanted to try a hip-hop dance? How about knitting? Or skateboarding? Or Sudoku? Try something you've always wanted to try, and give it your all. You might find a new favorite hobby this way.
Take Yourself Out
Find a restaurant that's open and treat yourself to an all-you-can eat dinner, non-pity party of one. Order your favorite dishes, dress however you want, and enjoy the peace and quiet of eating a meal without having to talk.
Avoid Holiday Movies
No matter how cool you are with your solo holiday experience, you're bound to trigger some FOMO if you spend the whole weekend watching movies that show people celebrating the holiday with family and friends. Forget what everyone else is doing and watch another movie, with another theme.