You Can Tell Betsy DeVos How You Feel About Her Planned Changes To Title IX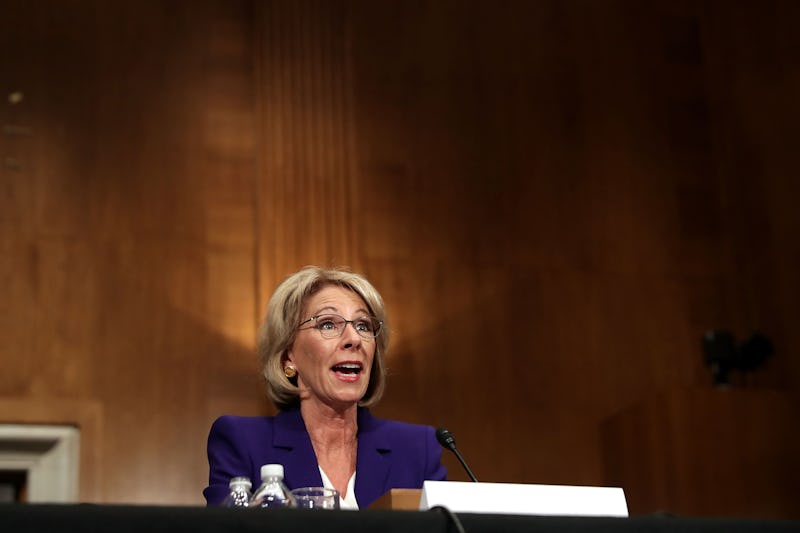 Chip Somodevilla/Getty Images News/Getty Images
The Trump administration is looking to seriously overhaul how schools handle allegations of sexual misconduct by rewriting Obama-era rules. On Friday, Education Secretary Betsy DeVos released her proposed rewrite of Title IX enforcement rules, which include proposals to narrow the definition of sexual harassment and limit instances when schools would be required to investigate complaints. But DeVos' rewrite isn't final just yet. Rather, there is a time set aside now when you can comment on DeVos' Title IX proposal.
"We call on survivors, advocates, and allies to make their voices heard during the notice-and-comment period, and let the Department of Education know just how disastrous these rules will be for survivors who are just trying to access their education," Jess Davidson, the interim executive director of End Rape on Campus, said in a statement released Friday. "This rule can be stopped, but only if we speak up."
According to the Department of Education, the newly proposed Title IX rule will open for public comment once it's published in the Federal Register. End Rape on Campus tells Bustle it believes that will happen sometime next week. The Department of Education has said the public comment period will last for a total of 60 days.
To help ensure those who'd like to comment on the proposed rule don't miss out, End Rape on Campus and Know Your IX have collaborated on an effort, Hands Off IX, that creates an email alert notifying those interested when the notice and comment period has officially begun. Know Your IX also put together resources to assist those interested in learning how to write a really effective comment.
According to Hands Off IX, commenting on proposed rules published in the Federal Register can take a bit more time and effort than, say, reaching out to your congressional representative. But, ultimately, it's worth the extra effort as the Department of Education is required by law to respond to the public input it receives during the notice-and-comment period when issuing its final rule or regulation.
Rules or regulations found to have inadequately responded to public input can, according to Hands Off IX, be struck down by a court — meaning that writing a strong comment can be an effective way of influencing the Department of Education's final rule.
So, what makes for an effective comment? First, Hands Off IX warns against submitting a form letter. They also suggest relying on objective evidence like data rather than just personal narrative as a means of supporting your argument. Another tip is to include as many relevant arguments against the proposed rule as possible in your comment and to discuss potential alternative actions. You can also make it crystal clear which part of the proposed rule you are commenting on by citing its page, column, or paragraph number in the federal register.
"One well supported comment is often more influential than a thousand form letters," a Regulations.gov tip sheet says. Hands Off IX explains, "This means that thousands of comments can be less influential than one long and detailed comment."
According to The Washington Post, DeVos' proposal would narrow the definition of sexual harassment from "unwelcome conduct of a sexual nature" as noted in Obama-era guidelines to "unwelcome conduct on the basis of sex that is so severe, pervasive and objectively offensive that it denies a person access to the school's education program or activity."
The proposal also narrows the circumstances in which a school would be required to take action. Under the proposed rule, schools would investigate alleged incidents only if they were reported to the appropriate person and occurred during a school-sponsored, funded, endorsed, or promoted activity or program or on campus or in a school-owned building. It would also reportedly allow accused students access to lawyers who could cross-examine accusers.
In a statement released Friday, DeVos argued the proposed rules would enable Title IX to protect all students. "Far too many students have been forced to go to court to ensure their rights are protected because the Department has not set out legally binding rules that hold schools accountable for responding to allegations of sexual harassment in a supportive, fair manner," she said. "By following proper legal procedures and receiving input on our proposed rule, we will ultimately have a final regulation that ensures that Title IX protects all students."
Comments on DeVos' proposal should be submitted through the Federal eRulemaking Portal.
CORRECTION: A previous version of this story mischaracterized the Hands Off IX resource. It has been updated to reflect that Hands Off IX is a collaboration between End Rape On Campus and Know Your IX.