Here's How You Can Contact Your Newly Elected Congressperson About Gun Control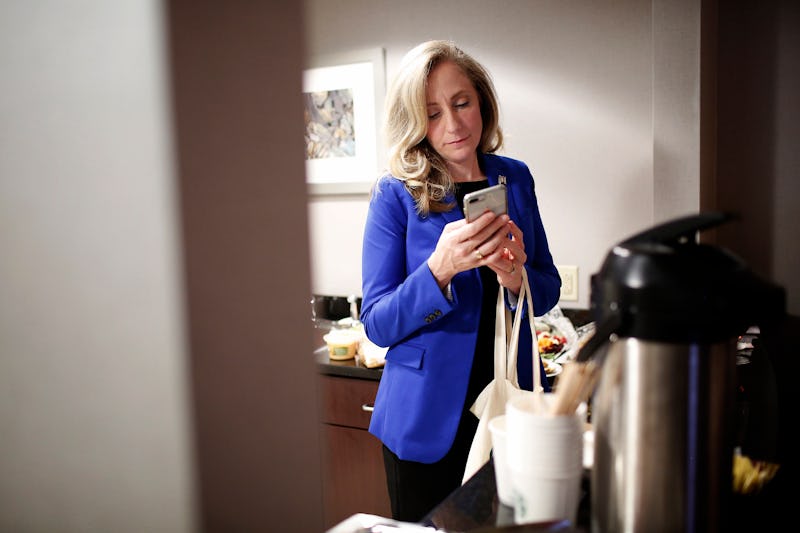 Win McNamee/Getty Images News/Getty Images
A Wednesday night shooting at a bar in Thousand Oaks, California, that left at least 12 dead raised the number of mass shootings in the United States to 307 in 2018 alone, according to the nonprofit Gun Violence Archive. Congress, however, has yet to pass meaningful gun reform. If you want to see America adopt stricter gun laws in order to prevent future mass shootings, don't hesitate to contact your new congressperson about gun control.
For lawmakers currently serving in Congress, it's fairly easy to reach their office by calling the U.S. Capitol Switchboard at (202) 224-3121 or by checking Call My Congress. But for newly elected representatives, it may take a bit more sleuthing. If you want to make sure they're going to fight for gun control on Capitol Hill, though, it's worth spending a few minutes on Google.
The best way to reach a lawmaker who was elected to Congress this week is probably through their campaign. Googling their name will lead you to their campaign website, where you can generally find a campaign email and/or phone number. While you're there, you can also check the site for an explanation of their views on gun control to give you a better idea of what to say in your message.
For example, someone living in Virginia's 7th Congressional District could Google Abigail Spanberger to find her campaign website (most candidates also link their website to their Twitter account, if you'd rather go that route). Spanberger, a Democrat and former CIA operative, advocated for a federal ban on assault weapons, closing loopholes for background checks, and increasing funding for gun violence research on the campaign trail. Because she already supports gun control, you could let her know if you agree with her positions and ask what specific actions she will take to make her platform a reality come 2019.
If your new representative doesn't champion gun reform, your message will need to focus more on why you want them to make it a priority. You can tell them, for instance, that 96 Americans are killed with guns every single day, according to Everytown for Gun Safety, and nearly 1,600 children and teens die by gun homicide every year. Additionally, a Quinnipiac University poll published in February found that 97 percent of Americans favor universal background checks.
Democrats' new majority in the U.S. House, as well as a slew of candidates who ran on gun control platforms, signals that the next Congress may be more willing to pass stricter gun laws than the current one. NRA-backed politicians including Rep. Barbara Comstock (R-Va.) and Rep. Mike Coffman (R-Colo.) lost to pro-gun control Democrats on Tuesday — losses that organizations such as March for Our Lives and the Brady Campaign to Prevent Gun Violence celebrated.
Still, a split Congress will make it difficult to pass any major reforms for the next two years; and with so many crucial issues swirling around, politicians have a lot on their plate. So if you want to see the federal government act on gun control, tell your newly elected representatives.