8 Ways To Deal With Anxiety When It Hits At Work, According To Experts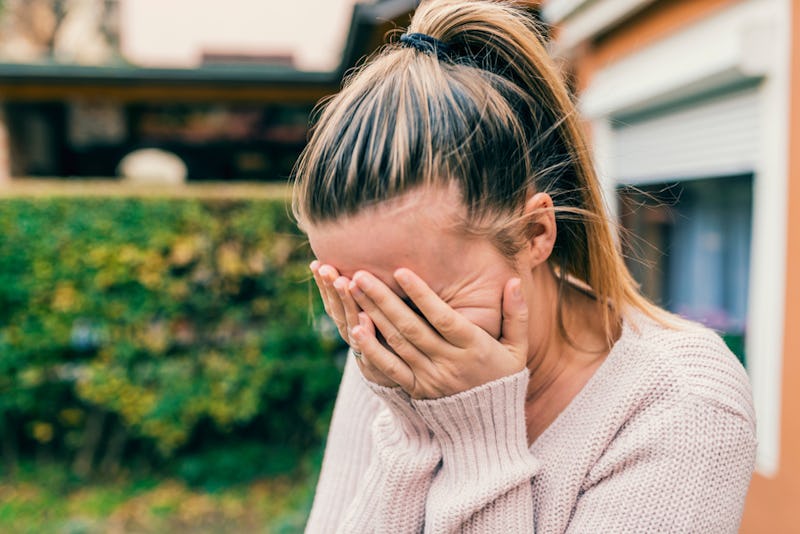 Dragana Gordic/Shutterstock
If you have ever had a sudden bout of anxiety when you're on the job, you probably know that in the moment, it can feel like there is truly nothing that can be done to stop or tame it. But a panic attack at work, or even just a terrible wave of anxiety, is something you can learn to cope with so that it doesn't completely overtake your day. Also know, though, that it's OK to feel anxious, and first and foremost, try to be gentle and non-judgmental with yourself for experiencing it.
"Panic is an uncomfortable feeling in the body, the result of the 'fight, flight, freeze' instinct that humans are programmed to feel," trauma therapist Joanne Mackie, LMHC, who practice out of New York City, tells Bustle. "The mind engages in a perceived threat, or the spiraling thought pattern that creates a story in which we end up in a place where disaster has struck — we've been caught not being good enough, and the worst possible outcome has been imagined."
This instinct, while protective, is not in any way helpful for getting through the anxiety-provoking situation or pattern of thought, Mackie says. Instead, cultivating tools to come back to neutral, or at least learning to lessen the state of fear in the moment, are going to a true lifeline.