How To Delete Old Facebook Posts You Thought Were A Good Idea 5 Years Ago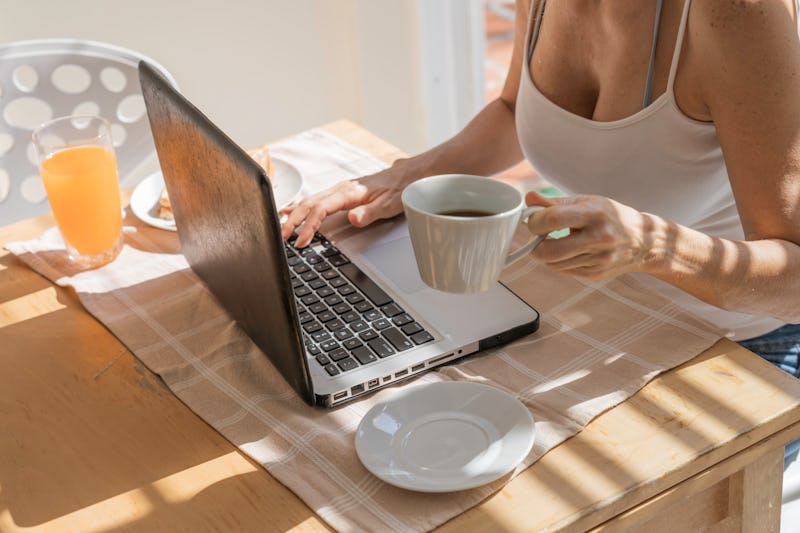 ALEAIMAGE/E+/Getty Images
If you're part of the Millennial generation, your Facebook history might very well reflect over a decade's worth of personal content published online. And when you've been posting on Facebook for that long, it's totally possible that your beliefs, style of sharing, or personal brand have changed. For that reason, you might want to know how to delete old Facebook posts — or at least, how to delete some of them. Because unfortunately, not all of your posts can be deleted.
Regrets about Facebook posts are common. Research published in Proceedings Of The Seventh Symposium on Usable Privacy & Security in 2011 found that people experienced shame and guilt about past posts on Facebook for multiple reasons. Some had posted while drunk or very emotional, misjudged the culture or norms of their friends, or failed to consider the consequences, while others saw their posts reach an entirely unintended audience (like, say, their boss).
Facebook tells Bustle that you can only delete the posts that you, personally, have written. Otherwise, you can opt to hide the posts that you've shared on your timeline (like articles, or other people's posts), or choose to untag yourself from posts you've been tagged in. Deleting a post removes it from Facebook entirely; untagging or hiding a post means that it won't show up on your timeline, but can still show up on other newsfeeds.
Luckily, there's a super easy way for you to delete, hide, or share your Facebook posts en masse, both on desktop and on mobile. It depends on your set-up, though. If you have Classic Facebook, the old-school Facebook layout, you can go to your Facebook profile on your desktop and click on the "Manage Posts" tab, which is directly below the box where you can type in a Facebook status.
From there, you'll gain access to every post you've ever written, shared, or been tagged in, ordered chronologically from most recent to oldest. And yes, you can delete these in groups: you can select up to 50 posts to delete, hide, or untag yourself from, per Facebook. Once you select a post and click "More," you'll see what options are available to you for that given post.
And if you want to delete your Facebook posts through the app, it's a similar setup. You navigate to your profile on the mobile app (you can do so by clicking on your profile picture) and click on the "Manage "Posts" tab, which should be immediately visibly. From there you'll be taken to the same tab that shows all of your posts, grouped chronologically.
Facebook tells Bustle that if you now have New Facebook, the redesign first launched in 2019, the process for deleting posts is a little different. On New Facebook, you can delete posts by accessing Activity Log in the upper right drop-down menu. This process is the same on desktop or mobile.
The steps for deleting photos remain the same for both Classic and New Facebook. All you have to do, per Facebook, is go to the photo you want to remove, click on it, click on the "Options" button on the bottom right, and select "Delete This Photo." You also have the option of deleting albums you created. Go to "Photos," click on "Albums," and then select the album you want to delete. From there, you can click the little gear icon, and you should see an option to delete the album in its entirety. Just make sure you're really ready to see these images go: regardless of whether it's an individual photo or a whole album, you can't recover it once you've chosen to delete it from Facebook.
Facebook tells Bustle that they've also recently launched a new tool that allows people to delete old posts in bulk. It's only on mobile right now, but should be available on desktop in the future.
So unfortunately, your parents were sort of right. Many of the things you do and say online live forever. But instead of living on your timeline, they can be relegated to the far reaches of your friends' timelines, at the very least.
Studies cited:
Wang, Y., Norcie, G., Komanduri, S., Acquisti, A., Leon, P.G., & Cranor, L.F. (2011). "I regretted the minute I pressed share": a qualitative study of regrets on Facebook. SOUPS.
This article was originally published on