The Holidays Mean Lots Of Family Time — Here's How To Destress If You're Not Used To It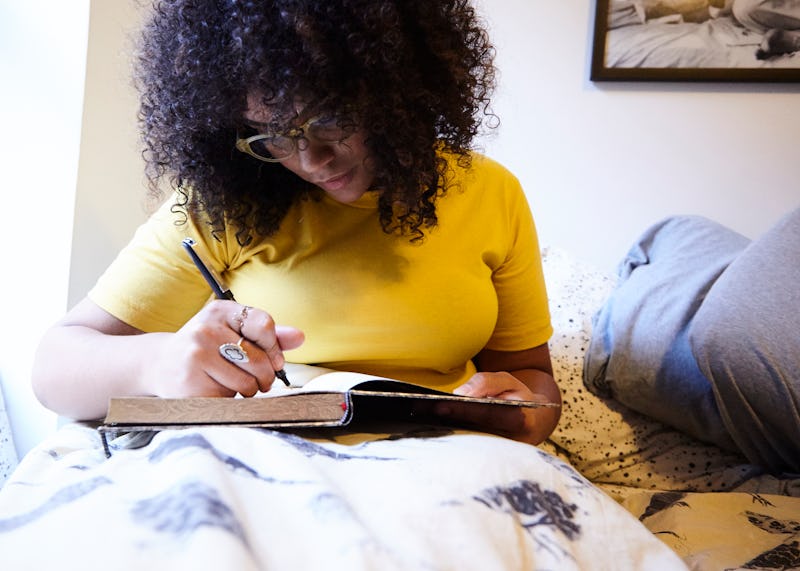 Hannah Burton/Bustle
The holidays are a time of year that can be simultaneously wonderful and terrifying, depending on your family situation. On one hand, the time off gives you the gift of togetherness with relatives that you likely haven't seen in a while, but on the other hand, all that togetherness can be... a lot to handle. If you're someone who only makes an annual pilgrimage to see your relatives during the holidays, or just haven't hung out with a large group of people in a confined space in a while, the thought of all that family face time may be a little overwhelming at first. But it doesn't have to be! There are plenty of ways to help destress over the holidays when you're surrounded by family all of a sudden.
"For some people, dealing with family is simply a matter of being assertive" — setting boundaries — "and planning for good self-care," Dr. Jacob Goldsmith, a licensed clinical psychologist at The Family Institute at Northwestern University, tells Bustle. "Other folks need to strategize more carefully, as assertiveness can backfire in toxic situations."
With a little preparation and the right mindset, there are myriad ways to make the extra socialization a little more bearable for yourself and the people around you by coming in with a game plan. And, let's face it, if you have pushy relatives, learning tools to help decompress when you're surrounded by family for extended periods of time will always come in handy. Whether your family reunions are joyful, awkward, or somewhere in between, here are five ways to help you find some peace when you're surrounded by family all day and aren't used to it.