What To Know About Halloween When You're Sober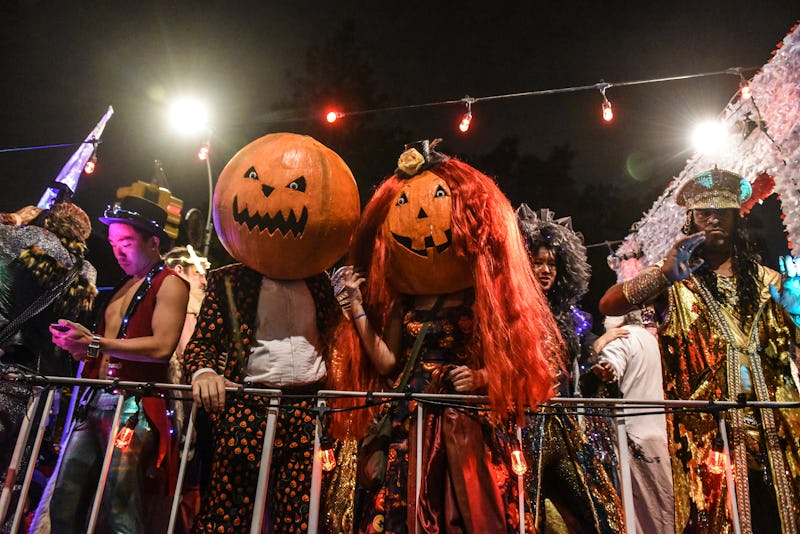 Stephanie Keith/Getty Images News/Getty Images
If pumpkins and all things fall are your jam, then you might be completely stoked about Halloween. But even if costumes and general autumnal revery aren't for you, you will probably still be invited to your fair share of Halloween parties as October comes to a close. Because when you're an adult, Halloween is often much more about alcohol than it is about candy and costumes. And if you're sober on Halloween, you may be tempted to turn down those invites, since keeping away from alcohol is an important coping mechanism for many sober folks.
As someone who's sober myself, I've found that turning down invites to Halloween parties is certainly a valid option. But if you love all things jack-o-lantern and want to party it up on Halloween without risking your sobriety, there are plenty of ways you can celebrate the season without a drop of alcohol.
Community can be a great key to enjoying the holiday, says Dr. Jennifer Dragonette, PsyD, executive director of Northern California at Newport Academy, a rehab center for teens. "Surround yourself with people who are familiar with what you are going through and won't push you to do things that may break your sobriety," she tells Bustle.
MJ Gottlieb, co-founder and CEO of the app Loosid, which brings together sober communities, agrees, telling Bustle that being among supportive people can also help you plan ahead for any event that may involve alcohol. "Roll with your sober crew," Gottlieb says, to make the planning most efficient and community-oriented. Committing to keeping in touch throughout the night with people who can help you get your Halloween on and have a great holiday without alcohol can be very helpful as you enjoy the night's festivities.
But even if you don't have a sober crew to roll with, here are 11 ways to handle halloween when you're sober.