How To Help End Domestic Violence After Watching 'O.J. Simpson: The Lost Confession'
by Priscilla Totiyapungprasert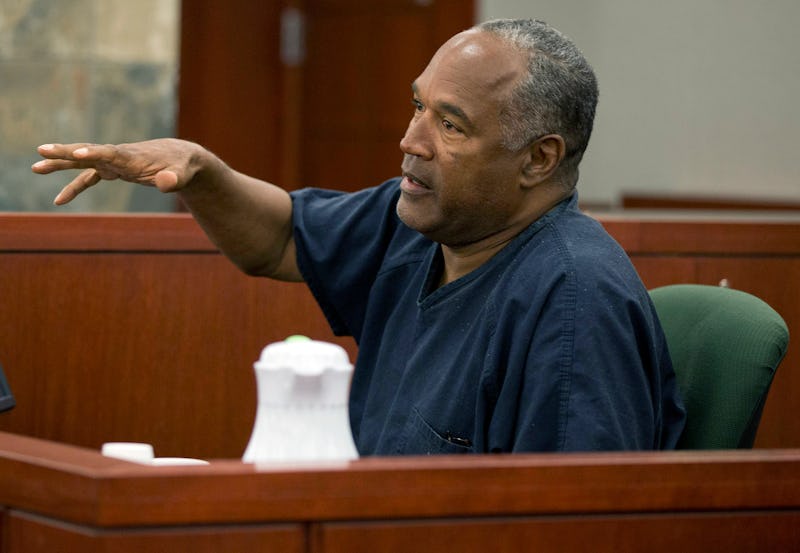 Pool/Getty Images News/Getty Images
Fox's Sunday night special on one of the most famous murder cases in history made at least one thing clear: Domestic violence is not to be taken lightly, even if the allegations are against a celebrity athlete. And if you feel like you want to donate to domestic violence relief after watching O.J. Simpson: The Lost Confession?, there are plenty of options to choose from. Though O.J. Simpson has ultimately denied beating his wife, he's also admitted that he's responsible for "any marks on her."
The main focus of Fox's two-hour TV special was the long lost interview footage of Simpson's never-aired, hypothetical confession to the murder of his ex-wife Nicole Simpson Brown and her friend Ronald Goldman. But the TV special also touched on one aspect of Nicole's life before she was murdered: that she allegedly suffered from spousal abuse.
Simpson's history of domestic abuse allegations was well-documented and was reportedly one of prosecutor Marcia Clark's main reasons for trying to put Simpson behind bars after his ex-wife's murder. In 1989, The New York Times reported that Simpson pleaded no contest to spousal abuse charges after his wife was so badly hurt that she had to be taken to the hospital. Instead of serving jail time, he got counseling from a psychiatrist of his choice.
And during a deposition with Daniel Petrocelli, the attorney for the Goldman family during Simpson's 1997 civil trial, he admitted to both bruising and physically hurting Nicole.
"I think any marks that's on her, I take full responsibility for," Simpson said during the deposition. "I don't know what else you want to do. I take total responsibility"; these tapes weren't released until 2015.
Ultimately, Simpson denied any domestic violence allegations during the 1997 civil trial and claimed he'd never done anything more than "rassle" with his ex-wife.
Fox recognized this aspect of the Simpsons' tumultuous relationship by including Rita Smith in its team of panelists. Smith is an adviser to the NFL on matters regarding domestic violence and sexual assault. Simpson, a retired football player, is one of many current and former NFL players accused of physical or sexual assault.
Regardless how many of the allegations against Simpson are true, national statistics from the Bureau of Justice reveal a disheartening story across the board. The Violence Policy Center reports that almost three women are killed every day in the United States by their current or former romantic partners. Simpson was found not guilty of the murder of his ex-wife and her friend.
If you are looking for ways to combat domestic violence, here's how you can help.