This Shelter From Netflix's 'Dogs' Makes Helping Their Pups So Simple For Viewers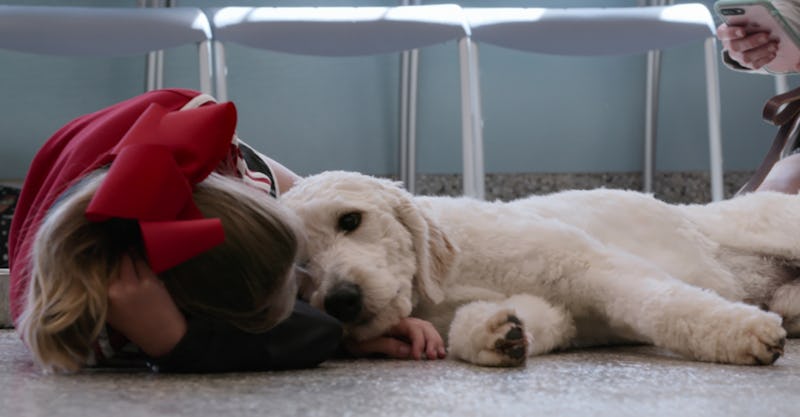 Netflix
Netflix's newest docuseries, Dogs, is sure to have you weeping while simultaneously scouring the internet to find out how you can help all the adorable pups you meet throughout its six episodes. And I'm here to help! There are many different organizations featured in the show, but for right now let's focus on how to donate to Hearts & Bones Animal Rescue, featured in episode six.
The shelter, featured heavily in the series, makes it pretty easy to make contributions on its site. It's a non-profit organization with bases in New York and Texas, with a goal of creating a network of fosters and volunteers to save dogs from being killed in shelters nationwide, according to its site. The "donate" tab on Heart & Bones' homepage takes you to a snappy donation process where you can choose a predetermined amount anywhere from $25 to $1,000 to give, or plug in a personalized number. You can also choose whether you'd like the contribution to be a one-time gift or a monthly recurrence.
If you'd like to make your donation a little more personalized, the site also offers a handy dandy Amazon wishlist full of supplies they're in need of. From there, you can choose from dog beds, flea medications, harnesses, food bowls, crates, beds, collars, and more, giving you the opportunity to immediately know what your money has gone to. And if you're an AmazonSmile user, you can add Hearts & Bones Rescue as your "favorite" non-profit organization, and Amazon will donate a percentage of all money you spend with the company to the shelter. Step-by-step instructions on how exactly to do that can be found on their site at the link found above.
Since Hearts & Bones is all about fostering, there's so much more you can do aside from donating. If you're looking for a new furry friend in your life and you're located in the New York City or Dallas-Fort Worth areas, you can fill out an application to open your home up to a dog in the area. They also have information on how interested parties can volunteer with the organization. They ask about skills ranging from marketing and social media to fundraising and accounting, and whether or not you've worked with animals before. The application can be found on their site. If you want to straight up adopt a pup for good, there are instructions available for that, too.
If you unfortunately can't make any of these options work, then at the very least you can tune into the show, or check out the shelter's Instagram. Dogs is bound to be a treat — how could a show about loving canines be bad? — and the few reviews that have surfaced so far are favorable. Vulture's Jen Chaney praised its "charm," and said "if you can somehow watch Dogs without experiencing a single moment of delight, you might be a sociopath who lacks all capacity for empathy or love." Sounds about right.
Dogs is exactly the kind of heartwarming, low-key, emotional series to lull you into the warmth of the holiday season, and the best thing is, there are ways you can engage with its subjects in real life. So if you're moved by these dogs' tales (no pun intended), now you know exactly how you can make their lives a little better.