This Is When You Can Get Your Hands On Robbie Williams' Next 'Under The Radar' Album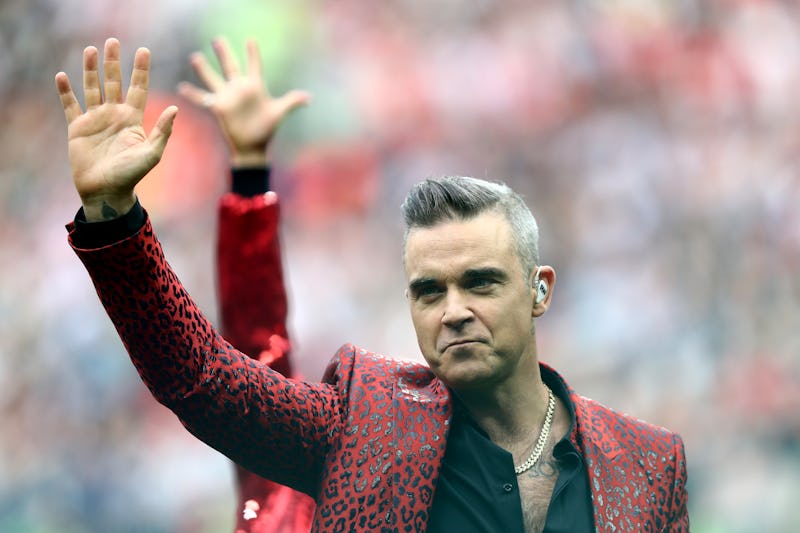 Ryan Pierse/Getty Images Sport/Getty Images
If you're a fan of Robbie Williams, you've probably been thrilled to see him on your TV every weekend during The X Factor. But maybe you're missing his musical talents? Well, the star has announced he has new music on the way in 2019 in the form of a brand new album. Here's everything you need to know about it, including how to download Robbie Williams' Under The Radar Volume 3...
In a video posted to his YouTube and Instagram accounts, Robbie revealed he would be releasing a third instalment of his fan album series Under The Radar. The record will feature a collection of demos and previously unreleased material, making it an exciting prospect for die-hard Robbie fans.
"I'm very excited to announce the release of my next album, and it's going to be called Under The Radar Volume 3," he said, talking direct into the camera. "Just like the two records before it, this is a collection of songs that have a special place in my heart but didn't make it onto the full album. I've always wanted you to hear them and this is your chance," he continued.
The album will be released on Valentine's Day 2019, according to his website, and will only be available via robbiewilliams.com just like the previous two other Under The Radar titles.
The great news for fans is that Under The Radar Volume 3 is already available to pre-order on the singer's website, so you can ensure you snag yourself a copy. It's available to pre-order in three formats: standard (£10), super deluxe (£40) and digital download (£4.99). You can still also buy Williams' previous two Under The Radar albums at the same page, so can stock up on your collection while you're over there.
Discussing the project, Williams explained the motivation between the upcoming release. "Announcing another Under The Radar album for the fans makes me really happy," he said. "These are songs and versions of songs from the archives that people haven't heard before. I'm proud of them, I'm really attached to them and I'm delighted to be sharing them in the third album of the series."
The star is currently a judge on this year's series of The X Factor, alongside his wife Adya Field, ex-One Directioner Louis Tomlinson and head judge and show creator Simon Cowell. The show's live final is this Saturday, 1 December 2019, and will see the three finalists (Scarlett Lee, Anthony Russell and Dalton Harris) attempt to sing their way to the top. None of the three finalists belong to Robbie or Adya in their respective categories however, so for them I'm guessing it's just another enjoyable Saturday night out at Wembley.
Interestingly enough, Robbie's former bandmates in Take That will be performing during the live final, as well as previous X Factor runner up James Arthur and Anne Marie, Ellie Goulding and George Ezra. News of who will be singing alongside the final three contestants in this year's duets has been firmly kept under wraps, so it's anyone's guess who we'll see on the night.