How To Dress For Fall If You Live Somewhere Warm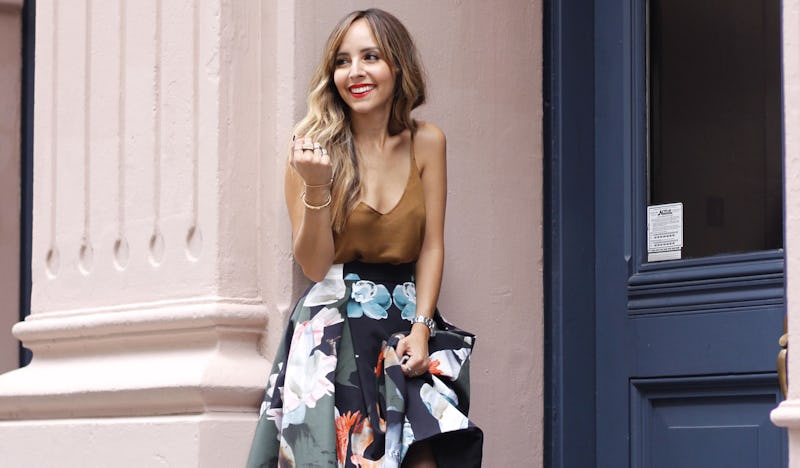 Lilliana Vazquez
Bustle and Coveteur are working together to bring you the best mix of the season's fashion and beauty releases, shopping tips, and service stories in ways that are both inspirational, and attainable. Check The Fall Style Edit channel weekly to see what we're up to.
Fall is officially upon us, which means it's time to stock up on chunky sweaters, cozy jackets, and over the knee boots... unless you live somewhere where cool and crisp weather doesn't really exist. Figuring out how to rock all the best fall trends without overheating might seem impossible at first, but with a little bit of thinking outside the box, you'll be in an autumn state of mind in no time.
While you may not be reaching for your wool or shearling coats, living somewhere with warmer temperatures has its perks. For starters, it means you can truly embrace transitional pieces like sleeveless sweaters, lightweight jackets, and ankle booties. Another? You don't have to buy an entire new wardrobe — incorporating your spring coats and summer dresses will give you the chance to recycle some of your favorite pieces from other seasons. The key to it all is learning the art of layering. Not only will you look chic, but you'll also be able to keep cool when the sun is blazing and stay warm when it becomes chilly at night.
If you're still unsure how exactly you should style your looks this balmy fall, here's a simple guide complete with no-fail tips from some of fashion's top experts.
Consider Silk Camisoles Or Slip Dresses
Silk Camisole, $169, Anine Bing
Silk shouldn't be reserved for formal dresses or lingerie — effortless silk camis or silk slip dresses are a great way to dress up your fall look while staying cool. "It's beautiful, but still flowy and easy," designer Anine Bing tells Bustle. She suggests wearing it underneath a sweater so if it gets super hot, you can wear just the cami or dress.
Borrow Pieces From Your Spring Wardrobe
Privacy Please Plaza Kimono Dress, $218, Revolve
As an Angeleno, fashion influencer Chriselle Lim has tons of experience interpreting fall fashions for 80 degree temperatures. Lim loves to incorporate pieces from other seasons into her fall looks, like floral dresses. "I love playing around with lightweight outerwear and pairing my boots with darker colored spring pieces," Lim says.
Wear Autumnal Colors
Plus Size Off-The-Shoulder Top, $28, Forever 21
The simplest way to achieve a fall look in any climate is to play with color. "Color is one of the easiest ways to tie in fall trends into your seasonal wardrobe," says fashion expert Lilliana Vazquez. "Think about mixing rich tones like rush and burgundy with gray and camel for a fool-proof fall color combination!"
Zerina Akers, celebrity stylist to Beyonce and Dove Invisible Dry Spray ambassador, agrees. "I incorporate fall trends into my client's wardrobes are with autumn colors such as burnt orange, emerald, burgundy, and brown."
Invest In Lightweight Jackets & Coats
Mira Trench, $311+, Frilly
You can still wear jackets — just consider them in lighter fabrics, like denim, twill, or lightweight leather. "Living in LA, I get to play around with my coat options and be bit a more versatile since I'm not just dressing for a blizzard," says Frilly co-founder Jeni Ni. "A classic trench in a lightweight twill always gives me that autumn feeling without feeling weighed down."
Opt For Sleeveless Turtleneck Tops
The Luxe Wool Ribbed Sleeveless Turtleneck, $75, Everlane
If you love the idea of cozy turtleneck sweaters like fashion blogger Stephanie Jenkins (aka Styled By Noir), don't fret — just look for the sleeveless alternative. "A tank turtleneck is the perfect quick fix! You get the look of being nuzzled up in a turtleneck without sweating through a long-sleeve sweater," says Jenkins. "Pair it with some booties, and you will immediately feel like it's fall."
Layer Lightweight Pieces
The Jameson Tee, $120, welikebad
"The easiest way to dress for fall in warmer places is to layer lightweight items," says Bad Decision Adventure Club founder and creative director Rachel Grant. She suggests wearing a bomber jacket or a sweatshirt over a crop top, tee, or sweats, so you can be prepared for the temperature change while still feeing extra comfortable.
Pair Your Favorite Boots With Shorts
Jane Boots, $499, Anine Bing
You don't have to sacrifice fall boots just because it's sweltering outside. Anine Bing, Zerina Akers, and Stephanie Jenkins are all in favor of styling your favorite pair of boots with some shorts. If you feel like the look is too disjointed, Jenkins suggests adding a lightweight layering piece on top of your outfit or pairing your shorts with a long-sleeve shirt.
Drape Yourself In A Kimono
Floral Embroidered Kimono, $168, Free People
Kimonos were great for summer, but they're even better for fall. "An easy way I dress my clients in fall trends when they live somewhere warm is with transitional clothing like kimonos," says Akers. "They add a nice layering effect, but if worn with a tank or short-sleeve shirt underneath, won't make you too hot."
Snap Up Some Chic Mules
Aldo Resplandina Sandal, $50, DSW
The comfy, classic shoe style isn't going anywhere anytime soon, especially for fall. "Open toe mules are my go-to faux fall shoes. They feel like fall with the almost closed toe look, but allow your feet to breathe," Jenkins says. She suggests pairing them with a sweater and skirt.
Rock Long-Sleeve Mini Dresses
Alice & You Smock Dress With Choker Neck Detail In Star Print, $60, ASOS
Fashion and beauty host and producer Allison McNamara is a fan of long-sleeve mini dresses. "I love long sleeve turtleneck mini dresses with boots — so chic!," says McNamara. If you live somewhere where you can bare your legs and not have to wear tights underneath, she suggests "taking full advantage."
Put On A Corduroy Skirt
Shrimpton Skirt, $285, Frilly
Corduroy is back, '90s babies, and the fabric in skirt form was made for warmer fall temperatures. "I love a corduroy mini skirt to add an element of autumn. It's still warm out, but cool enough to pull off a heavier fabric in a shorter length," says Frilly co-founder Jeni Ni. She suggests wearing it with flat mules during the day or dressing it up with boots and tights for a cooler evening.
Stock Up On Knit Dresses
Women's Cowl Neck Knit Tank Dress - Spenser Jeremy, $35, Target
If you're rushing to get out the door, Jenkins has a warm fall uniform suggestion for you: a knit tank dress with a pair of booties. "The knit material will give you all the fall feels, but it being sleeveless will save you from dying of heat," she explains.
Slip Into A Patent Leather Skirt
Patent Skirt, $35, H&M
If you want to make a statement, get yourself a patent leather skirt. "It adds serious fall vibes no matter the top, but keeps your legs bare and cool," Akers says.
Embrace The Robe Coat
NBD x REVOLVE Sara Robe, $198, Revolve
If you're looking for a less-structured, more comfortable outerwear piece that you can just throw over an outfit, the robe coat is where it's at. It'll help you achieve that warm and cozy look of a fall jacket without getting too hot. "Robe coats are effortless and easy! I'm really into them over jeans right with a corset belt, or loose over a slip dress," says McNamara.
Finish Off Your Outfit With Fall Accessories
Felt Boater Hat, $30, Eloquii
If all else fails, accessorize, accessorize, accessorize. "Adding ankle boots, scarves, felt hats, and even something as simple as tights can help transition your look from summer to fall in a snap," says Lilliana Vazquez.