How To Dress Like A Disney Princess For Halloween, According To People Who Do It Almost Every Day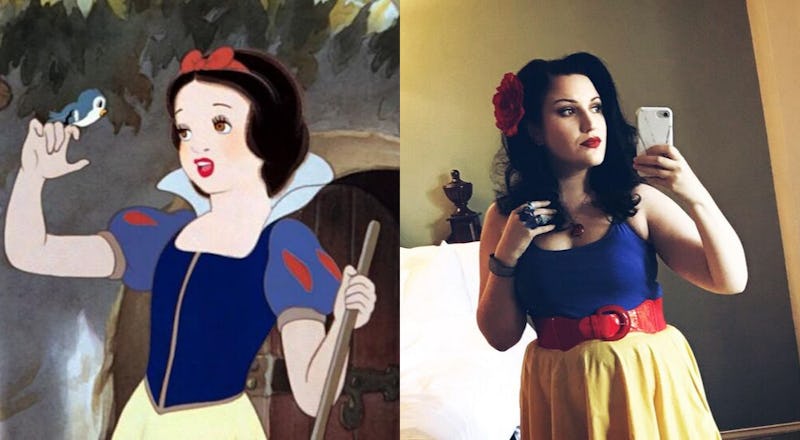 Courtesy: Disney; Shelby E
If you've ever been to Disney (or anywhere in the world for that matter) and noticed that someone's outfit ever-so-slightly echoes a famous Disney character's costume, it is probably because they're Disneybounding. While the perfect color combination or accessory they're wearing may seem subtle, the outfit choices are actually very deliberate. In case you're not familiar with the term, Disneybounding is the practice of dressing up like modern day versions of your favorite characters. It's not so much wearing the same exact outfit as an iconic Disney princess or sidekick as it is wearing pieces you might already find in your closet in a way that reflects the overall feeling of the character's costume. It sounds complicated, but once you see Disneybounding in action, it's actually quite simple.
As for the term Disneybounding, it came from the name of a blog that Disney fan Leslie Kay started as she was — you guessed it — getting ready to go to Disney. It will likely come as a surprise to no one that people most often Disneybound today when they are, well, Disney bound. As playful as it is, the practice itself didn't actually start for fun as much as it did out of a need to bend the rules. Turns out, the most magical place on earth is actually quite strict about guests blatantly dressing up as characters. So while you aren't allowed to wear a full-on Belle costume and wig while visiting one of the Disney parks, you can certainly can wear contemporary clothing in colors and patterns that resemble Belle's iconic outfits.
So, yes, when it comes to costume-making, Disneybounders do it a bit differently, but this means that they're creative as they come. And if you're thinking about dressing up as a Disney princess (or any Disney character for that matter) for Halloween, taking advice from the true experts can only help. Disneybounders are creative, thrifty, and full of wisdom about creating the perfect costume. Here are nine pieces of advice from real Disneybounders about how to perfect your look this season.