Inside The Fantastical World Of Disney Fashion Bloggers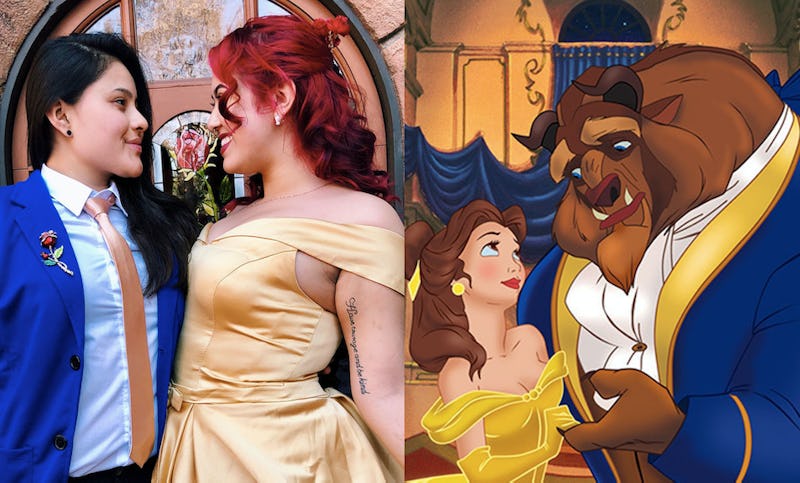 Courtesy Instagram/sp0radical; Disney
Towering a few feet above tiny plastic-slippered princesses or churro-wielding Jedis is a new sort of Disney parkgoer. They congregate at the base of any castle across the globe, sauntering in when the park opens and rarely leaving before the fireworks show. At a glance, it might not be obvious how their off-the-shoulder yellow blouse and rose gold purse perfectly match one of the company's most provincial princesses. Or that there's anything fantastical about purple shirts paired with bright green leggings.
These are the Disney Fashionistas, an emerging group of social media influencers who, with a simple click of their camera, are moving a style that once existed only within the confines of Disney parks into the mainstream.
If blogger Chelsea Watson wants to dress like Cinderella, she has to be her own fairy godmother. On Instagram she is @styledbymagic and boasts over 35,000 followers who obsess, in so many heart emojis, over her outfits. Two years ago, Watson became one of the first influencers to combine her love for fashion with a lifelong passion for all things Disney.
But Watson isn't alone. In fact, the number of fashion enthusiasts who can make Disney magic accessible with just a few simple outfit tweaks is growing. For consumers looking to incorporate elements of Disney fashion into their everyday life, style tips from people spending chunks of time inside the parks is important. Because even though the Disney brand specializes in all things cartoonish, many adult Disney fashionistas want something more subtle. It is influencers like Watson who have found a way to combine both of those elements.
"I really like showcasing clothing that, if you took away the ears, you would still be comfortable wearing it outside the park," Watson tells Bustle in an interview.
Once upon a time, this type of outfit — one that would make sense both in and outside of the theme park — didn't exist at any Disney Park. Disney merchandise was largely considered childish and unappealing to the majority of parkgoers, who wanted more than a standard Walt Disney World '08 T-shirt. Now, nothing is too chic for Mickey & Co. In 2012, Disney partnered with the likes of Versace and Roberto Cavalli to put together a display featuring Disney princesses decked out in haute couture for a display at Harrods. The brand then quickly made itself a fixture into collections from Kate Spade, Marc Jacobs, Swarovski, and Coach. Stefano Gabbana told Vogue that Disney was his inspiration for Dolce & Gabbana's Fall 2016 Ready-to-Wear collection, saying, "Today, every girl wants to be a princess." And in early March of this year, Mickey himself strutted down Toontown with the likes of Chance the Rapper for Opening Ceremony's Spring 2018 fashion show at Disneyland in Anaheim.
It's a big deal that a brand specializing in family-friendly, kid-centric entertainment can move effortlessly into some of the world's most exclusive fashion houses. That the fashion world can embrace something as childlike as Mickey speaks to the accessibility of the Disney brand.
"Disney just has this magnetic pull to it that, whether you're young or old, people are drawn to it," Watson says. "People love the happiness and the whimsy that Disney brings."
Sometimes, fashionistas offer style inspo from inside the Disney camp. The Walt Disney Company is one of the largest employers of people in the world. And if there's any role across Disney property that holds the key to Disney fashion magic, it is undoubtedly the character performer. Disney holds a tight grip on the hundreds of princesses, pirates, or heroes who aren't allowed to admit publicly that they portray a certain character professionally within the park. But as Disney fashion pages become more and more common, their rabid fan base is getting better at sussing out who has those official, insider qualifications, and who's just a dedicated cosplayer.
Retired princess Jenny Rose Hutzler worked at Disneyland in Anaheim and Tokyo. She remembers the day she got fitted to be "friends with" Belle.
"It was like that little girl princess dream suddenly coming to real life," she says. "You get goosebumps just thinking about it. It was magical."
Long after Hutzler hung up the ballgowns for good, she became @princessturnedmom. Her Instagram clocks in at 27,000 followers who soak in stories about her days as a princess, and all the fashion tips that provides. She understands why Disney's passionate fan base naturally gravitates toward the professionals for style inspo.
"I think being a character performer gives me a little more insight only because of all the training I had before I ever stepped foot into costume," Hutzler explains. "We were taught how to really embody each character, which now helps me to translate a Disney style that not everyone may grasp."
At age 22, Disney fashion blogger Leslie Kay booked a ticket to Disney World for the first time since she was a kid. The subsequent blog she created (named simply "DisneyBound") was just a place for her to talk about Disney with other fans, and get away from the tedium of her 9-5 job.
"I was just dying with the inability to be creative," Kay says. "I really just wanted a place to channel my excitement. That [blog] was my way of channeling my excitement. ... And I started creating these outfits one evening. The first [DisneyBound outfit] was based off of Rapunzel, because Tangled had just come out."
The concept of DisneyBounding was unique. Kay took regular clothes someone could find at a mall and, with the right color combinations and accessories, transformed the outfit into one a Disney character might wear on the street. People logging onto her blog loved it and began requesting outfits for the other princesses, as well. Kay's blog went viral three weeks after she posted her first DisneyBound outfit. It wasn't long before she was explaining what "DisneyBounding" was on major media outlets and debunking the myth that the now-viral blog's name paid homage to Disney's wife whose maiden name was also Bounds. Kay, it seemed, had struck a creative cord between street style and cosplay.
"There's an element of being able to be yourself," she says. "No one can tell you that you are doing you wrong. Whatever personal style you want to rock, you can do that with DisneyBounding."
Kay's blog proved that there was a market of people willing to take Disney fashion more seriously, and demonstrated it was OK to turn to a group of cartoon characters for fashion inspo well into your 30s.
"When you read those fashion magazines and you see Mary-Kate and Ashley, and what they're wearing, it's kind of like how do you get their look for less. [DisneyBounding] is sort of the same thing. Here's how you get this costumed look, but you can wear it out and about without anyone knowing that you are that Disney character."
And because the style thrived on this specific space in the internet, the idea soon spread to all the Disney parks. People interested in all facets of Disney fashion had only a geotag between them.
"It's so fun to see the different ways people will do it around the world," Kay says. "In Japan, they have their own style, and it's cool to see it take form as Disney characters. In Paris, they embrace more of a vintage style. In Florida, it is definitely more casual."
Rayna and Sydney Lew run the popular @disneymuses Instagram out of Disneyland in California, and they say the DisneyBound trend has transformed Disney adult fashion in their world because it gave people who weren't into cosplay a chance to embrace Disney fashion.
"To stay distinctly Disney and true to a character when DisneyBounding, we often color block outfits in the same color palette as the character and use accessories to add a little more detail," Sydney Lew says. "For an everyday princess look, you could wear a ring with a crown on it rather than wearing an actual tiara on your head."
Then there's the infamous ban Disney placed on costumes for guests over the age of 14. Since Disney doesn't want a 5-year-old getting autographs from some random person in a dress, guests aren't allowed to cosplay as Disney characters inside the parks except for specialized events. But in the same way most character performers don't see their interest in Disney fashion as a subversion of character integrity, these DisneyBounders say they aren't trying to get around the ban with their character-inspired outfits.
"When you read those fashion magazines and you see Mary-Kate and Ashley, and what they're wearing, it's kind of like how do you get their look for less. [DisneyBounding] is sort of the same thing," Kay says. "Here's how you get this costumed look, but you can wear it out and about without anyone knowing that you are that Disney character."
It's not just bloggers who are making the most of the universal appeal of Disney. Before she began collaborating in a co-brand capacity with Disney, Danielle DiFerdinando was already a successful handbag designer, being named one of Forbes' "30 Under 30" in 2015.
But when DiFerdinando collaborated with HSN to make a line of Alice Through the Looking Glass handbags, they sold out in eight minutes. It wasn't long after that Disney rang her up, inquiring about collaboration. Disney x DN was born, and it quickly became a fixture on the hips of people wanting to add a pop of Disney nostalgia to their wardrobe.
"We have to transform it into a new modern technique, a new way," DiFerdinando says. "These bags are really ageless. We play a lot with embroidery and textures and glitter and technique."
The success of the Disney x DN line represents the best of what Disney adult fashion has to offer right now. Within the Disney style paradigm, fashionistas still are looking for brands to provide the proverbial glass slipper. That's where small retailers who are already immersed in the culture at the theme parks step up. While Disney was still figuring out how to deal with a demographic that watched Hannah Montana morph into Miley, these guys drew from the culture inside the parks to make Drink Around the World T-shirts for the over 21-crowd visiting Epcot.
Cakeworthy is one of the most popular Disney clothing businesses for fashionistas. Founder and CEO Brandon Shedden thinks the rise in '90s fashion, coupled with a generation that grew up in the midst of a booming Disney renaissance, has created something unique. People now have a lifetime love of Disney coupled with the right technology to get their product out.
"Our philosophy is we never want to take a photo of Mickey Mouse and throw it on a T-shirt and put it up for sale. We try and always do what other people aren't doing," Shedden says of his Cakeworthy collection.
Not all of these retailers are licensed by Disney. How the Walt Disney Company protects its brand through lawsuits or cease and desist letters is a tale as old as Walt himself. Back in 1928, a pre-tycoon Walt Disney walked into his boss' studio requesting a raise and a better contract. His cartoon, Oswald the Lucky Rabbit, had been dazzling audiences for the better part of a year. Walt, ever the dreamer, thought the guy who helped think him up should get a larger slice of the profits. But that boss, producer Charles Mintz, had not only already bought the rights to Oswald, but snatched away several of Walt's top animators in the process. Disney could give Mintz control of his company and settle for the offered weekly stipend. Or he could return, one loyal animator at his side, back to the drawing board.
That Walt chose the latter and reportedly dreamed up his now iconic mouse on the train back to Los Angeles is the stuff Disney historians weep over. But it was the loss of his ill-fated rabbit that marked the beginning of Walt's business acumen. He recognized the power of his characters and, decades after his death, the empire he created would work to protect them with vigor.
"Disney has historically been quite aggressive in protecting their intellectual property," says Mark Lemley, author and professor at Stanford Law School. "They were instrumental in pushing to lengthen copyright term retroactively so that Mickey Mouse wouldn't fall into the public domain."
But Disney will be hard-pressed to wield that same level of control over that domain, a popular place for Disney itself to find characters like Cinderella, Peter Pan, Rapunzel, and a smattering of other characters that have existed in popular folklore for longer than Disney has been a company. However, profitable dipping into the public domain has been for Disney, the company only has control over its specific creative image. In essence, Disney doesn't control the Cinderella whose stepsisters' got their eyeballs gouged out by her bird minions, aka the original Brothers Grimm story that inspired the famous animated film. Disney only controls the version backed by a squad of chipper friends and a distinct happily ever after. That makes it hard for them to copyright something like a rose or a shell, symbols that Disney doesn't have the rights to — even if the image draws specific meaning when represented within the parks.
Disney knows it can't just bippity-boppity away the perpetual onslaught of small businesses pouring in from every park across the world. That's why they lean so heavily into giving license to quality retailers like Danielle Nicole or Cakeworthy. The quality of those collaborations, made by people who know fashion for adults, is beneficial to both parties.
For fashionistas like Watson or the Lew sisters, with no loyalties other than to followers seeking more Disney style inspiration, the Disney-inspired and Disney-branded options are virtually endless. They can collaborate with whatever brands they feel like and, with one tag, can drive thousands of followers to that site.
"We tend to buy pieces that speak to us, whether it's licensed or not. Products with our favorite characters or with under-appreciated characters more prominently featured always draw us in as do products with more subtle nods to more recognized characters," Rayna Lew of @disneymuses says.
Photo Courtesy: @disneyland_over_everything
The phenomenon of a consumer wanting to embody nearly every facet of a company — the movies, the food, the rides, the catchphrases, the resorts — through fashion doesn't exist at any other theme park in the world. Sure, Potterheads might throw on a Gryffindor tie at Universal and call it a day. But they probably won't wear that same tie to a job interview, never mind dressing up as Butterbeer to go prance around Diagon Alley for a few hours. DiFerdinando, whose line is licensed to craft Harry Potter and Rugrats merchandise in addition to the collaborations she has with Disney, says there's something about Disney that endures.
"Nowadays, everyone's looking for what's that new twist. What's a fun pop to your wardrobe. That's where Disney comes in," says DiFerdinando. "Because Disney is such a nostalgic company and brand that it's ageless. That's what Disney represents is family and happiness."