How To Find A "Day Without A Woman" Protest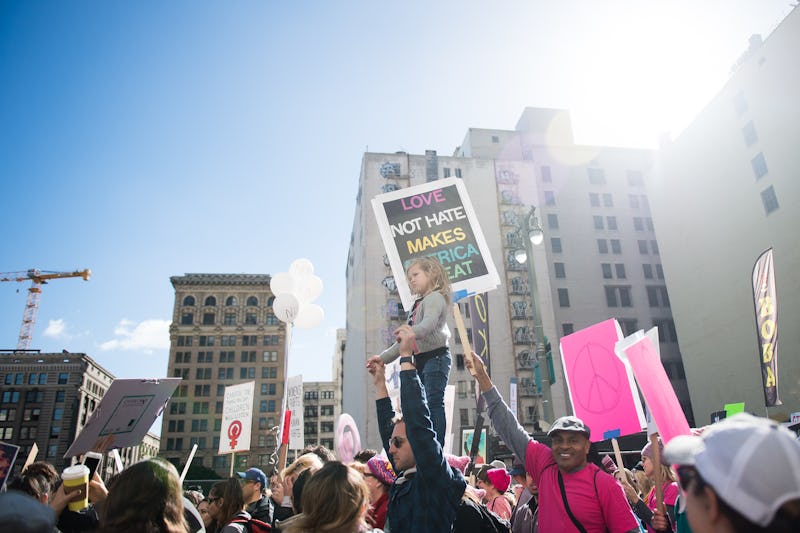 Emma McIntyre/Getty Images Entertainment/Getty Images
On March 8, women around the country will make their voices — and wallets — heard by participating in a general strike. There are a number of ways to participate, but if you are taking the day off work, you may be wondering how to find a "Day Without A Woman" protest in your area. There are protests and other events scheduled in cities all over the United States in honor of the strike and International Women's Day (which also happens to be March 8). Join in to show solidarity with other women and represent those who are unable to take the day off.
Organized by the team behind January's Women's March on Washington, "A Day Without A Woman" is intended to demonstrate how important women are to the U.S. labor force and economy. According to the event's website, the strike will show "the enormous value that women of all backgrounds add to our socio-economic system — while receiving lower wages and experiencing greater inequities, vulnerability to discrimination, sexual harassment, and job insecurity." The organizers recommend three ways that women and their allies can participate in the strike:
1. Women take the day off, from paid and unpaid labor
2. Avoid shopping for one day (with exceptions for small, women- and minority-owned businesses).
3. Wear RED in solidarity with A Day Without A Woman
Of course, being able to take a day off from work or caregiving duties is a privilege that not everyone has. If you can't take off work, there are still meaningful ways to show your support for the strike and make your voice heard. In addition to avoiding shopping for the day or wearing red, you might also want to consider calling your legislators or signing a petition. (Bustle's got more ideas for how to participate in the strike if you can't take off work here.)
However, if you can take the day off to participate in the strike, you may want to join a protest or rally in your area in support of gender equality. There is no centralized protest organized by the Women's March for the 8th, but there are a number of events that have been scheduled as part of the International Women's Strike, International Women's Day, and by sister marches of the Women's March on Washington.
One of the larger events scheduled for March 8 is the Women Workers Rising rally in Washington D.C., organized by One Billion Rising. The rally calls on women and their allies to march "in solidarity with women workers – for an end to workplace violence and harassment and to promote pay equity, one fair living wage, paid leave, and labor rights at work." Protesters will gather at the U.S. Department of Labor.
Two protests will also take place in New York: a gathering convene in the southeast corner of Central Park at 12 p.m., and a rally will take place in Washington Square Park in New York City at 4 p.m.
The International Women's Strike has a handy database set up for events taking place on March 8. You can attend women's strike rallies in San Jose, California, New York City, Columbus, Ohio, Fairbanks, Alaska, and many other cities across America. Visit the International Women's Strike events page to find out about rallies in your area.
The International Women's Day website also has a database of events being held in honor of the holiday. These events tend to be less focused on protesting, but they include diverse offerings, ranging from a fitness/yoga mashup in Denver to an "equal rights musical" in Chicago to SHEfights, an "all female muaythai event," in Toronto. Take a look at the International Women's Day events database to find out what's going on in your city.
Not finding a protest or event near you? Check out the International Women's Strike's advice about how to start your own rally.