Find A "Day Without Immigrants" Protest Near You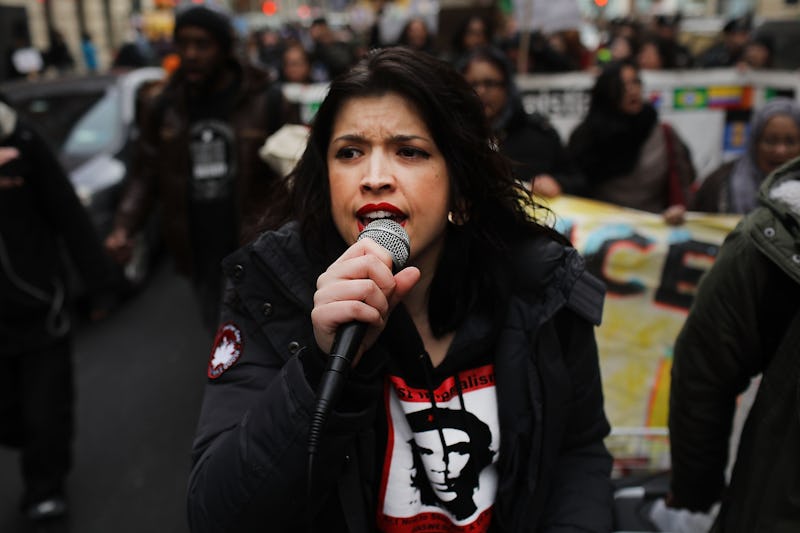 Spencer Platt/Getty Images News/Getty Images
President Donald Trump's executive orders on immigration aren't surprising given his campaign promises — but that doesn't mean America's immigrants are just going to let them happen without a fight. Feb. 13 was a "Day Without Latinos" in Milwaukee, Wisconsin, but there's a nationwide protest coming up; and you can find a local "Day Without Immigrants" protest near you.
To show the United States how much immigrants contribute to the country and the economy, organizers of the "Day Without Immigrants" are encouraging immigrants to skip shopping, school, and work on Feb. 16. Around 30,000 protesters participated in Milwaukee's "Day Without Latinos," and 150 local businesses closed, the Milwaukee Business Journal reported. The upcoming "Day Without Immigrants," also known as "Un Día Sin Inmigrantes," is likely to boast even larger numbers, with many restaurants either closing down for the day in solidarity, allowing their workers to protest without penalty, or giving workers paid time off that day.
Melissa Silva-Diaz's parents are from Mexico, and as the CEO and owner of El Burrito Mercado in St. Paul, Minnesota, she decided to shut down her store on Thursday. "We had a meeting yesterday," Silva-Diaz told The Huffington Post. "Everyone was talking about it. Then we took a vote and unanimously we decided to do it." Even if her customers aren't happy about the decision, Silva-Diaz said she wants "to bring people awareness and get them talking."
Many immigrants in Washington, D.C. are participating as well, including Busboys and Poets owner Andy Shallal and celebrity chef José Andrés, The Washington Post reported. Erika Almiron, the executive director of non-profit Juntos, pointed out the potential impacts of the day. "Our goal is to highlight the need for Philadelphia to expand policies that stop criminalizing communities of color," Almiron told the Associated Press.
As a child of immigrants myself, I'm totally in support of this movement — though I completely understand if your circumstances, whether financial, school-related, or otherwise, don't allow you to participate directly. If you do want to get involved, checking the #DayWithoutImmigrants hashtag on social media is a great way to find other protesters. Additionally, you can search for Facebook events near you; protests are organized in plenty of cities, including Boston, Philadelphia, and D.C. If you can't find any for your locality, you might want to consider creating your own.
If you're not an immigrant but you want to show solidarity, you can still get involved. "As a patron tomorrow, don't go to restaurants," Benjamin Miller, a Philadelphia restaurant owner, told The Huffington Post. "Don't spend money in restaurants. If you go to a restaurant and it's closed, don't go to another one. Stay home tomorrow. Cook for yourself. Show solidarity with immigrants. Restaurants not participating, they will feel the impact that immigrants make every day." Sounds like solidarity to me.