Harvey Weinstein Has Been Convicted. Here's How To Follow What Comes Next.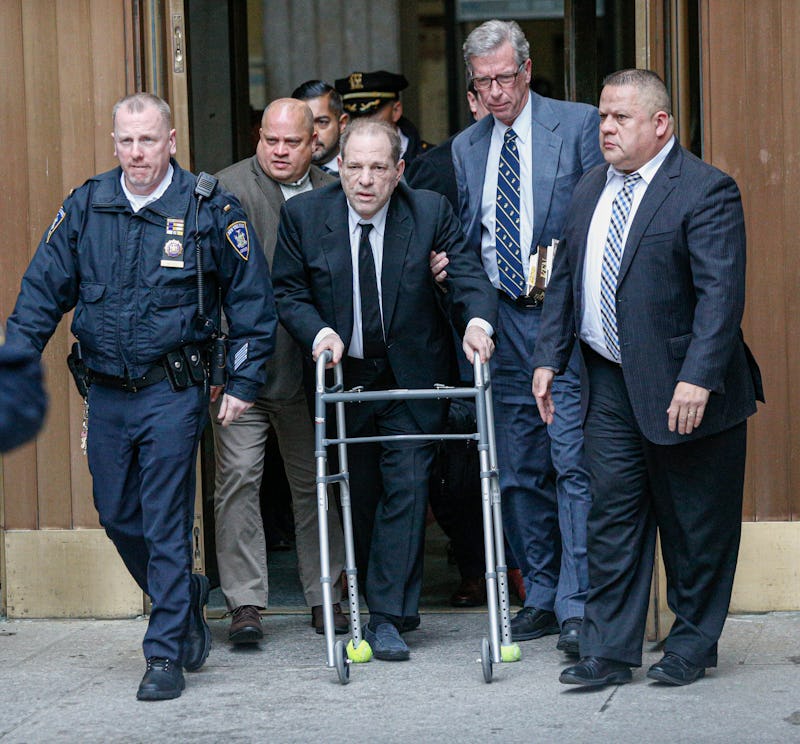 Kena Betancur/Getty Images News/Getty Images
Harvey Weinstein's trial began on Jan. 6 in New York City, two years after dozens of sexual assault allegations poured out against him, igniting the watershed #MeToo Movement online (though activist Tarana Burke founded the original movement in 2006). Weinstein faced five counts of sex crimes in this trial, and a possible life prison sentence if found guilty. Now that jurors have delivered a verdict in the New York Weinstein trial, you'll need to know how to follow what comes next — because this story is far from over.
Weinstein pleaded not guilty to all of the charges against him. On Feb. 24, he was found guilty on two charges of sexual assault, and found not guilty of the most severe charge, predatory sexual assault. Weinstein now faces at least five years in prison, and a maximum of 29 years in prison, The Washington Post reports. His sentencing is scheduled to take place on March 11.
Though Weinstein's New York trial has reached a tentative conclusion, he faces a whole other set of charges in Los Angeles Court. Prosecutors in Los Angeles charged Weinstein in early January with the alleged rape of one woman and the alleged sexual assault of another. A date has not yet been set for the Los Angeles hearing, and Weinstein has consistently denied wrongdoing in the past.
At a news conference in early January, Los Angeles District Attorney Jackie Lacey said, per NPR, "We believe the evidence will show that the defendant used his power and influence to gain access to his victims and then commit violent crimes against them." If convicted of the charges laid out against him by Los Angeles prosecutors, Weinstein faces up to 28 years in prison, NPR reports, in addition to whatever amount he's given in March for his New York convictions.
For those who are interested in staying up to date on Weinstein's New York sentencing, as well as his Los Angeles trial, it might feel overwhelming to keep track of everything. Luckily, you can set up some hacks on Twitter and through Google to make sure you're staying on top of everything that happens. This includes knowing who to follow for updates, and cutting through the noise online.
Here are just several quick and easy ways to follow the Weinstein trial as it moves forward during the rest of 2020:
This article was originally published on