How To Free Space On Your iPhone For The New iOS Update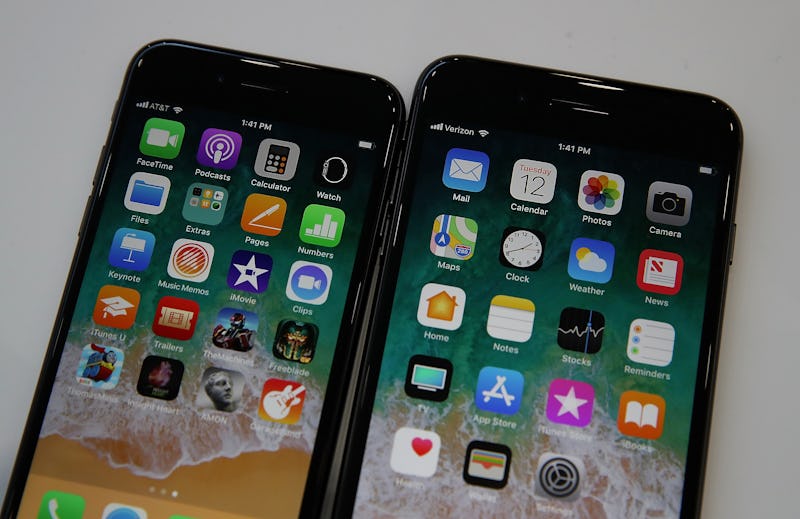 Justin Sullivan/Getty Images News/Getty Images
After months in beta testing and an official introduction at Apple's annual "special event" on Sept. 12, the iOS 11 update is finally being released to the very eager public this afternoon. If you don't have the minimum amount of GB of space on your phone available to download the update, though, you won't be able to join the Most Current Software Club. But don't worry — all hope is not lost. Here's how to free up space on your iPhone for the iOS 11 update. You know you wanna.
While the new iPhone 8 and iPhone 8 Plus — as well as the upcoming iPhone X — come with iOS 11 automatically installed, those with older iPhones, particularly iPhone 6 models and older, may need to clean up their device storage before hopping into bed with the latest iOS update. The update is currently listed at 1.7 GB in size and The Mirror UK reports users needing at least 4 GB of space for the software to run smoothly.
Why upgrade? Well, the biggest changes are happening "under the hood," accompanied by a more subtle round of design changes. The Control Center, for example, is now customizable. The text is bolder and the Lock Screen has been revamped. Siri, everyone's favorite messy iPhone gal who lives for drama, has also been overhauled. Users are now able to choose from both male and female voices, all of which sound significantly more "human" (up to you whether that's a positive or a negative). Siri also comes with the ability to translate English into a variety of languages, including Spanish and Chinese.
Interested? Of course you are. And these features are only the tip of the iceberg. Let's get to making some space for iOS 11. You'll be feeling brand-new in no time.
Delete Old Texts
Do you need that message from your mom from two years ago asking when your flight was arriving for Christmas? No, you don't. Take some time and sift through old conversations. You can afford to send at least a few of them to the big trash can icon in the sky.
And Stop Saving Them Forever
Did you know you can change how long your phone holds on to hold texts? Go to Settings - Messages - Message History - Keep Messages. Your options are currently 30 days and one year, in addition to "forever."
Toss Those Old Photos, Too
The number of screenshots I have sent to friends over the years is endless. I do not need three versions of the same one.
Change Your Image Save Settings While You're At It
The standard save settings for HDR and Instagram photos is to save multiple versions of the same photo. For HDR, head to Settings - Photos & Camera and undo the "Keep normal photo" toggle.
For Instagram, open your app, go to Settings and turn off the "Save original photo" toggle.
And Quit the Photo Stream!
That Photo Stream eats up storage, my dudes! Go to Settings - Photos & Camera and toggle off "Upload to Photo Stream." Keep in mind that doing this will delete all the current images in your Photo Stream.
Clear Your Cache
One of the go-to fix-alls when it comes to slow moving Apple Devices. It works on Macs and it will clear up space on an iPhone. Go to Settings - Safari - Clear History & Website Data.
Remove Downloaded Podcasts
Settings - General - Storage & iCloud Storage - Manage Storage and scroll down to Podcasts. Trust me. You'll be amazed how many podcast episodes you've been accidentally hoarding.
And Songs
If you're often traveling without WiFi, you may have downloaded songs and even albums on Spotify. You may not want to delete all of them, but you can manage your downloads through
Feeling better?