Here's How To Change Your Facebook Profile Picture To Support DACA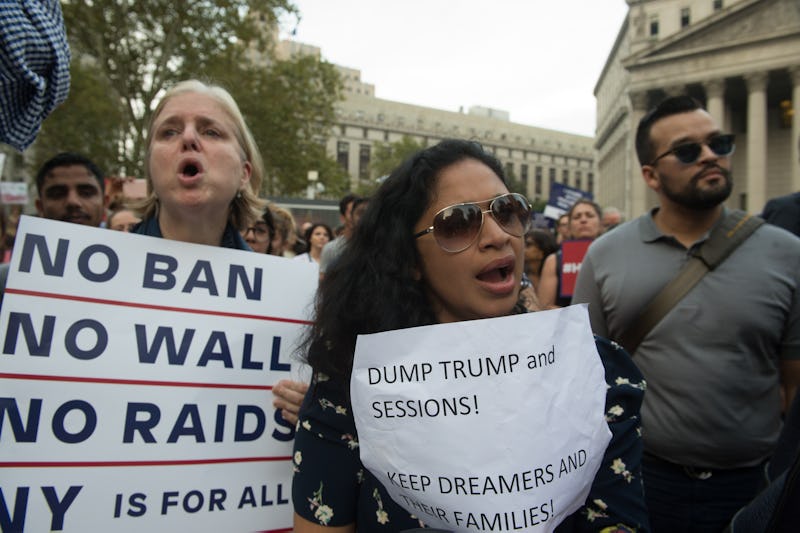 BRYAN R. SMITH/AFP/Getty Images
Donald Trump is officially rescinding DACA, putting nearly 1 million previously legal immigrants at risk of unemployment, poverty, and deportation. Millions of Americans are speaking out in opposition to the Trump administration, and there are a few simple things everyone can do to voice their concerns about Trump's decision. Your first step: changing your Facebook profile picture to support DACA. After that, it's up to you to follow through and remind the world what democracy looks like.
The Catholic Legal Immigration Network, Inc. (CLINIC) is sponsoring a temporary profile picture frame on Facebook urging people to defend DACA and save TPS (temporary protection status). Click on that link to access CLINIC's page, then click the Try It button under their posts featuring the frame. You'll be linked to a separate page where you can choose from other pages' temporary profile pictures, and there should be multiple DACA-related ones for you to peruse.
The Deferred Action for Childhood Arrivals program was established by Barack Obama via executive order in 2012. It established legal rights for immigrants who were brought to the U.S. as children, provided they have a minimal criminal record, be employed or enrolled in school, and have permanent residency in the U.S. for at least five years.
About 800,000 people are enrolled in the program, and as a result, the federal government keeps their names, addresses, and other demographics on file. The Obama administration promised to keep the data protected from agencies that would use it for deportation enforcement, but there's no guarantee that policy will stay in place under the new presidency. If or when Trump decides to start enforcing deportations, the enactment could be swift and catastrophic for families and communities.
The good news is that a social media effort could be actually effective in this particular scenario. According to Politico, which first reported the final decision to end DACA, Attorney General Jeff Sessions was integral in convincing Trump to end the program because it overstepped the boundaries of the executive branch. Correspondingly, Trump is reportedly giving Congress six months to come up with a solution, and if there is enough public outcry, legislators may be forced to act.
Still, make sure that you follow your social media statement with an action if you're able, because Dreamers need more than just support on Facebook. Two great places to donate are United We Dream and The Young Center for Immigrant Children's Rights, which both help connect Dreamers with legal resources. Every small contribution helps, so even if you can only give a few dollars a month, follow through on the commitment over time. You can also protest or volunteer, the latter of which would be especially helpful if you're fluent in a second language.
Defending DACA is crucial for civil liberties, the American economy, and the lives of the millions of Americans who will be impacted by this program's end. They are more vulnerable now than ever, so it's up to those with the privilege of citizenship to fight for Dreamers.