Here's The Ridiculously Easy Way To Snag A Free Potbelly Sandwich This Week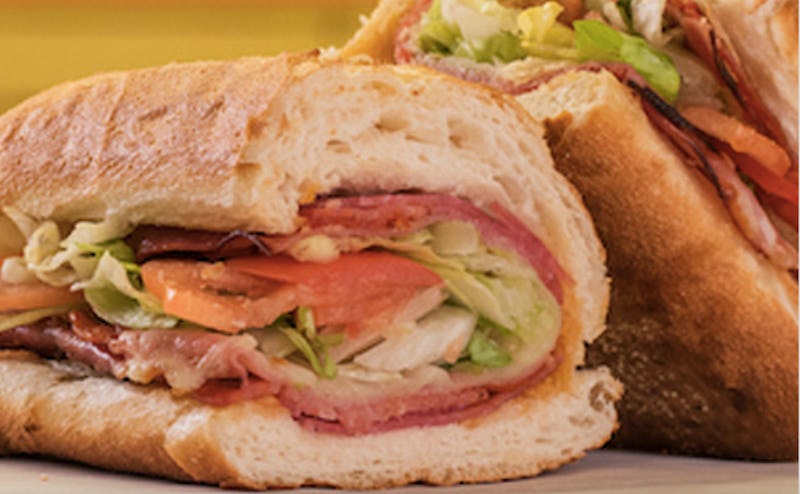 Potbelly
If you are Liz Lemon levels of passionate about sandwiches and free things, then boy howdy, do I have some good news for you: on Tuesday, Sept. 18, and Wednesday, Sept. 19, you can get a free sandwich at Potbelly when you purchase another sandwich at full price. There is, of course, a ~slight~ catch to this deal, which is that you have to be a Potbelly Perks Member to qualify. But seeing as all you have to do to make that happen is make a free online account (something you can do in this literal human moment, here!), this seems more than fair in exchange for free Potbelly in your belly.
And truly, there is no time like the present to obtain a free Potbelly sandwich, because the chain has limited time offerings of Classic BBQ Pulled Pork and Spicy BBQ Pulled Pork that you deserve to grace your taste buds with while time allows. Now you can go buy one for your lunch break, and save the free spicy one for dinner! (What, you thought BOGO deals were for fostering friendships with coworkers? Pfft.) And even if you don't end up going with a seasonal offerings, you can get one of the menu mainstays like the good ole Turkey Club, or the sandwich Potbelly named after my dating life, dubbed A Wreck. (Cue the drum snare.) OR you could do what I am about to shamelessly do, which is get the Grilled Cheese and PB&J for lunch tomorrow, because I am secretly an overgrown toddler masquerading as an adult with a desk job.
Even if you're not able to make it to a Potbelly this week to take advantage of this deal, it's worth looking into the Perks Member shebang. For every $2 you spend at the chain, you earn a "Smile," and depending on the number of Smiles you have, you're able to take advantage of things like free treats, exclusive first tastings, order ahead service, and (gasp!!) underground menu access. You can also work your way up into the coveted positions of Cookie Rookie, Sandwich Superstar, and Menu Master, which all eerily like things I have called myself in bathroom mirror pep talks.
The even better news is that Potbelly has deals fairly often, even for non-Perks Members; you can keep an eye out for them on Potbelly's Twitter page. Warning, though: Potbelly Twitter moves FAST.
As someone who worships at the altar of the Oatmeal Chocolate Chip Cookie, I don't even need an excuse to walk into a Potbelly — but if you need one, the whole "free food" thing ought to do nicely. See all y'all in line at Potbelly this week — but I'm warning every one of you that just because I'll be double-fisting a Grilled Cheese and a PB&J (probs while balancing a Mac & Cheese on my head) does NOT mean I came here to play.
Make sure to take advantage of the BOGO deal while it lasts — you only have until Wednesday, Sept. 19 to make it count.